After the Tahoe Rim Trail 100 miler, I wasn't sure if I could run another 100 miler within a relatively short period of time. I allowed myself a month to recover, and eventually felt drawn to running another hundo I was trying to decide between the Stagecoach 100 miler (obviously from the title) and the Javelina Jundred. The timing of Stagecoach made more sense. Also, Ian Torrence does my training plans and he's the Race Director for Stagecoach, so I felt he would have some special insight for my training.
Recovery/Training/Sharpening for Stagecoach went fairly well. Ian had transitioned me from altitude/vert training for Tahoe to some flatter, faster runs to get me running legs back under me vs my climbing/hiking legs for Tahoe. I felt pretty good. I wasn't sure how running 100 milers so close together would affect me but I wanted to give this race a solid effort.
The full race name of the Stagecoach 100 miler is the Flagstaff to Grand Canyon Stagecoach Line 100 mile. Ian said it's the longest 100 mile race name, although I'm not sure if that was just a joke. It is also one of the few races (the Appalachian Trail being the other one) that is run on a National Trail, which in this case is the Arizona Trail.
My friends Ron and Marie were also doing the 100 miler. My friends Natalia and Kimberly were doing the 55k. Ron was just coming off a strong run at the Run Rabbit Run 100 miler, taking 11th. For some reason, ultrasignup had me ranked ahead of him, so some teasing ensued, even though I knew he would likely beat me (but you never know what'll happen in a 100 miler… am I foreshadowing? No, I'm not. Haha).
The race started at the beautiful town of Flagstaff. I had never been to Flagstaff before. I loved it! I finally got to meet Ian Torrence in person at race check in.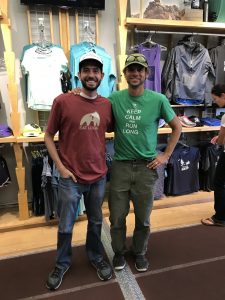 I also got to meet Jim Walmsley. He was running the 55k.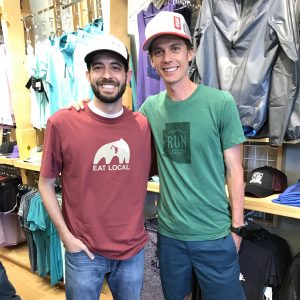 Ian told Ron and me that the field for the 100 miler was wide open and he was counting on us. No pressure, right? For added pressure, he gave Ron the #1 bib. Ha!
The start of the race was chilly! I believe it was in the 20s. I used layers because I knew it would start out chilly, warm up during the day, and then get cold again during the night. I also prepared my dropbags with extra warm clothes.
After some words from Ian (while Ron did some sort of angry chicken dance [see below]), we were ready to start.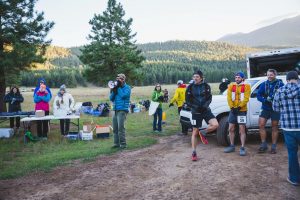 Ron and I ran together in the beginning for quite a bit in the lead pack. It was so beautiful out there. Unfortunately, I didn't take many pictures. I felt like I was quite focused on racing this one well.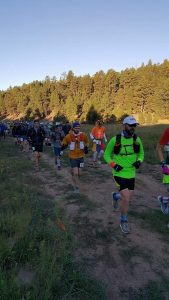 It didn't take long for the lead pack of 55k runners, including Jim Walmsley, to catch up to our lead pack of 100 mile runners. Jim Walmsley passed me right when there was a course photographer and I was rewarded with this perfect photo: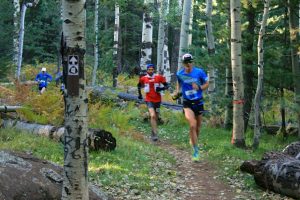 I did a quick turnaround at the first aid station because there was a water drop a mile away and that was all I needed. I didn't want to get delayed by the other goodies at the aid station.
Unfortunately, when I got to the water drop, I asked where it was and someone told me there was no aid there (although one of the runners later told me there were water jugs there that I guess I had completely missed). So, I was running low on water way too early in the race. I knew I would be okay but it messed with me a bit mentally.
I made it to the Kelly Tank aid station (mile 21) just fine and felt revived a bit. After the race, I heard Rob Krar was at this aid station and I totally missed him. Bummer! After I left, I decided to drop back from the lead pack so I didn't overextend myself.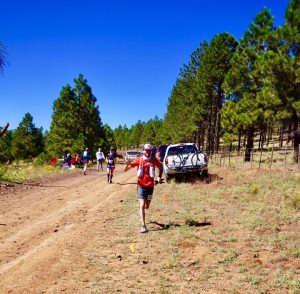 Still, I was able to maintain a good position in the race. One other runner, Brad, passed me during this time. It was kind of funny because we were both on this open plain with the wind whipping across it. The wind gusts were so strong that you couldn't even run. We were both walking into the wind as he eventually caught up to me. We had a friendly conversation for a while. It was his first 100 miler and I told him he was doing really well so far (mentally I hoped he hadn't overextended himself, making it so he would be ill-prepared for those difficult last 30 miles).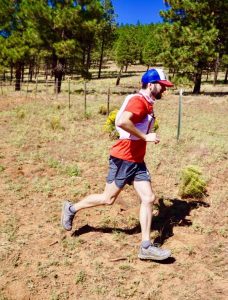 He moved ahead and I found a new runner to chat with, Raymond, that was closing in on his 55k finish. He was struggling a bit and I encouraged him. We also chatted about shoes since he was wearing Altras. I didn't think much of it but he later looked me up on Strava and thanked me for the encouragement to finish his 55k strong. I guess sometimes we don't realize the power of a few polite words to another human being.
Eventually, I made it to Cedar Ranch (mile 34). Ian was there so I could chat with him a bit. I told him about my error with the water and he assured me I was fine and could make it up. It was good to hear that from him to help get me back into it mentally. Also, I want to add that the volunteers at the aid stations were outstanding! They were all so helpful in getting me in and out of the aid stations quickly. After refueling, I was on my way out, giving fellow Altra ambassador, Breanna, a high five as I left.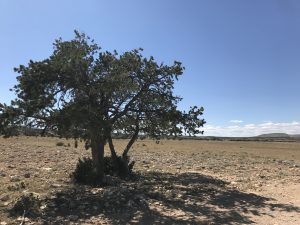 I continued to maintain my position (5th place) in the rankings through Boundary aid station (mile 55), where I picked up my headlamp.
I've noticed in these 100 milers that I usually do well at night. Night fell by the time I reached Russell Tank (mile 68). I felt good. The volunteers at the aid station said a runner had just left and he didn't look great. I knew it was time for me to push a bit in the race.
I did my best to continue my upbeat attitude that helped me so much at the Tahoe Rim Trail 100 miler.
Not long after I left the aid station, I came upon Brad and his pacer. I chatted with him for a bit and ran off into the night. I try to put some distance between runners in these situations (if I can) because I don't want to get caught in some cat and mouse game where they're using me as motivation to try and catch up.
Again, not long after Brad, I was surprised to pass another runner, Adam, and his pacer. Adam was with the lead pack in the beginning and I know he was pushing hard. I hope he wasn't blowing up after such a strong start. Again, I stopped and chatted with Adam for a bit and then ran off strong. I came upon a steep downhill section after passing him that I pushed hard on to put some distance between us. It didn't feel great on quads that had nearly 80 miles on them.
The next aid station was Hull Cabin (mile 80) where they confirmed I was in 3rd place. Yes! I just needed to hold on to this. There was an out and back to Hull Cabin and as I ran out past Adam, I did my best to run strong (to hopefully discourage further chasing).
I cruised into Watson Tank (mile 88) where my friends, Aaron, Doug, and Jean from Las Vegas, were crewing. It was a boost to see them. Doug assured me that 4th place wasn't close to me. I got my jacket on (because it was getting really cold!) and headed out. Before the jacket, I was only wearing a shirt, arm sleeves and gloves. I had felt fine. But, suddenly, the temperatures plummeted. I got really cold. It didn't help that I was struggling a bit so I wasn't moving fast (which would warm me up).
My headlamp started dimming a bit and I thought I should replace the batteries but my fingers were cold. I wish I had because at about mile 94, I turned around and saw two headlamps coming towards me. I let out an audible, "Nooo!!" and, out of pure instinct, I bolted. I was struggling before this but now I was running with whatever I had left. My headlamp was dying so I turned on the flashlight from my iphone for more light. I knew they saw my headlamp because they were chasing too. I kept it up, mile after mile, but I couldn't drop them! I didn't know how much longer I could keep it up. I didn't know how much longer my headlamp was going to last. My iphone battery was nearly at 0%. Was I about to lose the podium spot at the very end of the race? Were my lights about to die at the very end of the race causing me to replace batteries mid-chase? I couldn't think about that. I had to just keep moving as best as I could.
I finally put some distance between us on the last mile or so. What a relief and elation as I cruised into the finish in 3rd place overall! I had set a new PR for myself for 100 miles of 20:18. I asked Ian if he was a hugger and gave him a big hug. I was so pumped. I got a sweet copper buckle, a water bottle, and a $75 gift card to Run Flagstaff (which I used for my newfound Goodr sunglasses addiction). My friend Ron took 1st place overall with a time of 18:08. Our friend Marie took 3rd female. It was really cool to see Las Vegas trail/ultra-runners on 3 of the 6 podium spots. We also had some great training plans (Thanks, Ian!).
I also noticed later that my time was 8th on the all-time Stagecoach 100 mile times. Ron and Marie's times are up there too!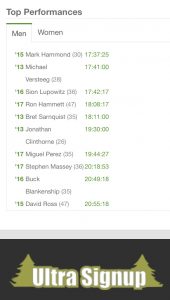 It ended up that the headlamps behind me were from relay runners, not 100 mile runners! I wouldn't have guessed that because the relay runners always run by themselves (that I saw) and I knew the 100 miler runners behind me had pacers. Oh well, it pushed me to a strong finish and a PR!
Gear: Altra Timp shoes, Altra shirt, Desert Dash Trail Junkie hat, Patagonia Strider Pro shorts, Injinji socks, Salomon Sense Ultra 5 set pack.
Nutrition: Gu Roctane Energy Mix, Honey Stinger waffles, Honey Stinger chews, GU gels, fruit squeezes, and various items from aid stations, especially coke.