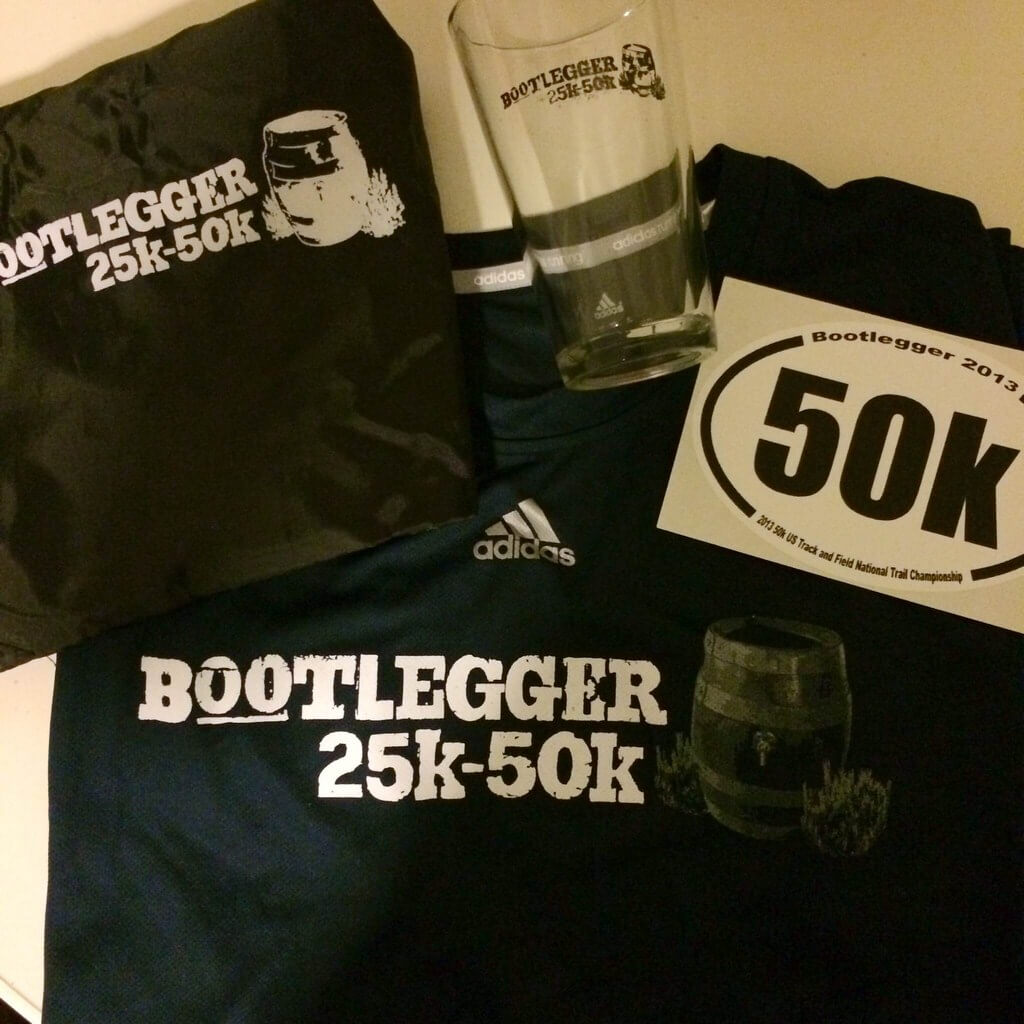 The Bootlegger 50k was on my races to do and I was very excited to register for it this year (2014). A lot of my friends, local runners, were either running it, volunteering, or coming out to watch. The race also brings out some elite ultra runners.
I was very excited to see Rob Krar (who won the 50k) and Anna Frost (who won the 25k). Rob Krar has become one of my favorite ultrarunners.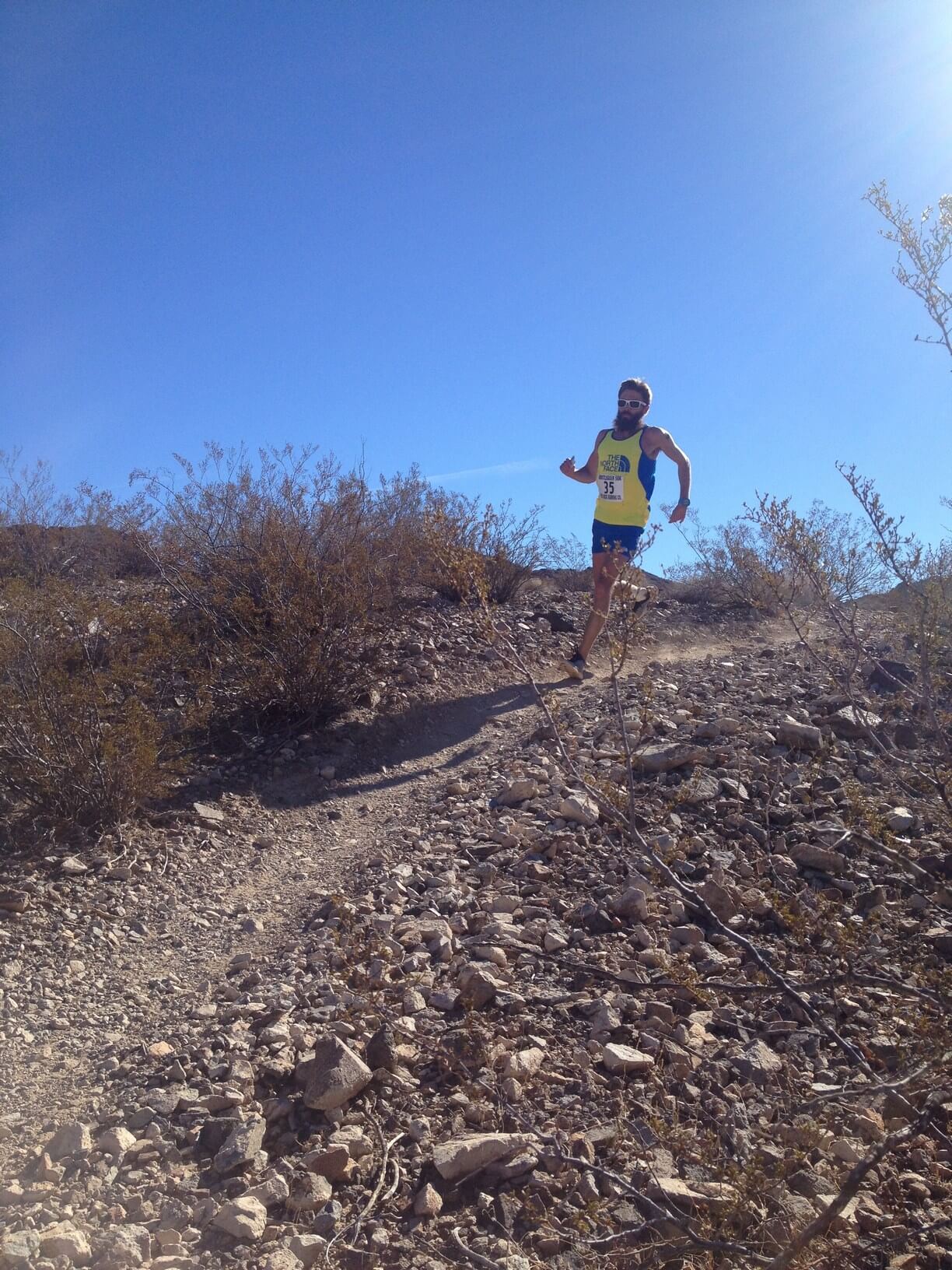 (Pictured: Rob Krar)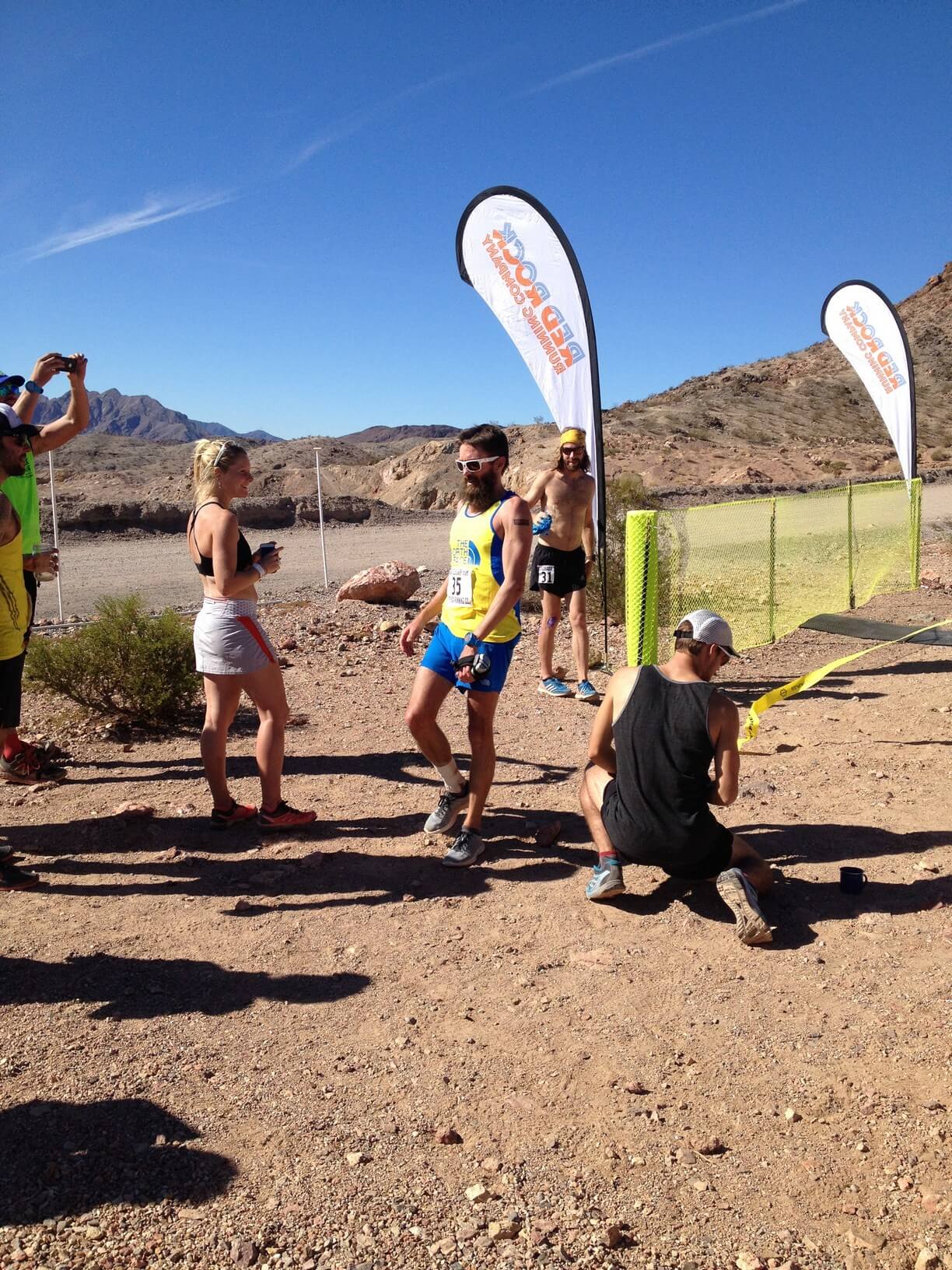 (Pictured: Rob Krar and Anna Frost at the finish)
From the Bootlegger website, a little history about the race:
"Between Las Vegas, Nevada and the mighty Colorado River sits a long rugged volcanic ridge dubbed the River Mountain Range. Black and Red Mountains, aptly named for their contrasting color, rise the highest. Between the two Mojave Desert peaks sits Bootleg Canyon, better known as the Hooch Highway.
During the 1930's when prohibition and the construction of the Hoover Dam was in full effect, the small canyons and caves at the base of these peaks were filled with bootleggers brewing their home concoctions in secret. They sold their treasured product to the parched dam workers and prospectors who inhabited the local desert communities of Boulder City and Henderson."
Alas, the race didn't turn out like I had hoped. The morning of the race, I felt off. I hadn't eaten well the days leading up the race. The first half, I felt good. I was pacing well. Then, my stomach and my GI system in general started feeling awful. I thought maybe I needed to use the restroom (Nope).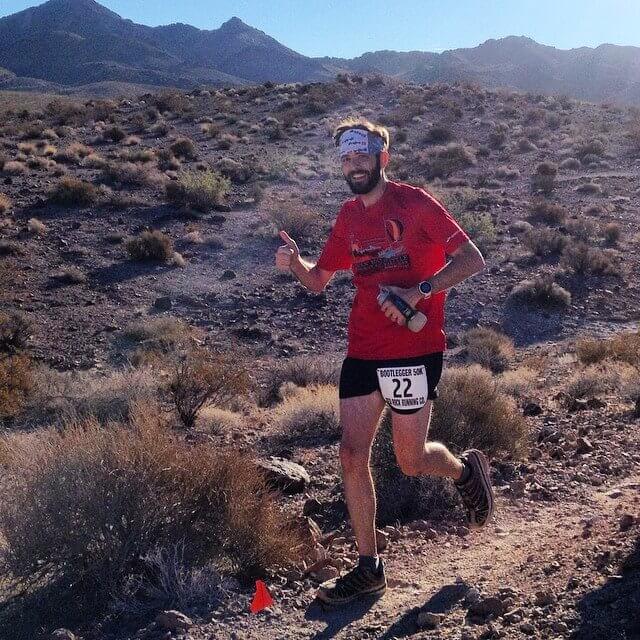 (This is me when I was feeling good.)
At about mile 20, I was ready to drop. I felt worse. I was slowing down and getting exposed/dehydrated. I pushed on hoping it would pass or maybe I'm just too stubborn to quit.
At the next aid station, I kept doing everything I could to stay in the race. I hydrated, fueled, and used salt tabs. One of the volunteers kindly poured water all over me. It felt very refreshing, like a rush of cool water. The volunteer remarked that the water was lukewarm! That was kind of scary, knowing I was overheating.
I kept grinding along. I pushed to the finish. I finished well after my goal time or even my "having a bad day" time.
When I arrived at the finish, a number of trail running friends exclaimed, "What happened to you out there?!" It hadn't been reported that I had dropped but I was out there for a while.
I discussed the bad day I was having and remarked that I probably should have dropped. My friend mentioned that, "he respected people that gut it out no matter what rather than just dropping since they missed their goal."
This leads me to the question: When do you drop and when do you gut it out? I've been thinking about this a lot the past few days.
It's a tough decision. In ultrarunning, the drop rate climbs dramatically, especially on those 100 milers.
We can't have a great run every time we go out there. Sometimes we can turn it around and sometimes we can't. There are so many dynamics in play.
There are times when we simply must drop, like a badly sprained ankle, broken limb, or other severe and obvious malady. You don't want do extensive damage to yourself and put yourself out of running for an extended period of time.
I guess if elites are running for sponsors, prize money, etc., I can understand dropping if it isn't your day.
For the rest of us mortals, are we still as concerned about our goal times? I have to admit that I had the thought, "Well, this is going to look like crap on Ultrasignup," which is kind of silly. It really doesn't matter. It's just ego. I guess if people look at my time for this event, they might think I did poorly but if I had dropped they would look at it and thought that surely something must have overwhelmed me to cause the drop.
Every person is unique and every situation is unique in this regard. Some people will refuse to drop no matter what. I found Timothy Olson's experience at the Hardrock 100 interesting to see how elites could have really really bad days too.
I have had to DNF once before (I should write about that sometime) and I hope it never happens again. Unfortunately, if I do more ultramarathons, it probably will.
What do you think? When do you drop and when do you keep going?