Dead Horse Ultra
I wanted to finish out the year with another 100 miler. My friend, Josh, and I had been looking at the Chimera 100. However, things weren't falling into place to be able to do that race. There were moments when Josh was in, but I would be unsure. Then, we would switch places. When it comes to running 100 miles, you need to 100% committed to the goal or it's going to be too easy to quit… and at some point you will want to quit.
The Chimera 100 passed by and I ended up choosing the Across the Years 24-hour race at the end of December (hence the name of the race). This worked out well because it takes place in Arizona. I have wanted to do something to raise money for the American Foundation For Suicide Prevention since I lost my teenage nephew, Deven, last year. My brother's family lives in Arizona so it seemed like the perfect event. I decided I would raise money for this charity along with doing the race.
I would encourage you to check out the fundraiser page here: afsp.donordrive.com/campaign/deven
I'll post a recap of that event afterward.
This left my race schedule with an opening in November. A lot of friends from Vegas were doing the Dead Horse Ultra in Moab, UT. The 50 miler was perfect timing on my schedule.
Before the race on Saturday, I thought I would leave late Thursday to head to Moab, sleep in late to get a good long rest, and then get up early Saturday. I have trouble sleeping the night before a race anyway.
Well, that didn't exactly work out.
I left later on Thursday than I wanted to. At least I arrived in time for a beautiful sunrise at Dead Horse Point. Then, I had trouble sleeping Friday. Oh well, it's a learning experience, right?
Friday I checked into the race, got my bib, a fun-looking Dead Horse shirt, and a sweet Dead Horse trucker hat. It was fun hanging out with a lot of friends from Vegas for a bit on Friday when I wasn't trying to sleep.
Saturday morning, we carpooled to the start and it was cold for those of us that are used to Las Vegas temperatures. I used layers like arm sleeves because I knew it would warm up later in the day.
When I was researching the course online, it looked fairly flat and fast for a 50 miler. The course also looked like it would be beautiful and a lot of fun. I was hoping to break my PR from my 50 miler at Autumn Leaves even though this would be a more difficult course. I felt like I had improved enough since that race to make that goal.
I started out the race going pretty fast but I was feeling comfortable so I went with it. The slickrock out in Moab, UT was a lot of fun to run on. It made for an interesting winding course. The views along the course were absolutely amazing. It's such a privilege to run in a place like this, nestled in amongst Arches, Badlands, and Dead Horse Point.
Early on in the race, I jammed my toe hard into the slickrock. That hurt! There was no give in that slickrock. That toe still has some numbness even as I'm writing this post.
At one of the early aid stations, I cruised into it and did a grab 'n' go after checking in. At this particular aid station, you had to make a left-hand turn, run into the aid station, head back the way you came, then turn left again back on the course. I encountered a friend of mine at that turn. Rather than head towards the aid station, he just kept following me. Fortunately, I corrected him, telling him to turn towards the aid station. I don't know if he would have been disqualified for not checking in but I didn't want him to take that chance. I would hate to have that happen. I believe runners should help each out, even while racing.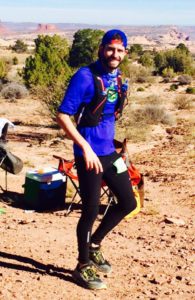 As I got to the halfway point way too early, I knew I had started too fast. Funny enough, some friends of mine running the 50 miler came into the halfway aid station around the same time. I wonder if they were thinking the same thing.
One odd thing I noted was that the section to the halfway point was an out-and-back and there was no check in or verification (like a hole punch in the bib or sticker) to ensure a runner ran the whole thing rather than turning around early. Still, this was the first year of the 50 miler so I guess they wouldn't know there would be a lack of verification also.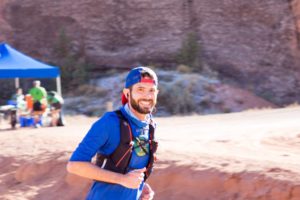 I hit a rough patch at this point. I was just grinding along through it. A few of my friends passed me up. It was nice when they encouraged me. After a little while, I started to pick it back up and feel good again. I caught up with my friends, Doug and Josh, near the 30 mile mark. We bounced around a bit until we all settled in and ran as a group.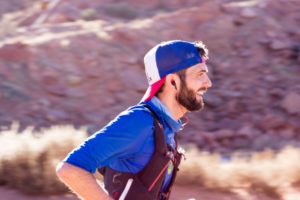 We ended up running the rest of the race together! We all went through ups and downs for the rest of the race. We talked, walked, and worked through it. We traded off leading the group.
One thing I did not anticipate was the toll running on all that slickrock would take. Towards the end of the race my feet, hips, and legs were sore! The toe I had jammed early on in the race was throbbing at this point. Still, we were all feeling it and we kept pushing on.
As the end of the race approached, we had to make a decision. Do we all want to finish this race together or should we battle it out for the finish? It was unanimous. We all wanted to finish together. Unfortunately, a couple miles out from the finish, I had a rough patch. I was running low on energy and couldn't quite keep up. I encouraged the other guys to move ahead. Most times when I approach the end of the race I can dig deep and push to the end. This time, I just had nothing left.
I figured the other guys went ahead and finished since I had fallen so far behind. They deserved to finish before me. I cruised along slowly towards the finish.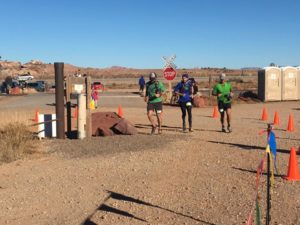 When I got to the finish area, Doug and Josh were there waiting for me. It was such a cool gesture. Crossing the finish line with them was such a special moment that I won't forget. It was better than the competition.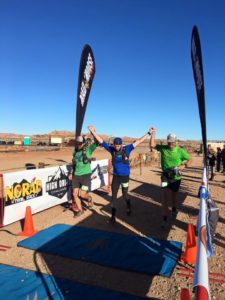 It reminded me of the quote:
"The reason we race isn't so much to beat each other,… but to be with each other."
? Christopher McDougall, Born to Run: A Hidden Tribe, Superathletes, and the Greatest Race the World Has Never Seen
Plus, I beat my PR too!
After finishing the race, I was spent and took a little nap on the ground, haha. Once I got up, I had some of the famous enchiladas that Mad Moose events offers. They were excellent! I may need to do another one of their races just for the enchiladas.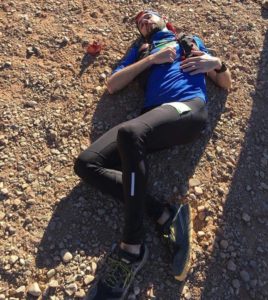 The finishers' awards were cowbells, which many of us put to good use ringing them as other Vegas friends and new friends we met on the course came in for the finish.
I would recommend this event to anyone looking for a unique trail run. Mad Moose did an exceptional job with organization. The landscape is beautiful and the location is perfect with opportunities to check out Arches, Badlands, and Dead Horse nearby.
Nutrition/Hydration: Nuun Active, Honey Stinger chews/waffles, and GU gels. I had some really good cherry coke at one of the aid stations too.
Gear: Altra Lone Peak 3.0, Salomon Ultra Vest, Nike Dri-fit tights, Drymax socks, Patagonia shirt, Desert Dash Trail Junkie hat