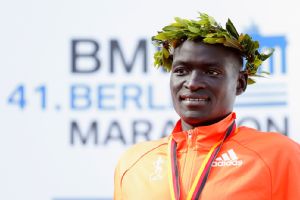 This weekend, Dennis Kimetto set a world record at the Berlin Marathon. He finished in 2:02:57. That is about 4:41 mile average pace for 26.2 miles. Seriously. Think about that for a moment. He took over 26 seconds off Kipsang's previous world record, which is huge for the marathon record.
The new world record has brought on debate as to whether we will see a sub-2 hour marathon in the future. Many believe it is a still a long ways off. I think we may see it in a decade. The record will be broken again. Even the current record holder agrees: "I can break this record again," Kimetto said.
If you understand the mental aspect of this sport, you know elites will now adjust their goals on this new world record time. As science and technology continue to advance, athlete performance will improve. Nonetheless, 2:57 is a lot of time to drop at that level. It will be exciting to see it happen one day.
I don't think non-runners are able to grasp how incredibly fast these elites run. I would be ecstatic to get my marathon time in the lower 3 hour range, but to be in the lower 2 hour range? Wow. It is amazing and difficult to fathom that kind of speed. The majority of runners wish they could run a single 4:41 mile let alone 26.2 in a row.