Inaugural REVEL Mt Charleston Marathon Review
Many marathons I have done have left me saying, "I loved that they did this…" or "This was a nice extra item they gave us." When you do a number of races, you notice the little things, the extras that runners come to appreciate at races. Maybe it's an extra piece of swag, a quality race shirt, free photos… the list goes on. The REVEL Mt Charleston marathon had ALL of those little things in one race.
In full disclosure, I am a REVEL ambassador. I will do my best to give an objective review.
The race is located in Las Vegas, NV. It is predominantly run down Kyle Canyon road, just outside the city among the Mt Charleston area. It's a great downhill marathon for runners hoping to get a new PR or qualify for Boston. I was hoping to qualify for Boston myself. I need to run a marathon under 3:10 in order to qualify. I knew going into the race this would be tough but I felt it was within the realm of possibility. I was going to go for it.
The pre-race expo was small and efficient. You get to test your chip at the expo to make sure everything is working properly and to work out any kinks. There were a number of visual aids with information about the race. I was working the information booth for part of the expo to assist folks with questions. There were some nice vendors at the expo as well. They have some fun photo backdrops at the expo for people take pre-race pictures with their bibs or signs saying things like "26.2", "13.1", and others.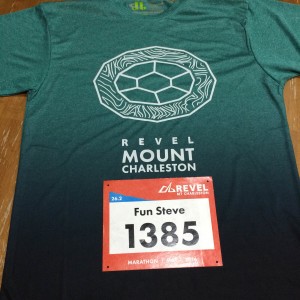 The swag was excellent. The t-shirts are great quality and you have the choice of tech shirt, tri-blend, tank, short sleeve, or long sleeve. They also included a nice REVEL beanie, gloves, and a mylar blanket in the bag. Those are more of those little things that they did to make the race more comfortable for the runners. Your check bag was already tagged and ready to go. Very efficient.
The next morning, the buses were on time and the loading was smooth. The buses were really nice actually (more little touches). The start area wasn't as cold as I anticipated at the upper 30s. Leading up to the race, I was actually more worried the temperatures would be too hot. The sun was coming up and the scenery is beautiful up there in the Mt Charleston area. It was perfect to get more of those pre-race photos.
As the race began promptly at 6:30am, snow flurries began to fall. I couldn't believe this was Las Vegas in May! It was beautiful and the temperature felt great. I settled into a comfortable pace on the downhill. I didn't want to push too hard while also not actively trying to brake. I wanted to keep loose within the pace I needed to BQ.
There were some great motivational signs along the way. There were also plenty of race photographers to capture those race moments. By the way, they give the race photos for FREE! I love when races do this. The photographers get paid, runners get great photos, they share those photos on social media promoting the race, and everyone wins. A number of people got a kick out of my race singlet, hehe.
The first half of the marathon has quite a bit of downhill with some small inclines (I can't even really call them hills) at miles 1, 4, and 12. The second half of the marathon is mostly smooth downhill to the finish.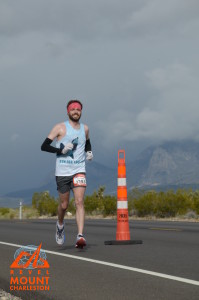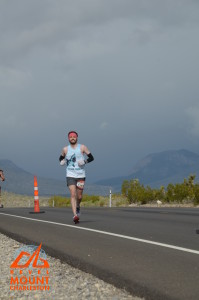 I was moving along great through the race. I kept my pace where I wanted it. I saw my friends from Desert Dash and Triple Dare race companies at a couple of aid stations along the way. Seeing them really lifted my spirits. I hit mile 20 at the time I wanted to be there. Unfortunately, that's where things went bad. I was fading. I made it through miles 21 and 22 decently but the next few crushed me. My quads were destroyed. I couldn't get them to move how I wanted. It was a bit demoralizing to see the BQ time slip away. At that point, I just wanted to finish. I knew I had a PR and that was great but I wasn't super concerned about losing a minute here or there.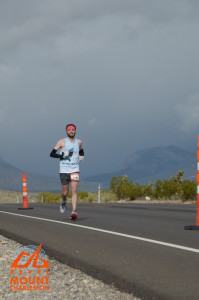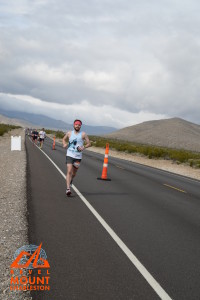 I ended up finishing the marathon in 3:15. This is a 10 minute PR for me. It was a great feeling. I wasn't too down on myself about not getting the BQ because I knew it was going to be tough. My plan going into the race was to go hard for the BQ at the risk of possibly blowing up. I still finished with a great time (for me) and I'll give the BQ a shot again in the future.
At the finish, the announcer was outstanding. He had tons of energy trying to motivate and cheer on runners across the finish line. The medal for the race is really great quality. It's a nice big piece of bling! Runners that really love the medals should look into adding this one to their collection. The race also provides a cool little postcard showing your time and placements (more little things). They had the fun backdrops again at the finish to take post-race pics. They also had pizza and pie (I love pie!) at the finish! Seriously!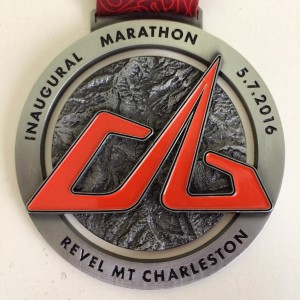 For now, I'll be recovering my sore quads and getting ready for the next race! I'm also enjoying the REVEL race pics. They got those out to the runners fast (another little perk)!
If you're looking into doing this race, it could definitely be a PR course for you. Make sure you're ready for the downhill. Train it! You'll have a great race with all the little extras REVEL provides. From beginning to end, the organization of this event was excellent. Hopefully you don't think my review is overly biased. I have been actively checking on feedback from runners about this race and it has been overwhelmingly positive.