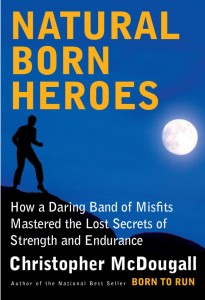 My Review of "Natural Born Heroes: How a Daring Band of Misfits Mastered the Lost Secrets of Strength and Endurance" by Christopher McDougall
I really enjoyed Christopher McDougall's "Born to Run." Although I didn't eschew my shoes and take up barefoot running, I appreciated the story telling and anecdotes. It was a page-turner that pulled me in and kept my attention in the world of running and ultra-running.
I was excited for his newest book, "Natural Born Heroes." The title intrigued me and I purchased the book right away. Unfortunately, the book didn't live up to my expectations. Perhaps my expectations were too high. Still, it wasn't quite the page-turner that "Born to Run" was to me. Don't get me wrong. "Natural Born Heroes" has some great stories and is still worth reading.
The issue I have with "Natural Born Heroes" is that it didn't quite gel together. The author has interesting pieces on the nature of Greek heroes. I particularly liked the discussion on the emphasis of all around skills and being a protector. Everyday people can become heroes by being physically and mentally prepared when the situation arises. There is a particular touching story about Norina Bentzel, a teacher, protecting the children at her school.
There is some brief discussion on the usage of fascia. I'm skeptical about his claims regarding fascia. I never felt like this was fully explored in the book. I'm a bit skeptical on the author's discussion of which martial art is the most effective. There will be so many different opinions depending on who you ask.
There are interesting pieces on the Natural Method and parkour. The origin of the Natural Method is fascinating. I particularly enjoyed the mantra of training to "be useful." I found the connection to modern day obstacle course racing (OCR) to be intriguing. The discussion of the business of gyms being built on people 'not going' is something I whole-heartedly agree with along with the transition into the modern day "work outs" focused on physique versus usefulness. He also touches on CrossFit.
The story of the 'daring band of misfits' from WW2 on Crete is also fantastic. This was a story I hadn't heard before. It was so daring and fascinating. It was such an amazing feat in the face of great danger. It would make a great movie. I really don't want to go into too many details at the risk of sharing spoilers.
In addition to these topics, Christopher McDougall discusses the Maffetone Method of fat-as-fuel. He also goes into the overconsumption of carbohydrates and the paleo diet. I predict a large number of endurance athletes will begin toying with the Maffetone Method because of this book.
The author goes about tying this all together. They seem to be connected but it just doesn't feel complete and is a bit forced. Perhaps this book tries to combine too much. Throughout the book, it felt like there was this big secret the author was going to share. It felt like this secret was teased and strung the reader along. In the end, it didn't feel like a big reveal.
The author wasn't overly technical when discussing some of the various ideas. I believe this was for the more casual reader. I would have preferred a more technical approach. I suppose those looking for more will delve into these various topics on their own.
In the afterword, Christopher McDougall says he was working on two separate books and felt like they were connected. However, as I read, I felt like the book kept bouncing around to all these different ideas and they never seem to come together throughout the book in a satisfying way. In the end, the author does go about bringing them together and I'm a bit skeptical about how they coalesced in the end.