Ever since I heard about the Grand Canyon Rim to Rim to Rim run (R2R2R), I had been drawn to it. The allure of running in one of the great natural wonders of the world was too great. I didn't care that it wasn't any type of race or event. This is something I wanted to do for myself.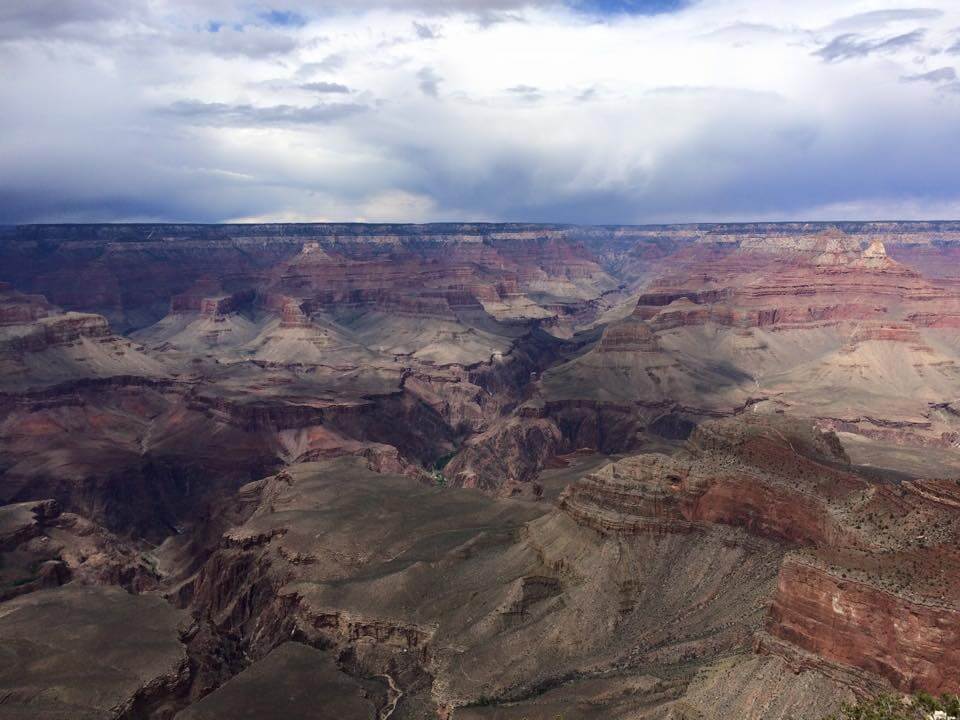 I spent time researching, planning, and training (of course) for the run. I tried to train as if for 50 miler and get as much elevation gain as I could in my runs. I searched online for information about the run and joined the Grand Canyon R2R2R run group on Facebook.
To be honest, the Grand Canyon can be a dangerous place. This is a self-supported run. No aid stations. Limited cell service. The weather is unpredictable. The taxi driver warned us that two runners had to be pulled out of Phantom Ranch recently; one of them needed an IV due to the heat. There are areas with sheer drops. Every year, a number of people die at the Grand Canyon, some from falling. I took every precaution. I made sure I was prepared and I had back up plans if things went poorly.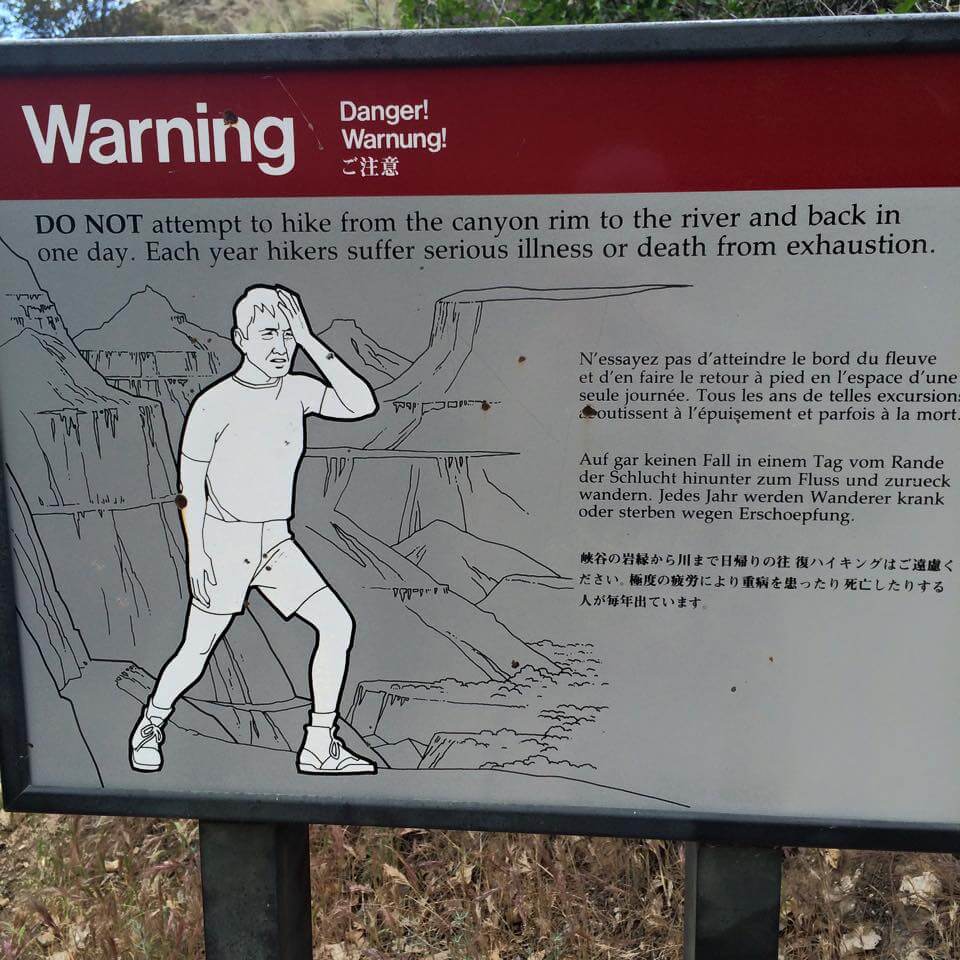 The route I chose was starting at South Kaibab trailhead, running down to Phantom Ranch, up to the North Rim, then back down, and up Bright Angel. This seems to be a popular route for the R2R2R run.
I scheduled my run for early May. This wasn't ideal since it could possibly be getting hot but it fit my schedule. It was still before the north rim opens so it wouldn't be as busy.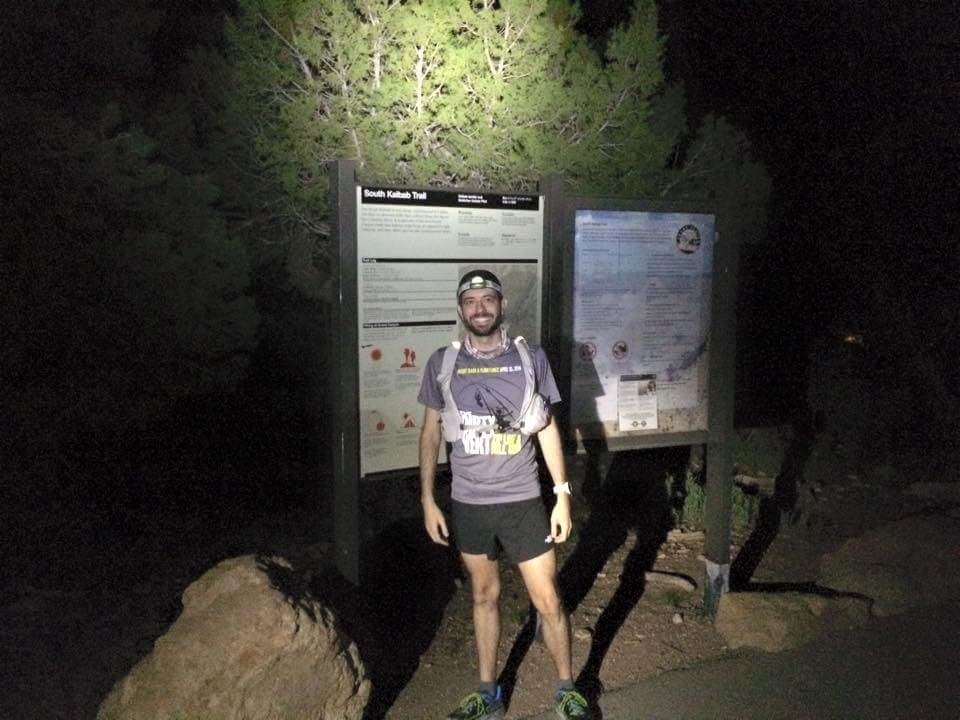 I stayed in the Grand Canyon village the night before and took a taxi to the South Kaibab trailhead around 4am in order to get started before the mules. I didn't want to get stuck behind a mule train. Mules are still used today to bring supplies down to Phantom Ranch. They are also used to deliver the mail from the ranch. It's great to see the postcards stamped, "Mailed by Mule at Phantom Ranch, The Bottom of the Grand Canyon." The mule trains start a first light so I got there an hour before sunrise to be safe.
A number of friends were going to do the run with me but one-by-one things didn't work out. This happens with scheduling trips like this. Peoples' schedules interfere or injuries happen. Nonetheless, I wanted to do this and I was going no matter what, even if I had to do it solo. As it turns out, I ended up going solo on the run.
At the trailhead, I met another very nice group of runners. It always impresses me how inclusive, personable, and courteous the trail and ultra-running community is. A number of them had been on this run before. They allowed me to join with them. I appreciated the company and their experience. The temperature at the trailhead was cool but not cold. I considered bringing arm sleeves and gloves but opted not to. It wasn't as cold as I thought it would be.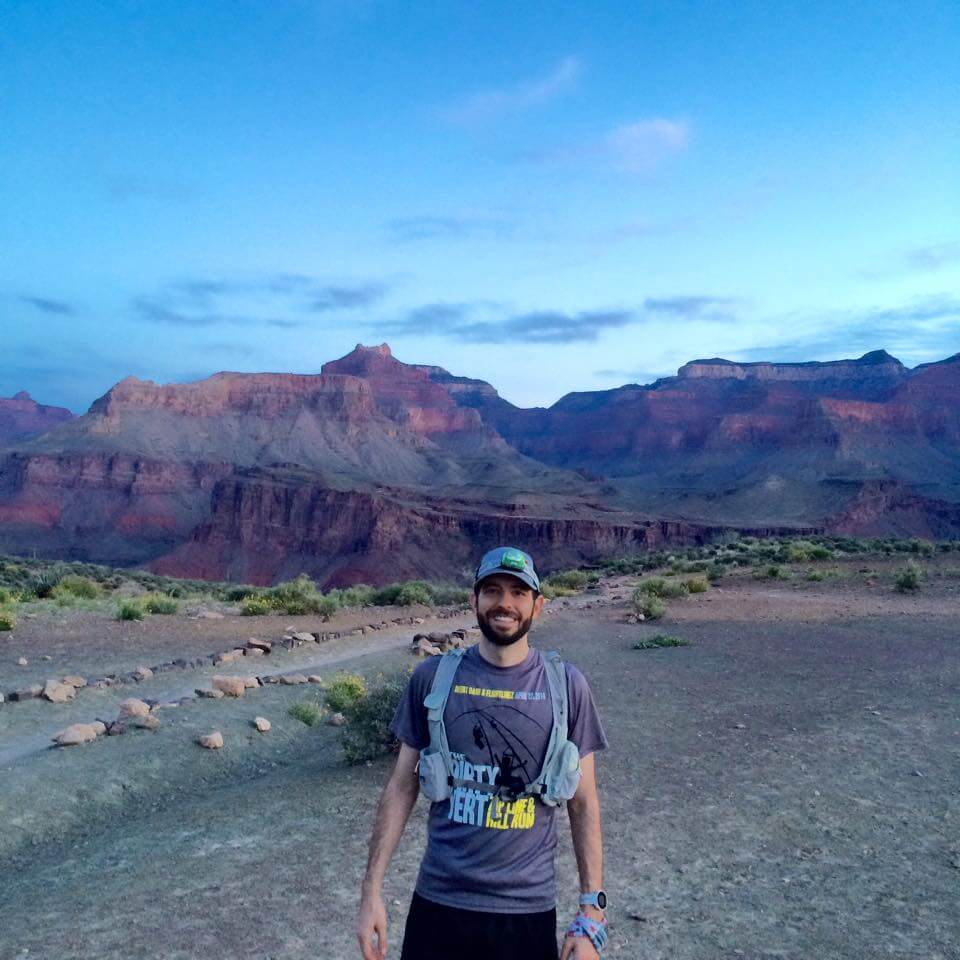 As I descended down South Kaibab in the dark, I was so excited. This was really happening. Throughout the run, I was filled with a sense of gratitude to be able to do this. I was grateful to be healthy, physically capable, and that the Grand Canyon allows runners to do this.
The trail down South Kaibab was quite cut out. They have these wooded logs spaced out and it's difficult to get a good running rhythm on this part of the trail. One runner remarked how the logs push up on ball of your foot. This little push (over and over again) can wear on your calves on the downhill. I noticed this early on.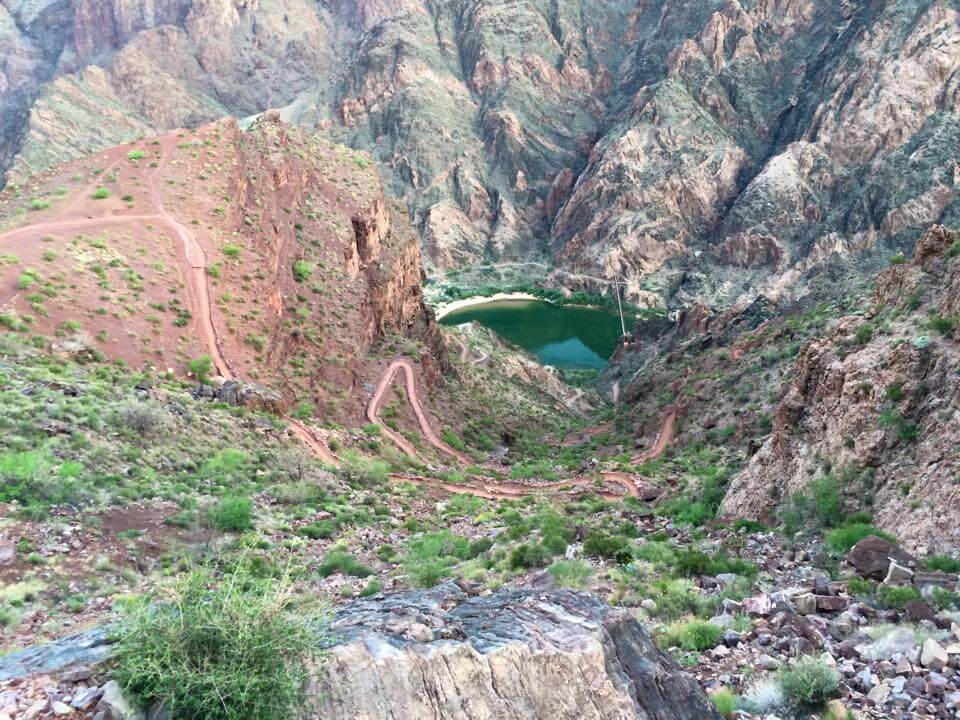 As the sun broke over the horizon, I was treated to spectacular views of the canyon. I couldn't help but stop every so often to take pictures. It was quite overwhelming and the pictures simply don't do it justice.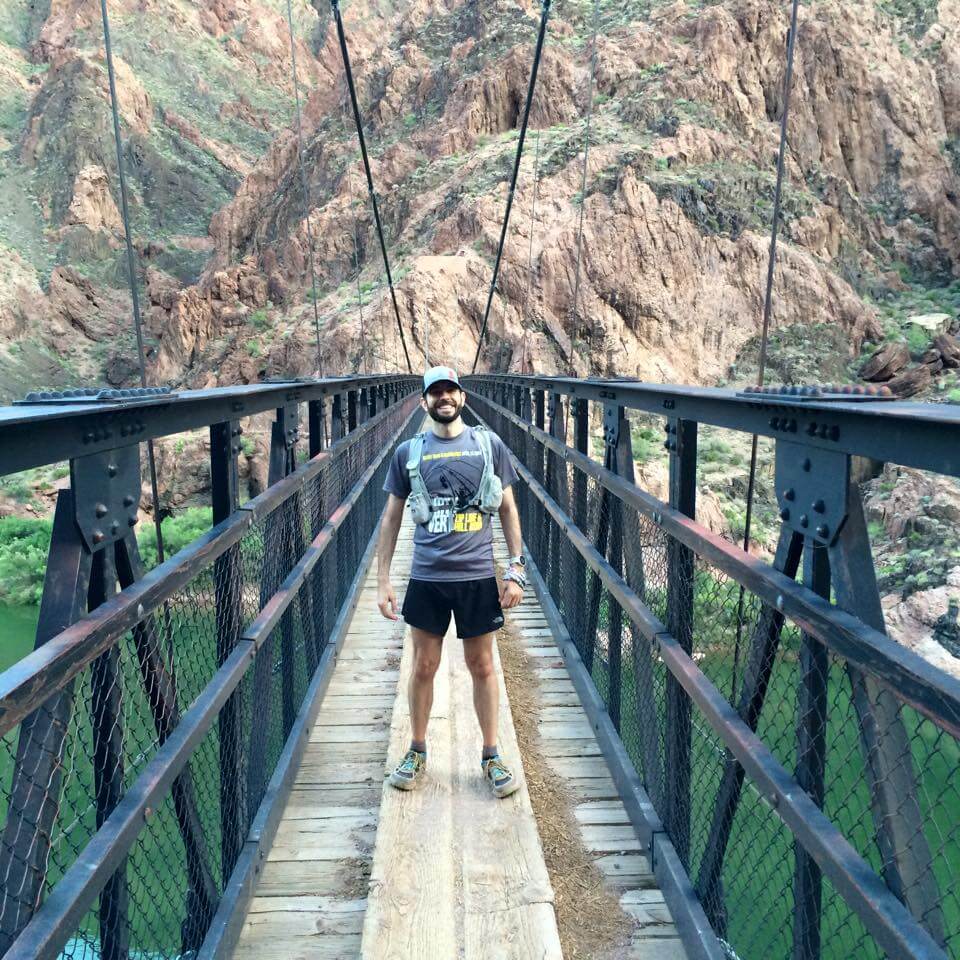 After the downhill running of Kaibab Trail, we reached the tunnel and bridge to cross the river. The inner canyon was beautiful to run through alongside the river. We saw a small herd of deer that allowed us to come right up to them. We passed Phantom Ranch but they weren't open quite yet. I had begun sweating already as we descended and the temperature was warmer at the bottom. This concerned me because the temperature would likely get hot later in the day when I returned to the bottom from North Rim.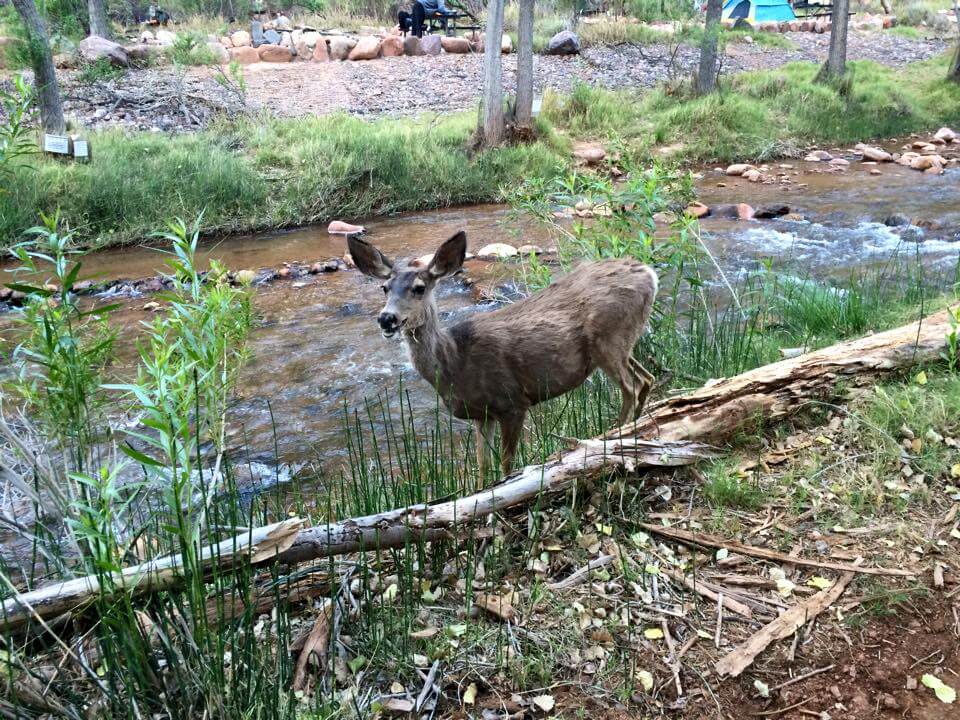 The inner canyon offered a different perspective but equally amazing views. I ended up pulling ahead of the initial group I ran with and ran solo for a while. At the cottonwood campground, I refilled my hydration pack. I was doing well with water but I didn't want to take any chances so I refilled often. Overall, for water, there was no water availability coming down South Kaibab. There was water at Phantom Ranch but I didn't need it. Overall, I was fortunate that the water was flowing in many locations along the way. This isn't always the case and you have to check the water availability before you go. I packed a lifestraw just in case I needed to drink from the river.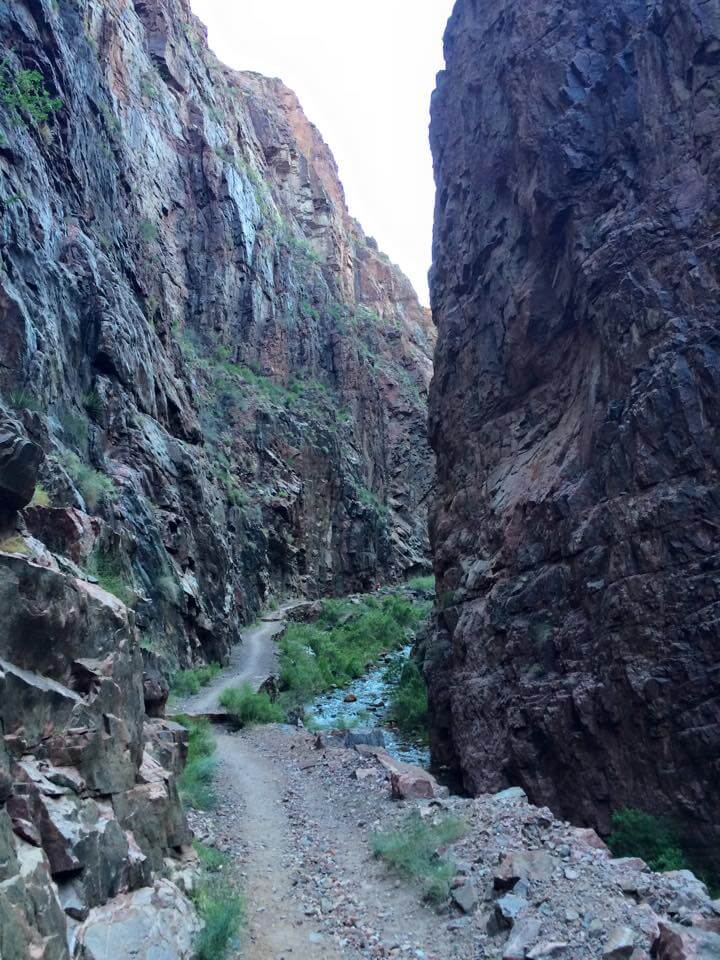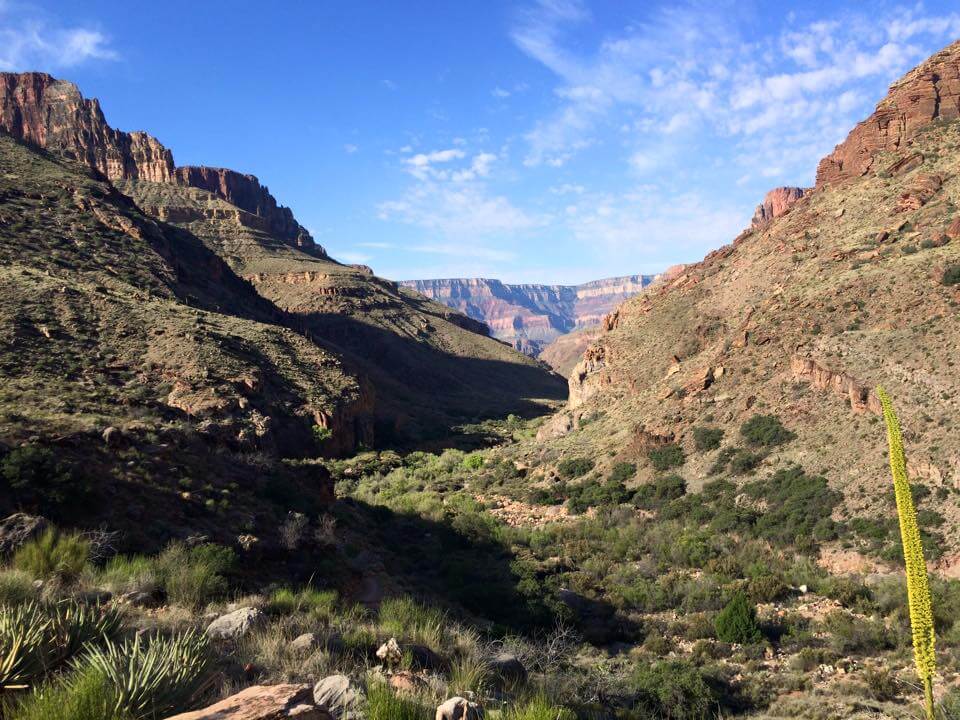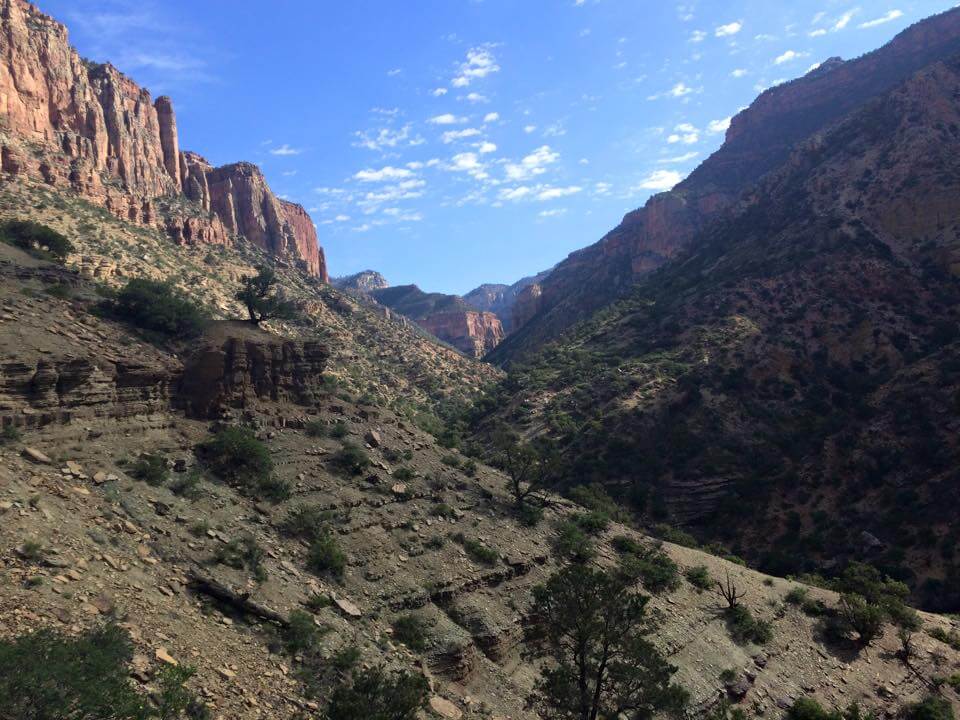 I encountered a couple of solo runners on the miles to the North Rim. I chatted a bit with John, who was approaching his 60th birthday. He had made a number of goals before he reached 60. One of those goals was completing the R2R2R and he had lost over 70 lbs in order to complete his goals. Very inspiring! I am impressed by individuals that envision these goals and really put in the work, changing their lives even, to make it happen. I also encountered Mike from Colorado, who was really making great time. We chatted a bit and trotted up towards the North Rim. (In the picture below, you can see me running in the lower right)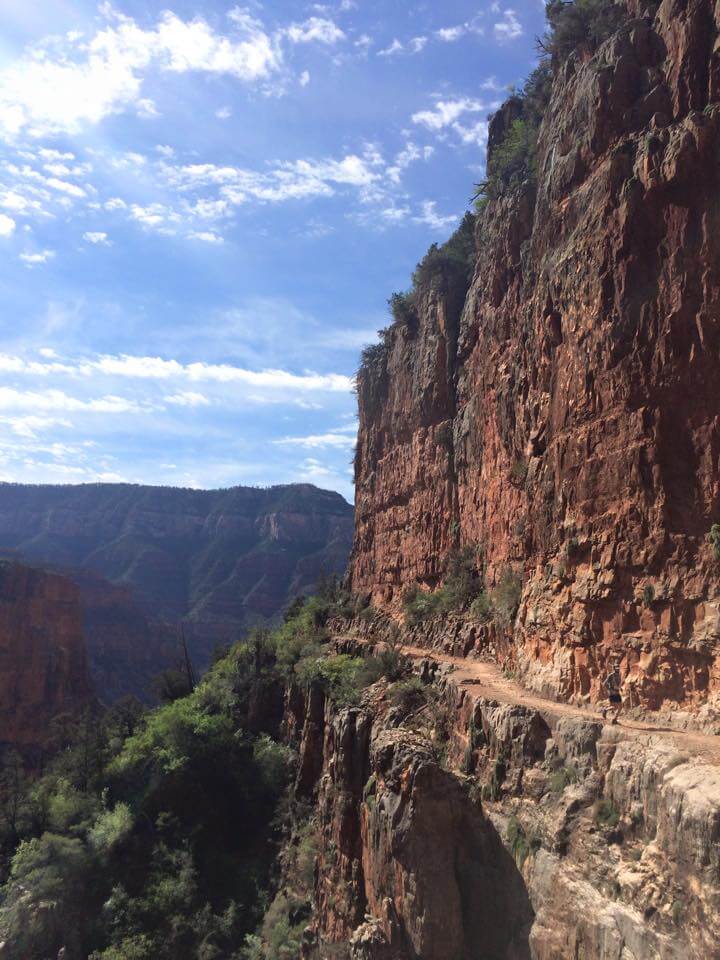 The route up to the North Rim was more exposed to the sun. The ascent was steep. I took out the trekking poles to help with the push to the top. On the way up, I encountered another group of ultra-runners from California. They were making good time and really enjoying themselves.
Once I reached the top of the North Rim, I felt wrecked. This concerned me as there were a lot of miles left. Still, it was fun at the North Rim. There was a nice group of us all refilling water, hydrating, fueling, and taking a breather. Everyone joked around and talked about the run. The temperature at the North Rim was refreshing. There was snow on the ground nearby but it didn't feel cold. It was nice to get my body temperature back down. The water there was refreshingly cold. It was difficult to leave.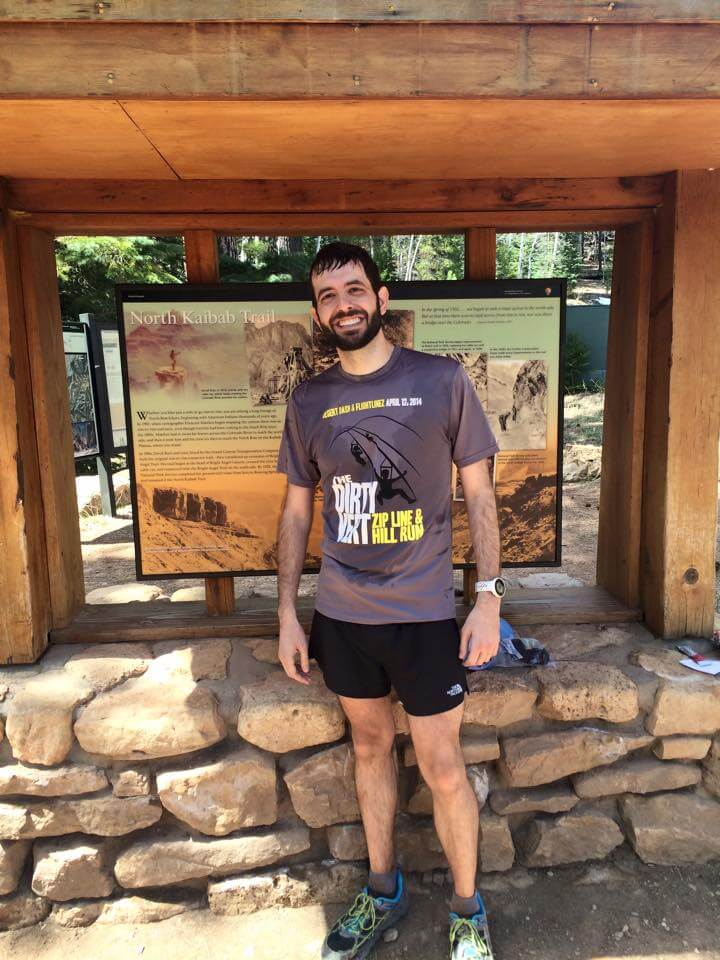 After taking this break, I felt rejuvenated. I was ready to tackle the rest of this run. I ran at a comfortable pace back down towards the inner canyon. I stopped at the pumphouse to refill my water. On the way down, it was hot but I was still feeling good. Upon reaching the bottom, it was hotter but not unbearable. I continued to hydrate, take salt, and eat ginger to keep the stomach under control. The miles were adding up and I was getting tired but I pushed through. I would dip my hat and buff in the river/water each chance I got. I was tempted to jump in the river to cool off.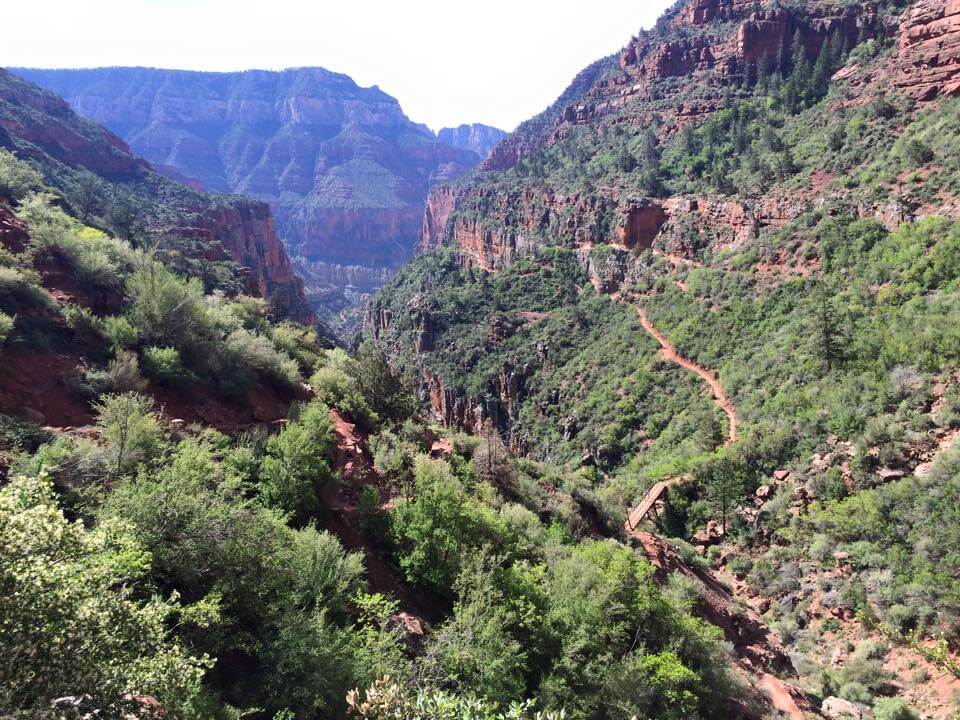 I arrived at Phantom Ranch and the canteen was open. I had planned on sending a few postcards to friends from here. I sent one to myself too as a keepsake. I grabbed a bag of M&Ms and two lemonades. They tasted glorious after running for about 38 miles thus far. As I did this, I chatted with a couple of folks from the Dirtbag Runners group that happened also be in the Grand Canyon. They were doing a shorter run to Ribbon Falls (a place I'd like to visit in the future).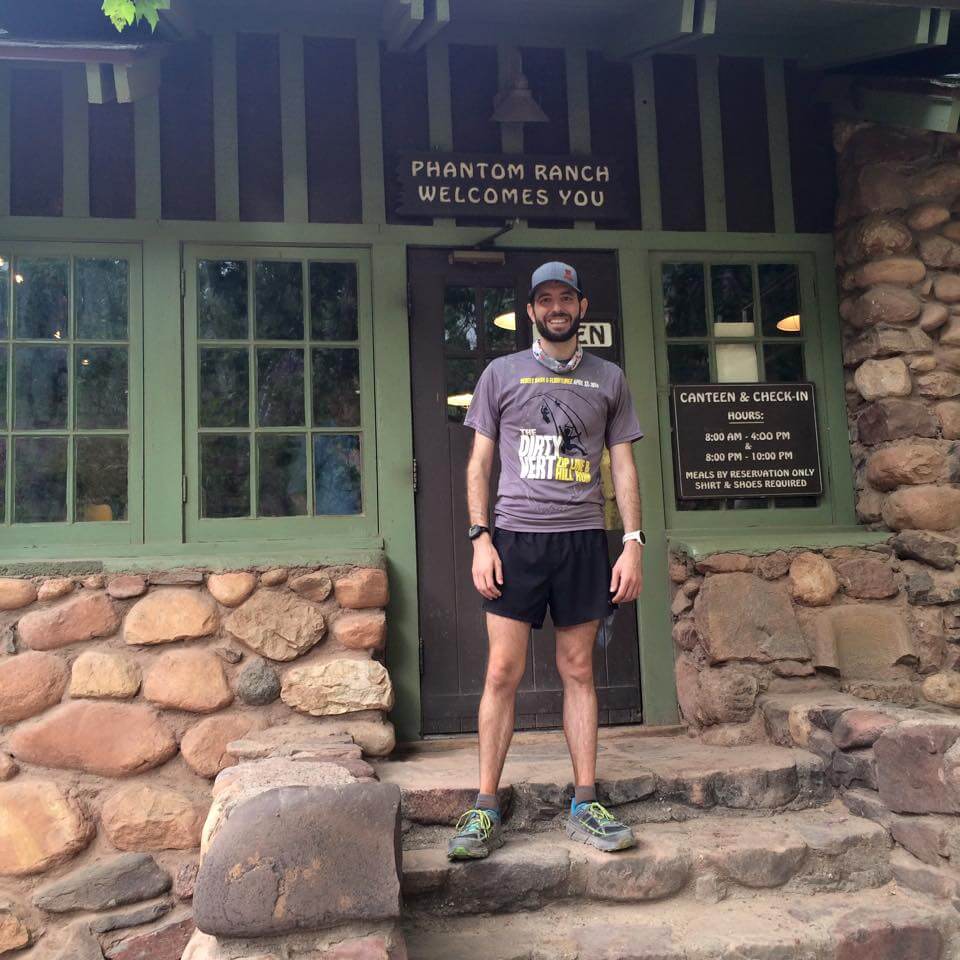 It was time get to the final ascent. I took the path towards Bright Angel and crossed the beautiful silver bridge. The river looks like a lot of fun. I would love to do a rafting trip through the canyon. As the path got steeper, I ran slower. Eventually, I pulled out the trekking poles and got into a good rhythm pushing towards the top. The top never seemed to come. I came across more and more hikers as got closer to the top. I got more and more excited to complete this journey. When I reached the top, I was greeted by my cheering family. I had done it! It felt so good. It was time to eat! Even days after completing this run, it is still sinking in just how special it was.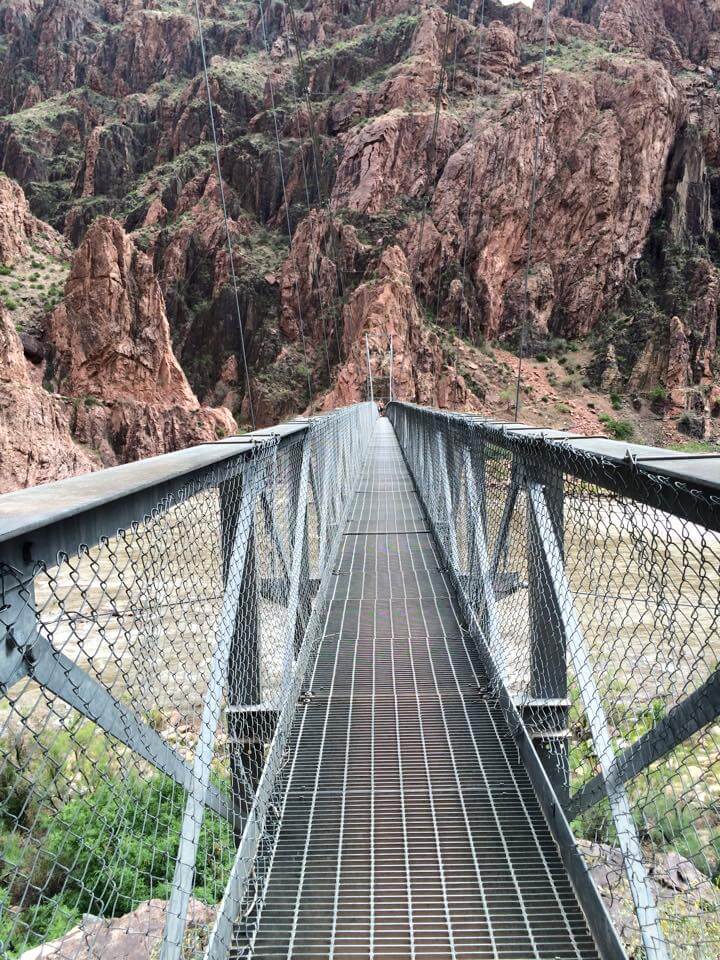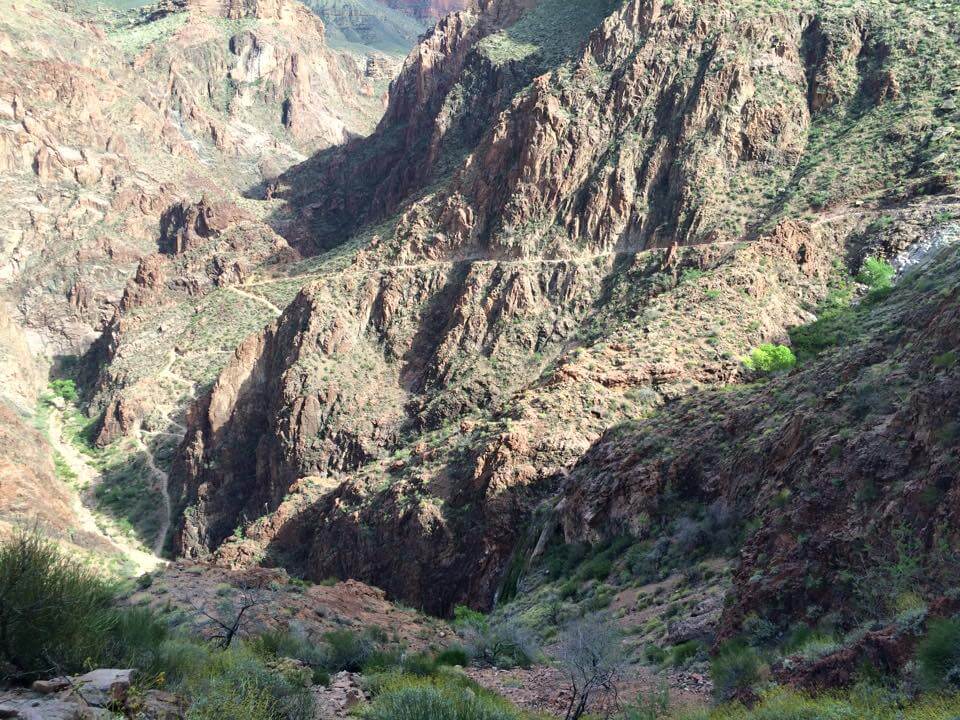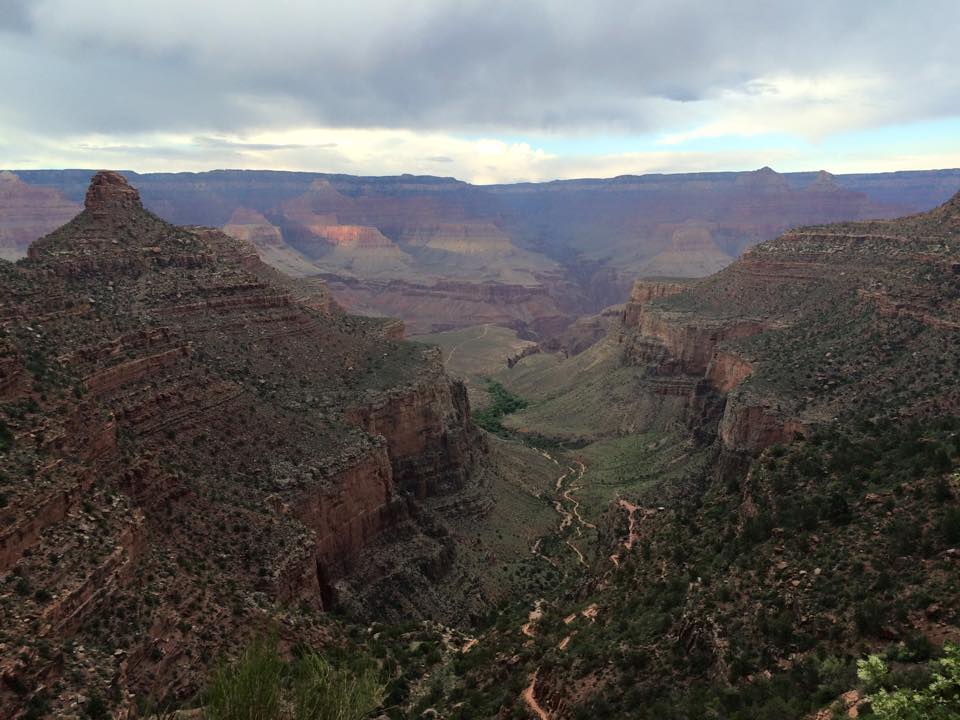 Each ultra-runner should put this run on their list. Hopefully the Grand Canyon continues to allow runners to do this.
The total time to complete the run was about 14 hours. Per Strava, my moving time was about 11 hours. I stopped often for photos, water, and writing postcards, etc. With a run like this, I didn't want to rush it. It wasn't a race. My goal was simply to enjoy the experience, and I accomplished my goal.
Gear: Petzl Headlamp, Buff, Injinji socks, Hoka Challenger shoes, The North Face Better Than Naked shorts, FlipBelt, Nathan Hydration pack, Garmin 620.
Fuel/Hydration: Nuun Hydration, GU gels, Honey Stinger waffles, Gin-gins candy
Note: I was going to wear my The North Face Ultra Cardiacs on this run but I had muddied them up at Zion the week prior. They weren't quite ready for this so I had to purchase the Hoka Challengers on late notice, slightly break them in, and trust them. They performed well, although they started coming apart a bit already. I took them back for an exchange when I got home (technically, I could say I had only worn them twice ;), although I did say one of those runs was R2R2R run).