Cuyamaca 100k by Steve
The day before the race I was so angry.
I woke up Friday morning feeling an oncoming sickness. I had trained so hard for this race. I had a great training block. This race, above all others this year, is one where I wanted to have a good performance. This race was my potential lottery ticket for Western States 100 and the last points I needed for the CCC lottery.
I was so frustrated. Numerous friends reached out with various remedies and immune system boosters. I tried them all. I was so grateful for their willingness to help, their empathy, and their kind words.
My friend Kelly and I drove out towards Cuyamaca State Park later that Friday. Kelly was to be the crew & pacer for my friend Josh and me during the race. We took the scenic route through the Mojave National Preserve, Joshua Tree National Park, Anza-Berrego Desert State Park, and eventually Cuyamaca Rancho State Park. I enjoyed the beautiful landscape and changing scenery. At one point, I was so tired I wasn't comfortable driving anymore so Kelly took over. This concerned me because I figured my body was drained of energy due to fighting whatever sickness I had.
Josh and I had put a good amount of thought into this race. We looked up strava activities, race reports, pictures, and asked other runners about it. We put together our goals and strategy based on this information.
I didn't entertain the idea of skipping the race entirely (DNS). However, I was coming to terms with the fact that the dreaded DNF (Did Not Finish) was a very real possibility. My goals before the race were to finish under 12 hours (this was my A stretch goal and I wasn't sure this was a possibility before I felt sick), finish under 13 hours (B goal, a reasonable goal within my abilities, I felt), and finish under 17 hours (C goal, to get the Western States 100 lottery ticket). I put those goals out of my mind given how I felt. At that point, I just wanted to finish in less than 17 hours or at all.
We (Josh, his wife and child, Kelly, and myself) camped at the park the night before the race. It was a really nice place to camp! Check out that view:
Usually I'm antsy the night before the race and have some difficulty sleeping. Not this night. I was exhausted. I got my stuff ready for the next day and went to bed early.
Early Saturday morning, we headed over to the start to check in and got ready. We got some nice swag! We got a long sleeve Patagonia shirt (sweet), some cool looking arm sleeves, and a hat. We nervously got ready and settled into a position near the starting line that we felt was appropriate for our running level. I told Josh that if I was struggling because I wasn't feeling well to feel free to push ahead (I ended up telling him this more than once).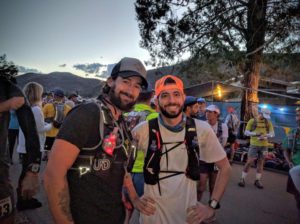 The race started right on time and we were off! I knew the first section was speedy so I tried to set my pace at a comfortable level even though I knew it would seem like a bit too quick of a start for a 100k ultra. I passed some people to try and get a bit of space on the singletrack. I don't like being bunched together. Josh wasn't as aggressive as passing people as I was, so he fell behind me a bit.
I rolled into the first aid station, checked in, grabbed some watermelon, and headed back the other way (it was a little bit of an out and back). I saw Josh coming in as I was leaving so he was not far behind.
The course is made up of three different loops from the start/finish area. The first loop is 31.8 miles and includes Cuyamaca Peak. You get different colored wristbands at the start/finish area corresponding to the different loops. Their trail markings match the color of your wristband too. The race was well organized and marked.
I kept cruising along although I felt the idea in the back of my head that I could crash at any moment from being too tired due to the illness. Whenever I felt some fatigue, I wondered if the crash was coming.
I arrived at the Green Valley aid station feeling fine. It was another brief stop. I was consuming gels and Honey Stinger chews at this point. I realized this year (thanks to Josh) that I haven't been diligent with my fluid intake on long training runs and races. I took the time to analyze my fluid intake and improve on it during the training block leading up to the race. I used water and Nuun in my bottles. I felt like keeping my fluid and sodium intake on point would be a huge help.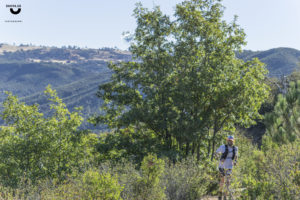 Next up was the climb to Cuyamaca Peak. It was a grind of a climb. The grade wasn't too bad until near the peak. I alternated between running and hiking and felt like I was doing decent. There were photographers on the way up so I had to pretend like I was running at times even when I didn't feel like it, haha. I ate a Honey Stinger waffle before the peak and was glad to nearly be there. As I got to the peak aid station, someone squeezed sponges with wet cold water on top of my head. I gasped for air. It was cold and invigorating! Another volunteer came to get my bottles and filled them. Such great service! I grabbed some watermelon, a cup of ginger ale, and a cup of coke. Then, I was on my way. I have been working on being efficient in aid stations and I felt like I was doing a good job of this! On the way down from the peak, I saw Josh again. He was still close behind. I also saw American record holder for the 100 mile distance, Zach Bitter, getting looked at by medical for a gash on his forehead. I guess he fell on the technical trail after the peak. I felt bad that he was out because he probably would have put up a really fast time.
Boy, that descending section after the peak sure was technical! I figured it was because when I looked at peoples' splits before the race, they weren't fast even though there was a significant amount of elevation loss. I skipped around the rocky twists and turns of the trail hoping not to fall. Fortunately, I survived and made it to Paso Picacho aid station. At this point, I knew I was slowing down. Here comes the crash, I thought. Kelly was at the aid station and hooked me up with some more fuel for my pack. I had a Mamma Chia squeeze, told Kelly that Josh wasn't far behind, and I was off.
Well, I thought I was off. I totally spaced a turn on the course shortly after I left the aid station. Fortunately, another runner yelled out to me and told me I had missed the turn. "That could have been really bad!" I thought as I turned around and headed back onto the course, thankful for a kind fellow runner. Moments like that make me appreciate the ultra trail running community.
It was only 3.6 miles to the start/finish area, completing the first loop, so I plodded along. Josh caught up to me before we got to the start/finish area. When we got there, I changed bracelets for the second loop, grabbed some more gels, watermelon, and coke. The day was warming up and I was not looking forward to the next climb up East Mesa.
I didn't feel so bad that I wanted to quit. I just didn't think things were going to get better or I would do well. Josh and I left the start/finish area together. The climb up East Mesa was steep. I couldn't get even get a decent hike pace going. Josh pushed ahead of me. I couldn't even muster the energy to pretend to run for a photographer at that point, haha.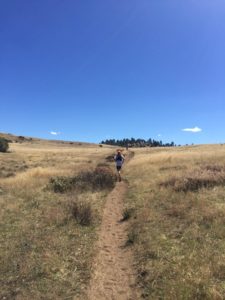 When we got to the top of the mesa, I started running again. It was beautiful up there with the tall grass and scenery around us. I caught up to Josh and we ran together. I have no idea what happened but I started to feel really good. Josh and I exchanged leading. I tried motivating Josh (and myself) by telling him that we were actually a good deal ahead of projection for our goal of finishing under 13 hours. It helps me to realize in tough spots that I'm actually doing well in a larger context.
A mile or so before the next aid station, I looked behind me and Josh wasn't there. Apparently he was cramping and locked up a bit. I was moving well as we came into the next aid station. Josh came in shortly behind me. It was a Florida Gators themed "Gator aid station." The volunteers there were awesome. Again, they took my bottles and filled them for me. They handed me an ice pack that I put on my neck. I was hungry! I grabbed cups of ginger ale, coke, mountain dew, and M&Ms. The mountain dew was really good at that moment! I'm not normally a big mountain dew drinker. I also grabbed an apple sauce squeeze that I really enjoyed. I thanked the volunteers for being so awesome and headed out.
Josh told me to go ahead to the start/finish area (our next step) because he had to take care of some things. I was also going to let Kelly know he could pace Josh, and I would go out alone for the 3rd loop. It was only 4.8 miles there but there was another steep (but smaller) climb. I got through that section feeling much better. I knew the hardest parts of the course were behind me.
When I got to the start/finish, I told Kelly that Josh was struggling so he should pace him and that I would be fine alone. I grabbed some supplies, Kelly shoved my headlamp (just in case) in my pack, and I received a new bracelet for the last loop. I was feeling conflicted. I didn't want to leave Josh while he was struggling but I now realized that I had a shot at finishing under 12 hours. I decided that Josh had Kelly and I didn't think there was much more I would be able to do for him. In retrospect, I realized I missed a golden opportunity to be the unsympathetic pacer (and thankfully so) that Josh was for me at the Pony Express 100 miler, hehe. Oh well, maybe next time. I felt good, I had a goal, and I had to make this count. Still, I had 18.2 miles left of a 62.8 mile course (I had already gone 44.6 miles, to do the math for you).
I put my tunes on and headed out onto the gradual uphill grinder for the next section. I was trying to calculate the pace I needed to finish in less than 12 hours. It's tough to do math when you have "ultra brain" going on though. I just tried to keep my overall mile splits around 12 min/mile given the uphill grade, although the last couple of miles before the next aid station were a bit steeper! Suddenly, I could see a couple of runners behind me moving fast. Where did they come from? Then, I could feel some cramping in my legs and my hamstrings felt like they were vibrating with twitches. Not good. Then, I could hear the music blasting from the aid station. I pumped my arms in the air to the music as I got into the aid station. The volunteers cheered and were enthusiastic. They told me the runners behind me were pacers whose runners dropped so they were looking for someone to pace. There actually weren't any other racers close behind, whew. I grabbed the trifecta of ginger ale, mountain dew, and coke again. I saw they had pickle juice and one volunteer offered rice balls. I hadn't tried either before in a race. I tried them both and jokingly said, "Race day is the time to try new things, right?" I was getting a bit loopy. The pickle juice was nasty but my cramping ended up going away! The rice ball was great! I thanked everyone again and headed out.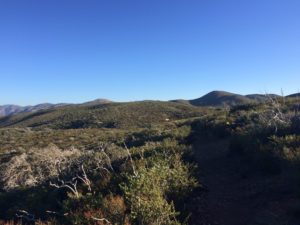 The next section had some rollers and I couldn't quite get the speed I wanted. Things were looking really close and I would need to pick it up if I wanted to finish sub-12 hours. I kept a good attitude though. I got to the last aid station. They helpfully asked what I needed and I just said, "I can't stop long if I want to finish under 12 hours," grabbed a cup of mountain dew, and left. A volunteer escorted me across a paved road enthusiastically complimenting me on the quick aid station stop. I looked at my watch. I had one hour, three minutes to run 6.8 miles to the finish. I needed to go under 9:30 min/miles on my last 6.8 miles of a 100k race to finish in less than 12 hours. I knew there was some downhill on this last section. I need to push hard. So, I took off.
I ran keeping the pace within range for my goal, with a couple sub 9 min/miles. I passed a couple runners. One complimented me on my pace that late in the race. It felt good to move up a little in the results close to the end. As I ran, doubts crept into my mind. What if the course is longer than I think? Am I hurting by running this hard for nothing? I pushed those thoughts aside knowing that I would be frustrated if I barely missed my goal without giving my all. I came to a sign that said there was one mile left. I had about 10 minutes left to finish in less than 12 hours. I hoped it was really just one mile and not any bit further, like 1.1 or 1.2 miles! Relief and excitement came over me as I saw the finish line! I pushed hard as I saw it was a close one and I finished with a time of 11:59:19! I did it! I ended up taking 12th place overall. I was incredibly happy with the result.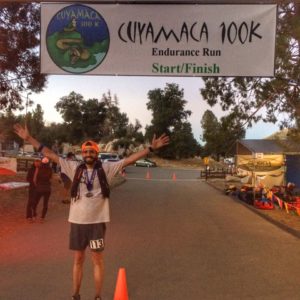 I complimented the race director on a well-organized race, well-marked and beautiful course, and some very fantastic volunteers. I was so impressed. I chatted with my friend Smitha from Running With SD Mom blog. I chatted with other runners I raced with and some I knew from Instagram. I was probably pretty silly because I was so pumped from the race and had ultra brain, for sure. I apologized to one of the runners I passed shortly before the finish because I know how frustrating that can be. He actually thanked me because he said I motivated him to run harder and he ended up finish sub-12 too because of it. Overall, I was pretty wiped out. I knew I had given it my all. I hobbled around getting food and drink to replenish.
Soon, Josh and Kelly came running in. Josh still finished in less than 13 hours despite some struggles. A very impressive first 100k for him! We both ended up with a lottery ticket for the Western States 100 and the points we needed for CCC.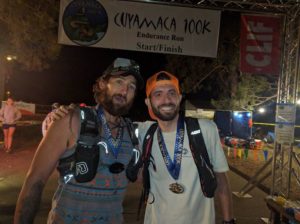 If you're looking for a 100k race (and possibly a Western States 100 qualifier too), I highly recommend this race.
Gear: Altra Lone Peak 3.0 shoes, Injinji socks, Patagonia Strider Pro shorts, Salomon ultra vest, Desert Dash Trail Junkie trucker hat, and an old tech tee from Target (hehe).
Nutrition: Nuun tabs, Honey Stinger waffles and chews, Mamma Chia squeezes, GU gels, Hammer Enduralytes, watermelon, ginger ale, coke, mountain dew, M&Ms, apple sauce squeeze, pickle juice, and a rice ball.