Beyond Limits Running Summer Marathon by Steve
The Las Vegas summers are very hot. It's difficult to get in quality training sometimes. I either have to run really early in the morning or late at night. If I go out during the morning, sometimes I can't run too long because of the sun and heat exposure. I also like to escape to the nearby mountains for cooler temps.
After the Squaw Peak 50 miler, I was looking for a new event to keep me motivated through the summer. Due to the heat, there aren't many local events in Las Vegas during the summer months.
Fortunately, Beyond Limits Running was putting on a summer series of runs. I've never had the opportunity to run one of their events yet, and I wanted to check one out. On a bit of whim, I e-mailed the RD last minute and asked if I could still register. They were very accommodating. I signed up for the "Nocturnal Sins" marathon, which is part of their Hallucination Summer Night Race Series. It looks like they had a lot of fun with the naming and themes of these races.
When I got to the park on the evening of the race, I saw a lot of familiar faces. The race was pretty low key. There were a good amount of runners there but not a ton.
The race distances were made up of a 3.6 mile loop course. I don't mind looped runs too much. I just zone out and run.
It was still really hot out for this run but at least the sun was setting as the race was getting ready to begin. I would need to stay on top of my hydration and do what I can to handle the heat.
The half marathoners, marathoners, and 50k runners all started at the same time. A few folks tore off the starting line. I settled in near the front at a comfortable pace. It was too hot to push hard this early.
The loop around the park was nice. There was a mix of paved path, sidewalk, and gravel. It twisted around a bit. My GPS was reading a lower mileage than what I should have seen, but the race director assured me he had wheeled the entire loop. It made sense my GPS would be off with the meandering routes and sharp turns within the loop.
The aid stations were great. I had everything I needed to keep going. I took precautions to make sure I always had plenty of fluid. I used lemonade-flavored Nuun in my water to keep my electrolyte/sodium level on point too. I would put ice in my hat and bandana after every lap, also dipping them in cold water. I feel like this really helped.
After a few loops, I found out I was in first place by a good margin! That was a nice surprise. I did my best to stay loose and enjoy the evening. I enjoyed chatting with the other runners out there. You end up seeing folks on a regular basis during these looped races.
I kept my routine going and my pace steady. I chatted with folks at the main aid station. I said that I might be on track for a sub-4 hour marathon, which I thought would be nice given the heat and my relaxed pace. The race director Ken said that I should get going then and shooed me out of the aid station, haha.
I love these desert summer nights in Las Vegas. The nights are still hot but the contrast from the heat of the day with the direct sun to the evening leaves them feeling relatively comfortable. Of course, the many lights of the city creates a certain magic.
As I pushed to the end, I knew it would be close to four hours for this marathon. I ended up finishing 4:00:20. Ken started cracking up when he saw the time. I knew he was thinking about that extra aid station time. I laughed along with him. I wasn't concerned about the time. I was happy with how things went. I got in a good workout and I had a great time. Oh, and I took first place too!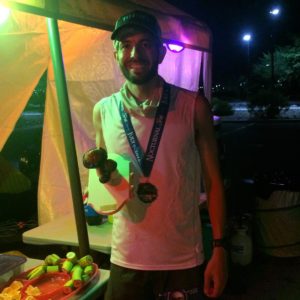 After finishing the race and recovering for a bit, I was feeling better. My friend Iris was still running the 50k. She ran a further distance than me because she's much tougher than me. The ultrarunning ladies are the toughest group you will ever have the fortune to meet!
I offered to pace Iris on the last loop of her 50k. We ran together and had fun chatting. I knew she was hurting by that time so I tried to keep her mind off of it. It was still hot out and she was getting hungry. We talked about how good watermelon sounded at that moment. If you have never eaten watermelon during an ultramarathon, particularly when the temperatures are baking the air around you, you haven't experienced how truly good it can taste. I said that I should have grabbed some before that loop to hold it in front of her as encouragement to finish that last loop strong. I'm sure that would have been motivating in a cruel way. Nonetheless, Iris finished strong with a great time, and she was the second place female in the 50k!
Here's a pic of their unique placement award and medal рџ™'
Overall, I enjoyed my experience with Beyond Limits Running. I hope to do more of their events in the future. I'm glad they put on these summer night races. They're perfect for those of us in the Las Vegas running community that toil through our training in the summer months.
Gear/Nutrition: Altra Torin 2.5 shoes, Injinji socks, Patagonia Strider Pro shorts, basic tech top from Target 😉 , Columbia Freezer Zero Neck Wrap, Nuun trucker hat, and Ultimate Direction Jurek grip handheld. I ate Honey Stinger chews, GU gels, Nuun tabs, some banana, and watermelon (of course).