Squaw Peak 50 Mile Race by Steve
This race wasn't on my radar until the race director for Desert Dash brought it up to our group of trail and ultra runners in Las Vegas. A bunch of us agreed to do it. I was looking for an ultra about that time of year and it would be fun to run it with a bunch of friends.
After injuries and scheduling knocked some participants out, four of us (Josh, Maia, Natalia, and I) remained to do the race together. It was Josh's first official 50 mile race. He had done Grand Canyon R2R2R before this. Maia has done tons of ultras. It was Natalia's first mountain trail ultra, but she has done other ultras including a 100 miler. We carpooled up to Provo, UT as the race would be starting at Vivian Park.
Packet pickup was nice. We got a cool shirt, some socks I really like (wrightsocks), and some other items. The meal was pasta and pie (I love pie!). There was a presentation about the race and course. The race director spent quite a bit of time raffling off items. Some people got some really cool stuff like hydration packs, water filtration systems, altra gift cards, trekking poles, and more. I got a RooSport pouch, which I was interested in trying.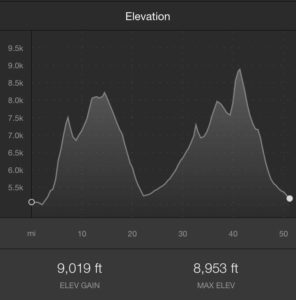 The course boasts 14,000 +/- ft of elevation gain and loss. Among all that climbing is the infamous climb I had heard about named "Bozung Hill" after the race director. I was really looking forward to this course. It's an older ultra I had heard good things about from friends. I had also heard variations of it being the hardest 50 miler in Utah and one of the hardest in the US.
I felt good enough leading up to the race. I had a good run at the Trails of Fury 50k. I enjoyed the company of my friends heading up to the race.
The morning of the race was cool and comfortable. Although the forecast was projecting some of the hottest weather ever for this race, being from Las Vegas, I wasn't sure how bad their hottest weather could be.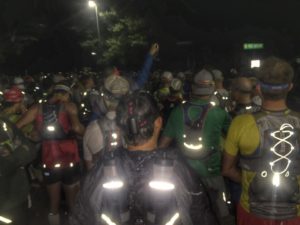 As I was milling around near the start with Josh and Maia, the race suddenly began while I wasn't paying attention. I realized I was too far into the back of the pack. I didn't want to get onto the single track behind too many people and be unable to pass. The first section of the race is on a nice paved path by a creek. Josh and I thought we would run together for much of the race and started hurrying towards the front. We ended up running by Natalia who had the opposite issue, saying she had accidentally started too far towards the front. We ended up in a reasonable position by the time we hit the first stretch of single track trail.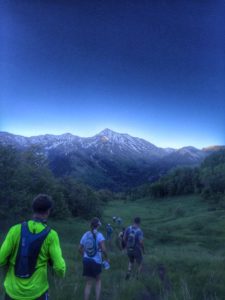 That first climb on the single track was tougher than I thought it would be (probably because I was focused on Bozung Hill). My plan was to hike through the uphill sections and power the downhills. I was optimistic about my plan and goal time of finishing under 11 hours. About 4 miles into the race, Josh and I got separated on the single track. I figured some people just got in between us and he would catch up at the next aid station.
After the first few aid stations and a couple of climbs, Josh still hadn't caught up. With these races, it's tough to stay together anyways because you never know how they will go, but I was still surprised.
After about 14.6 miles, I hit the first downhill hard. I wanted to push it but stay comfortable. I remembered from the pre-race briefing there was a turn that is easy to miss coming up. They said if you miss it and stay on the dirt road, you just add a bit of extra distance. I passed a couple runners as I was charging the downhill. Then, further down the road, I saw these same runners emerge from some single track off the road. I had missed the turn! I asked them what distance they had on their watches and I had, in fact, added a little bit of extra distance to my run.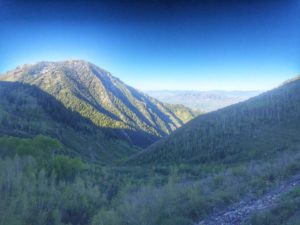 Eventually, we hit some paved road and the day started to really warm up. I really didn't like the paved road. It had some rollers and I walked more than I should have. In retrospect, I should have just cruised along it at an easy pace. I guess I still had that "walk the climbs" mindset from the bigger climbs earlier in the race.
At the aid station at the end of the road, I saw my friend Curtis, whom I ran with at the Pony Express 100 (he took 1st) and is local to the Utah area where the Squaw Peak 50 is held. I was surprised to see him. I figured he would be much further ahead on the course. He said he wasn't able to keep anything down. My heart went out to him. Before I left the aid station, I went over and gave him a hug. He told me to go out there and crush it. I thought it was really cool of him to say that. It says a lot about his character that rather than focus on himself and the tough time he was having, he had encouragement for me.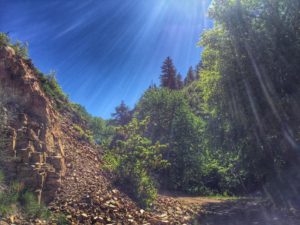 The heat was affecting quite a few runners. It was slowing me down some but it wasn't too bad. I am used to warmer weather. The humidity was causing me to sweat a bit more.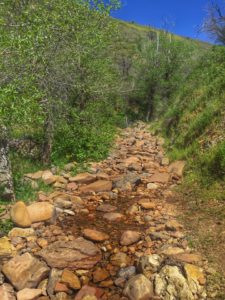 I got to the mile 33 aid station after another climb. I saw Curtis' brother, who was waiting to crew him, and told him what happened. I found out later that Curtis ended up dropping. Also, there was still no sign of Josh at this point. I grabbed my trekking poles out of my drop bag. Having my poles reinvigorated me for the climbs ahead. I started the next section of the course with renewed determination.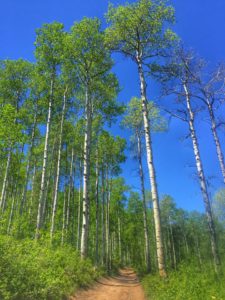 The course as a whole really has some beautiful views. I love seeing the Utah mountains and running through the trees.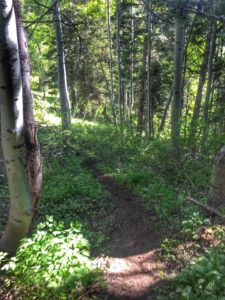 As I approached the mile 40, where Bozung hill is supposed to be, I could see it coming. I knew that big climb up ahead was where I was going but I don't think my mind wanted to accept it. Another runner, Kendall Wimmer, ran by me and confirmed that was indeed where we were headed and told me a little bit about where it would lead directionally.
The climb was just as tough as advertised. I dug in my poles and maintained forward progress. I refused to stop moving forward because I was afraid it would be too hard to start moving again or I might topple over backward because of the steep grade!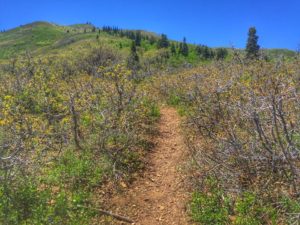 After the climb, I was running low on water. I ran across some snow fields on the way to Windy Pass aid station. The aid station was so remote that they used horses to bring the supplies up there for the runners. I got there and drank a lot of fluid. I thanked the volunteers profusely for being there. They were so nice!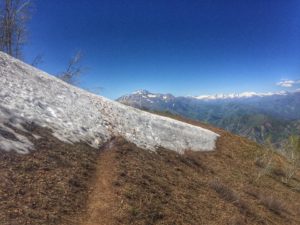 I really wanted to crush this last downhill with 10 miles until the finish line. As I began the downhill, I became frustrated because it wasn't the buttery single track I was hoping for. I slipped on patch of snow causing my poles to fall out of my pack (I carried them to the end), walked through an avalanche area, and had to be careful on some areas with rock scree. I felt too fatigued to do a better job on these sections of more technical downhill. It was frustrating to see my goal time slip away.
Runners know that if you push too hard early in the race, you pay for it at the end. However, I also know that if I don't take a chance and push it, I won't know if I can sustain it. I went for it and it didn't quite work out how I planned and that's okay.
There was a beautiful field of flowers as I neared the end. I ran across a nice grassy meadow. Then, the last aid station was before the last 3 miles of the course on pavement (ugh). I cruised slowly along the pavement, a little uncaring because I missed my goal time. I just wanted to get to that finish line and relax.
I kept looking behind me. A couple runners passed me near the end. I was annoyed with myself for letting it happen. I told myself I didn't care. Then I was annoyed with myself for not caring, haha!
Throughout the race I was expecting Josh to round a corner behind me at any moment. As I looked back, I saw someone that I thought was Maia in the distance. If she beat me, I would never hear the end some good natured teasing within our running group! I picked up speed and darted around a corner like a ninja, hoping she didn't see me. I pushed to the end and kept looking back to make sure she wasn't catching me. I was warned the course is always over 50 miles, so I wasn't surprised when I finished with 51.2 miles.
At the finish, I was tempted to joke around with Maia and act like I had been finished for SO LONG when in reality I had only come in 40 seconds before her. I asked if she saw me and she hadn't. If she had, it would have been ON! Looking back at the Strava Flyby of the race, Maia had a really strong consistent race. She ran a much smarter race than me and took 5th place female.
I finished in 11:33:10. It wasn't quite what I wanted but still a very solid run. I probably should have adjusted my goal a bit for the record high temps for this race. I got a cool wooden finisher's medal.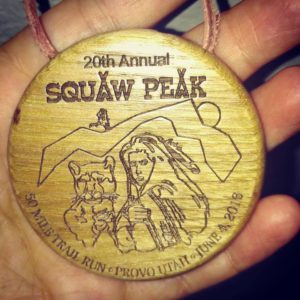 Josh ended up coming in later. We found out that he was not feeling well. I guess he had a tough first half of the race, and then rallied to crush the end of it.
Natalia took a bit longer. We were concerned about her since it was her first mountain trail ultra on a tough course. However, she came into the finish in her usual style with energy and infectious happiness.
Overall, it was another great experience running an ultra through some new mountain trails.
Stuff I used: Nuun, Honey Stinger waffles, GU gels, Mama Chia Squeezes, Gin Gins, Endurolytes, Patagonia Strider Pro shorts, InkNBurn shirt, Desert Dash Trail Junkie hat, Ultimate Direction SJ 2.0 pack, Black Diamond Z trekking poles, Injinji socks, and Altra Olympus shoes.
A refreshing visit to Bridal Veil Falls the next day!