I'm blogging a bit out of order. I still need to do a writeup for the Desert Dash Beginner's Luck 55k.
When I first looked at and registered for the Miwok 100k lottery, I thought it was an easy (relatively) race. I thought this because I looked at the Western States qualifying time of 15 hours 30 minutes (it's usually 17 hours for a 100k), and I also looked at previous years' finishing times and saw a lot of fast times. Based on that limited information that I gathered too hastily, I thought this would be a relatively easy 100k. Boy was I wrong! I think I was blinded by all the beautiful race photos that I didn't look deeper into the details of the race.
As the race approached, I looked further into the details of the race. I saw that it had 11,800 feet of elevation gain. Wait a minute… I thought this was an easy 100k. What about the Western States qualifying time of 15 hours and 30 minutes? Oh. That's the cut off for the entire race. Also, the other cut offs for the race are tight! What about all those fast times? Oh. Those are the only people that actually finished the race. Upon further investigation, I saw a long list of DNFs each year. Uh oh.
Fortunately, I had pro ultrarunner/coach Ian Torrence create a custom training plan for me. I felt this would help shake up my training a bit because I had been feeling a bit stale. I really enjoyed the training plan.
I had some unavoidable struggles of my own during this training cycle. My job as a tax CPA meant I was putting in huge work hours during the weeks leading up to the race. I was also dealing with a nasty quad strain for most of my training cycle, which limited my hard workouts. Fortunately, local PT, Ron Gallagher with Maximum Velocity, was able to meet with me at times that fit my insane work schedule. I also got pretty sick at one point, which wasn't fun for work (no days off during tax season) and training.
Fortunately, Ian's plan helped get my training on track and Ron was able to get my quad issue fixed before the race. I felt pretty good heading into this race. I wasn't entirely sure what my goal time should be. My time at the Cuyamaca 100k was 11:59 and the Miwok 100k appeared to be easier so I thought perhaps I could do similar or better than 12 hours. Still, I knew the Cuyamaca 100k was a great race effort for me so I wasn't sure if it could be duplicated.
The Miwok 100k really is an iconic ultramarathon. The course is incredibly beautiful. It starts at Stinson Beach, on the north side of the Golden Gate bridge from San Francisco.
I flew in early with my family and got a chance to play tourist in San Francisco before the race. I found a carpool that would pick me up from my hotel en route to the start of the race. One of the other members of the carpool also picked up my bib.
I was picked up at 3am so we could pick up the other members of the carpool and get to the starting area at Stinson Beach by 4am in order to be ready for the race start by 5am. For the other three members of my carpool, it was their first 100k.
The check in and pre-race set up was very efficient. It was still dark at the start. I was milling around and someone asked me where I was from. I replied that I was from Las Vegas and someone else nearby said, "Massey?" It was Matt Clark (or 'ultratrailmatt') whom I knew from Instagram and must have figured I was the only one there from Vegas, haha. It was nice to meet him and we had a good chat.
I wished Matt well and moved up towards the front of the starting line in hopes to avoid too much of a bottleneck on the Dipsea trail. No such luck! After the start, everyone except maybe the very front of the pack were clogged up climbing the Dipsea. That was a tough climb to start a race! Those steps seemed to keep going as I climbed in the dark trying to avoid poison oak (it was everywhere!). As I was approaching the top of the Cardiac knoll and the light was just beginning to appear, I heard a sound… https://youtu.be/B6FtMOo9QcI
A bagpiper! It was so cool.
As the race went on, I felt really good. There were some tough climbs and I was doing my best to keep my effort relatively easy.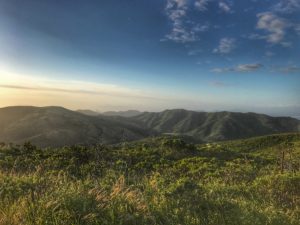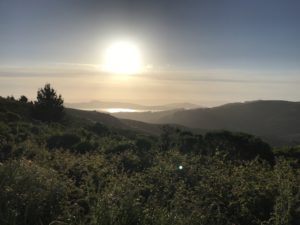 The course is very hilly. So many rollers with some very steep climbs. Many of the climbs are towards the beginning of the race. I was just hoping that after all the climbs, I would still have something left at mile 50.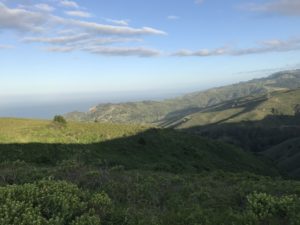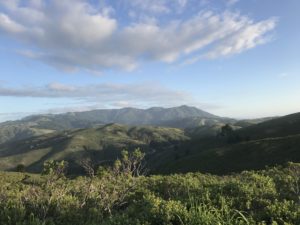 As you can see, the views were unreal and it just kept getting better.
I loved descending down to Muir Beach (even though I knew I would have to come back up that climb). The aid stations were fantastic. They were so efficient. They weren't gimmicky. The volunteers were very knowledgable, super friendly, and so helpful. They were so focused on making sure you did your best. It was really appropriate for this race.
This race is intense. The cut offs are tough. So, the races draws some fast runners. It is very competitive. It makes the race a challenge for everyone. I felt like I would be fine with the cut offs, but anything can happen in an ultra. If I had a bad day, I could easily find myself chasing cut offs. The challenge adds to the experience. We do ultras because they're hard.
Back to the views…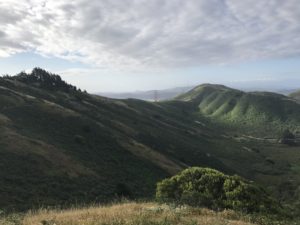 What's that in the distance?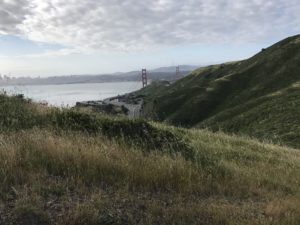 An awesome view of the Golden Gate Bridge during the race! So cool!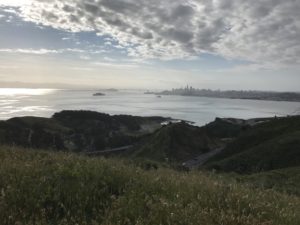 It was just nonstop scenery. For the first 30 miles, I was feeling great.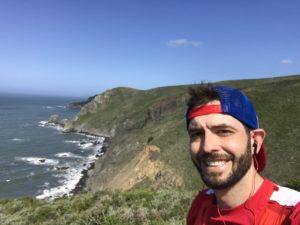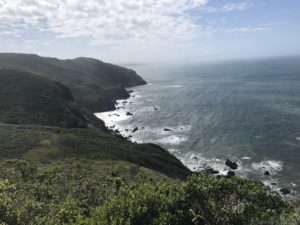 I tried to take some pictures while I ran, but they turned out terrible. I was glad I stopped to take some. I think I took more pictures during this race than any other race I've done.
Remember how I mentioned the volunteers being amazing? YiOu Wang, professional ultrarunner (sponsored by Under Armour) was there to greet me and help fill my water bottles at the Cardiac aid station. I was a little dumbstruck at the moment, thinking, is this really happening? Seriously, in what other sport do you have pros volunteering at events to help some nobody like me?
I regret not getting a picture. I'm usually *that guy* that asks for a picture. I have no shame.
Instead, more scenery: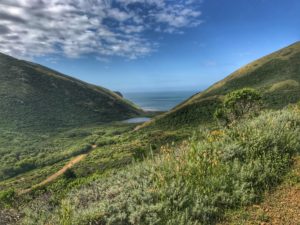 I felt like I was still doing okay through mile 40. I had just gotten through the big climb out of Muir Beach and I was heading towards the Muir Woods. I knew I would pick up my pacer, get through one last climb, and then the final stretch.
Let me tell you about my pacer. I had mentioned on my Instagram about doing the Miwok 100k and an ultrarunner friend I only knew from Instagram that is local to the area agreed to come out and pace me. It was helpful because he had the experience and has run those trails many times. I wasn't sure how having someone pacing me that I didn't know well might turn out but I was optimistic.
I was hoping to make it to the Randall aid station to meet my pacer within the timeframe I told him but I was starting to cut it close to the schedule I had given him.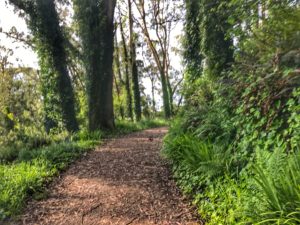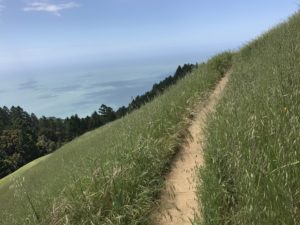 I met a lot of cool people out on the trails and had some great conversations. It was at this point (the picture above) that the leaders of the race came flying by back towards the finish. I was amazed at how they could be moving so well after so many miles.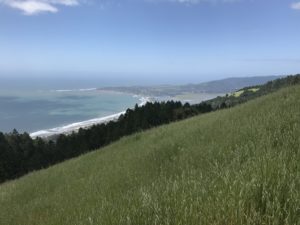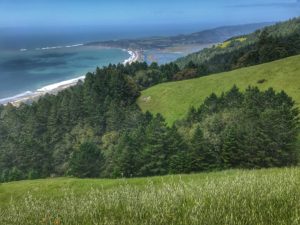 I feel like I didn't over-extend my effort early in this race. I felt like my hydration was going well. I was doing my best to consume a lot of calories. I did well with the calories early on in the race but I was falling off a bit towards the end of the race. Still, I wasn't doing too bad. I was getting tired and sore. I was wearing my Altra Lone Peaks and my feet felt about as good as I could expect them to feel. But, I was slowing down. I felt if I could just get to my pacer, get some more calories, finish that last big climb, and then I would be ready to crush those last miles to the finish.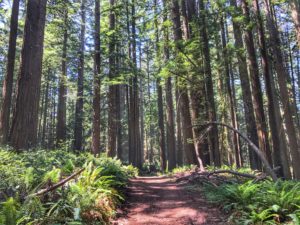 The Muir Woods (see above) were so beautiful and fun to run through. It was at this point of the race that Jesse Haynes, one of the Team Altra elite runners, came flying by. Also, later in my trek through the woods, Eric Byrnes, former professional baseball player, came running by.
There was a punishing descent down to the Randall aid station. As I went down, I dreaded the thought of coming back up it. At the aid station, I met my pacer who helped me refill my bottles and get ready. Off we went back uphill. We chatted for a bit, getting to know each other. It helped to take my mind of the running. I told him I was in bad shape at this point of the race (as if it wasn't obvious, haha). Once we got to the top of the climb, I was alternating walking the uphills and running the downhills on the rollers. Those downhills were starting to hurt! So, I was getting too fatigued for the uphills and the downhills hurt too much, haha. This is definitely NOT the course for that to happen on because it's rarely flat.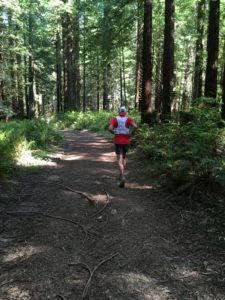 On we went…
My pacer did a great job of encouraging me and motivating me to run a bit more each time. I think he tricked me a bit pulling out his camera and taking pictures of me running because he knew (like most runners), that I didn't want pictures of me walking, so I would pick up the pace when he did that, haha.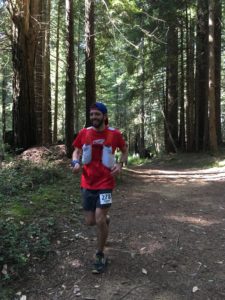 It was tough because mentally, I was still in the race. I really wanted to do well but I just couldn't physically get myself to do it.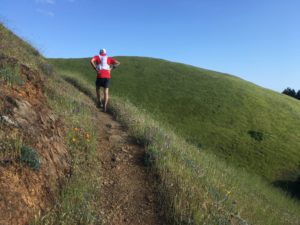 So. Many. Rollers.
My pacer noticed I wasn't getting quite enough calories and offered me a gel. I hadn't had that type of gel before but I figured that I needed something to shake me out of my rut. At least it tasted great! As I got closer to the finish (it still seemed so far away), I tried to run more when I could. I think the gel was pulling me out of it or I was just excited to be close to the finish.
As we started the final descent down Matt Davis trail, I knew it would be a punishing few miles. Still, I was determined to cruise down it as best as I could. There was another runner that had been behind me most of the previous 3-4 miles. As we started the final descent, he tucked in behind me and my pacer. I could just sense that he was going to tuck in there and wait until the end to make his move. I didn't like the idea of that so I picked up the pace even more. My pacer was excited and we were passing more and more people on these last few miles. I had to be careful because there were so many roots, stone steps, and wooden steps (those hurt). I asked him if anyone was coming up behind and he assured me nobody was… until the final moment (my pacer warned me he was making his move) when we crossed the final bridge coming towards the finish, the runner who had tried tucking in behind me strode ahead of me looking strong.
Grrrrrrrr
He was getting far ahead of me but then I put down one of the biggest finish line kicks of my life at the end of a 62 mile run. People saw me sprinting towards the end. The cheers got louder. The guy in front of me must have assumed the cheers were for him because he never looked behind him. I came flying in and finished ONE SECOND ahead of him. That was satisfying.
It was a nice way to finish a really tough day. I finished 13:34:33 qualifying again for the Western States Endurance Run. I'll have two tickets next year.
In summary… it's hard to evaluate this race. Was I hoping to have a better finishing time? Yes, a much better finishing time. Still, I should be happy with finishing at all, getting WS100 qualifier, and having such a unique experience. Why did I get so fatigued at the end? Maybe it was the quad strain, the heavy work hours, or some other factors or combination of factors. I was still in the race mentally. I usually find that some of my races right after my heavy work season aren't my best performances. So perhaps I should take that into consideration when evaluating how this race went. It was also hard for me to pick a goal time for this race so I feel like my goal was a bit open-ended. Considering the long list of DNFs I saw posted, I should be happy that I finished at all. Out of the 3 people I carpooled with in the morning doing their first 100k, only one of them finished. Yeah, it was tough.
Nonetheless, I got through it and I was hungry! My pacer was helpful in encouraging me to focus on getting food after the race, and we totally forgot to get a picture together. Bummer! Oh well, I'm sure we'll meet again at a future event. Maybe I'll get to pace him!
The meal at the finish line was fantastic! I sat near the finish and watched people come in. Before I left, the time on the clock was nearly 15:30 and there were some folks that finished less than a minute before the cut off and that was so exciting! There were also some folks that finished just after the cut off. It was heart-wrenching to see their reactions upon realizing they had just barely missed it.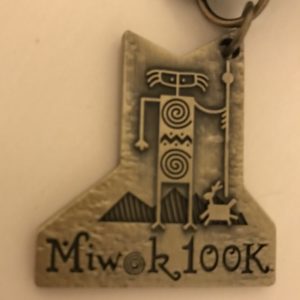 I love this little unique medal. It represents a lot of hard work and a beautiful experience. I also got a runrabbit tech shirt (it's really nice!), a Miwok/Golden Gate buff, a mug, Tecnu, and some other nice goodies.
I also made sure to use Tecnu to (hopefully) get rid of the poison oak oils that may have rubbed on me during the race. There was poison oak everywhere! It was interesting hobbling around after a 100k and then having Tecnu hosed off with cold water, haha. Still, it's been a couple days and no poison oak rash so far (fingers crossed).
Apparently I missed Magda Boulet at the finish line visiting people. I finished too late! I would have really liked to have met her. However, I did get to meet (and I remembered to ask for a picture) The Rocket!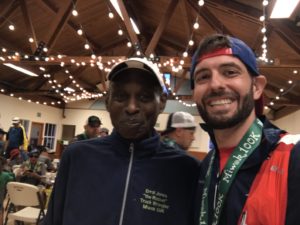 Really nice guy!
Some of the gear/nutrition I used: Altra Lone Peaks 3.0, Nuun Hydration, Honey Stinger, Injinji socks, Desert Dash Trail Junkie hat, Salomon ultra vest, GU gels, and some foraging at the aid stations for super ultra nutrition like Mt Dew and Coke.
The next day was spent doing some active recovery walking around San Francisco.
This is such a great race. The organization and volunteers were superb. If you want to do one of the most beautiful races that is also quite challenging, check this one out.