Training marathons can be a lot of fun. There's no pressure for PRs or times. It's a day to just enjoy the course (trails in this case) in a low key way and get in a good workout. San Diego might be one of the best places for a training marathon. It's a beautiful and fun city.
The San Diego Trail Marathon starts at the San Pasqual Valley Trailhead and takes place at the San Dieguito River Park and Black Mountain Open Space Park. It's near the San Diego Zoo Safari Park. The course is a mix of singletrack, fire road, and a little paved path.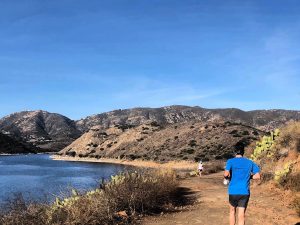 I did the Red Rock Canyon 50k the week before this marathon. I knew I wouldn't be able to push the pace on this one. The weather was nice for the race in the morning but got a little warm (for this time of year) towards the end the race.
At the start of the race I cruised along, taking in the views. There were some areas with beautiful views, especially along Lake Hodges. However, there were some fairly flat, non-technical sections of the course. Maybe my expectations were too high because I like the San Diego area so much, heh.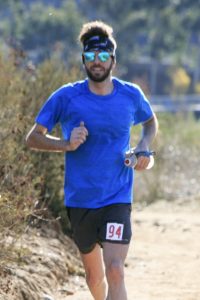 I felt pretty good throughout the beginning of the race. My quad (the one that bothered me during the beginning of last year) was tightening up on me a bit. Still, I kept moving steadily. After reaching the halfway point and turning around, the cumulative fatigue from the 50k the week before began to catch up to me. I knew I didn't have much left in the tank. I slowed down but did my best to keep a slow, but steady pace.
Despite the fatigue, I was able to finish with 4:25:24, which I was satisfied with for training pace. Upon finishing, I received a nice wooden "medal" as the finisher's award and a sweet pint glass. They also gave out a really nice long sleeve cotton shirt. Their logo on all these items is really cool!
I should mention that the course markings for this race were fantastic. There was never a point where I was unsure about where to go. It was also fun to run through an orange (I think they were those little oranges called 'cuties' рџ™' orchard near the start and finish area.