This is one of Keira Henniger's races. It offers a 30k, 50k, and 50 miler. It starts at Point Mugu State Park at the Ray Miller Trailhead. The race start is right by the ocean. It's such a beautiful place. You can hear the waves while admiring the Santa Monica Mountains.
I chose to do the 50 miler. This race is near the end of my race season. I felt like I was in good shape from the other races I've done this year like the 100k and two 100 milers. I didn't really specifically train for this race. I was mostly trying to maintain my fitness while winding down for the offseason. Still, it's a 50 mile ultramarathon with 9,587 ft of elevation gain (according to my Strava), so I couldn't just wing it.
With this race in Malibu, CA, we had a lot of runners from Las Vegas travel out for it. It's fun how it happened. There were a few folks that signed up for it in our local trail running group, TrailRunning.Vegas, on Facebook. Later, a few more signed up. Then, friends of those people signed up. It really took on a life of its own with a lot of fun encouragement and a bit of peer pressure. At one point, we had 60+ people planning on going. As the event neared, that number was whittled down to 50+, which is still amazing. We at Desert Dash even had custom-made Trail Junkies hats in unique colors with Ray Miller 50/50 and the date on them.
It was a lot of fun traveling out to the race with friends (telling silly inside jokes and John Music making Earth, Wind, & Fire's "September" the song of our race, haha), seeing so many familiar faces at packet pickup and at the starting line, and, best of all, there was such a large group of Las Vegas runners cheering for each other at the start/finish line. It was really special to see so many local runners setting PRs, running their first ultra, running their first 50 miler, and other notable achievements. One of the runners brought a #VegasStrong sign that was used in many of the photos.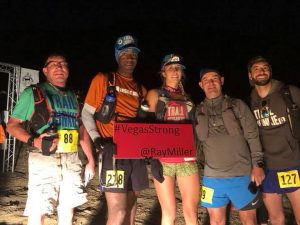 Running the 50 miler meant that I would be starting before and finishing after the runners doing the other distances. Still, it was fun to see some of the other locals crossing paths out on the trails. It was dark at the starting line, and I knew the sun would be coming up soon. I opted not to bring a headlamp and just rely on the light of other runners if I needed it. It probably wasn't the greatest idea but it worked out fine.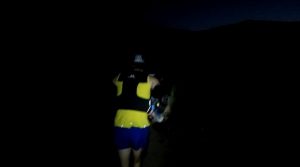 There was a nice climb at the start of the race. Many of the runners took off fast from the start! I was content to take it easy on that first climb because there was plenty of race left. As the sun came up, the sunrise with the mountain and ocean views created the kind of moment that trail runners cherish.
I cruised throughout the beginning of the race, taking it easy on the climbs, and trying to stay loose on the descents. I moved through aid stations quickly and did my best to stay relaxed. There were some tough climbs near the beginning but I knew the biggest climb was closer to the end. The climb near the end makes the earlier ones look easy!

Around mile 13, I was cruising down a fun descent and I must have lost focus (I have no idea what I tripped on) because I fell pretty hard with my left shoulder and arm absorbing most of the fall, also banging my head on the ground too. At first, I thought that my race could be over now. But, I got up quickly, assessed the damage, and I seemed to be okay. My arm and shoulder were bleeding and hurt a bit but I seemed to be functional (my shoulder ended up hurting throughout the race, making it tough to maintain good arm swing form). Another silly frustration was all the brush, tree branches, and such hanging over the trail that would poke the boo-boo on my shoulder as I ran by, haha. Throughout the race, I would get questions and comments from people asking if I was okay and such.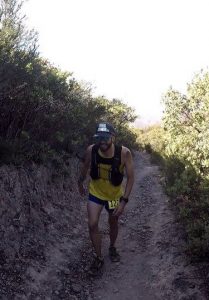 I carried on and made it to the next aid station. Fortunately, I knew a friend whom I had only previously known from Instagram was at that main aid station. It was fun to see and meet her there. It was also nice that she could help wash and clean the blood and mud off my arm. Thank you, Tam!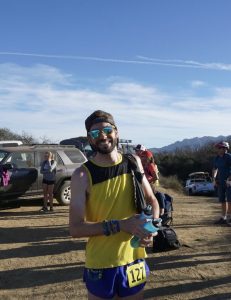 I kept up a consistent effort, fueling regularly throughout the race. My fuel and stomach seemed to be on point. I had no issues there. Even during the big climb, I kept grinding my way up it. I passed a lot of people with consistent intentional movement. There was a drop before reaching the aid station after the big climb. Just when you think you'll get a break from all the climbing, you have to climb your way out of that aid station, haha.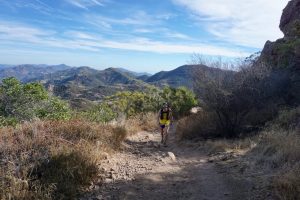 The big descent was a lot of fun. I was happy that I had the energy to push down it. My Altra Lone Peaks held up well and felt great throughout the 50 miler, even during the pounding downhill. I saw a bunch of local trail running friends on the way back. Some of the singletrack on the last section was absolutely stunning. I wish I had taken some pictures but I was enjoying the moment while keeping constant movement. One funny thing that happened around this time was when I passed a group of older women hiking, they turned and looked at my 1" in-seam split shorts, and one remarked appreciatively, "Would you look at THAT!" and a chorus of giggles followed. Hehe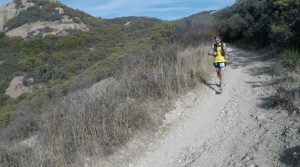 I also checked my phone and texted throughout the race (there wasn't much signal) to see how other friends were doing on their races. This probably isn't the most efficient thing to do during a race but I couldn't help it. I love hearing about their achievements.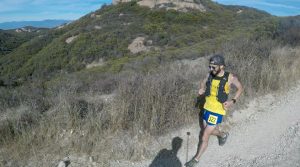 As I approached the last aid station, someone was excitedly cheering for me, until she realized I was not her son (whom she said I looked a lot like). The cheering was nice though, haha. She also told me I was in 10th place. I was a bit skeptical of that but I appreciated the news.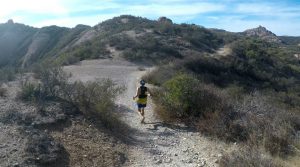 I rolled through the last aid station and I noticed a couple of runners that I pushed past on the aggressive downhill section making their way towards me. They were moving well. I was moving decently, but I felt like they were moving better. I kept consistently pushing, but they reeled me in. I was okay with this because I hadn't simply given up, I made them work for it, and they earned it. That's how it goes sometimes.
Still, I came into the finish under 10 hours, which is better than I was estimating for this course with all that vert. I ended up finishing 12th overall with a time of 9:55. The finish was a lot of fun because all the people milling around the finish area can see which runner is approaching on the singletrack. It was sweet to hear the local Vegas runners cheering loudly. Overall, I'm very pleased with how the race went (aside from the fall). My time was better than expected. My effort level was solid and I felt decent after the event. I would definitely attribute the results to my training throughout the year, thanks to Ian Torrence with Sundog Running. The course was beautiful and it was an experience shared with friends.
After the race, I joked around with medical as they cleaned me up a bit.В I also made a point to compliment Keira on one of the most well-marked courses I have ever raced on.
I would definitely recommend this race to others for many of the reasons I have mentioned in this write-up.
Gear: Altra Lone Peak shoes, Altra singlet, Desert Dash Trail Junkie trucker hat, Goodr sunglasses, BOA shorts, Darn Tough socks, Salomon hydration vest, Garmin 935
Nutrition/Hydration: Nuun Hydration, Honey Stinger chews and waffles, GU (mmmm toasted mashmallow), Coke, fruit puree squeezes, bananas