Trails of Fury 50k by Steve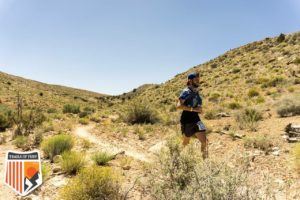 This year (2016) is the last time Desert Dash will be putting on the Trails of Fury races. I guess May is just so jammed up with trail races in Las Vegas. I was happy to be able to be a part of this race one last time before it's gone.
The day before the race I was out marking the course and the wind was fierce! There were huge gusts that would nearly blow me off the trail. The 50 mile race was scheduled to start Friday evening because this time of year is usually quite hot in Las Vegas. However, it turns out the weather would be unseasonably cold with lots of wind.
Previously, I wanted to run the Trails of Fury 50 miler. With my Squaw Peak 50 mile race coming up a couple weeks later, the 50k made more sense as a last 'long run' before the 50 miler. With how the weather turned out, I was glad I registered for the 50k. As I was marking the course, I was coming to terms with the fact that it was a possibility that I wouldn't be able to finish the 50k if the extreme weather kept up. Apparently, the weather was so bad that all the 50 mile runners ended up dropping.
Fortunately, the weather had calmed down by the time I arrived the morning of the race. There was still a good amount of wind but not unbearable. There were only ten of us running the 50k that day. It seems the 50 miler and 50k split the ultra field because normally there would be more runners at that distance. Maybe the weather scared people off.
Lately, I've had quite a bit of fatigue in my calves and quads. I could feel it at the very start of this run. It's been a huge frustration for me lately. I just took a deep breath and pushed on. Two runners got out in front of me early in the race. They looked much looser than me, so I was fine with not leading. It's a long race.
As the race progressed, I eased into it. My body (particularly my calves and quads) started feeling better. I wanted to keep a relaxed pace to give it a solid effort without overdoing it. I knew that there were two big climbs in this race for which I needed to be ready. Going out too fast could make things disastrous for those sections of the course.
At about mile 9, I had climbed a trail called "Satan's Escalator," which wasn't too bad. There was an aid station there and the volunteers told me one of the runners ahead of me had gotten lost. I guess I was in second place now. I continued on to a climb up to an abandoned cabin on Mt Potosi. I had never seen the cabin before and it was just as creepy as people said. My friend Eric was camped near the cabin as a volunteer to help runners and give them wristbands after ensuring they made it to the location.
After the cabin, I had a nice downhill cruise until I got close the Bird Springs Peak. This would be a 1,700 ft climb in 3 miles with grades near 30% towards the top. The climb was just as tough as advertised. I saw the first place runner coming down on my way up. He wasn't too far ahead but I would need to pick up the pace to catch him. At the top, the views were fantastic. I had never been to this peak so even mid-race I had to stop to sign the registry and take some pictures!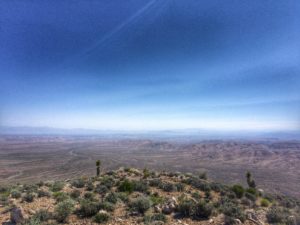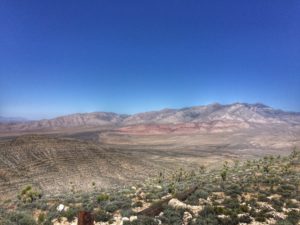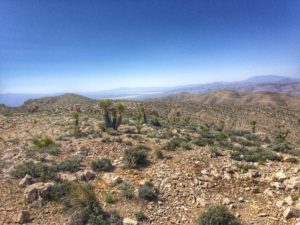 After returning to the bottom, I felt good and knew the toughest climbs were completed. It was getting hot out so I tried to make sure I kept hydrating. Shortly after this, I saw a herd of wild horses not too far off the trail. I tried to get a couple pictures of them but they were too far away to get a decent picture with a phone camera.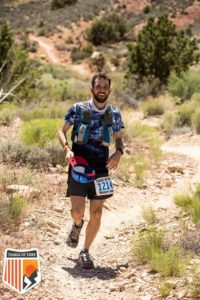 Soon after that I came into the Wilson's Tank aid station and a group of guys with their Jeeps that looked like they were out off-roading in the desert started cheering. They said, "There he is! We've been waiting for you!" They cheered and then drove off. I was a little confused but thought that was really fun and appreciated it. I talked to the awesome aid station volunteer later. She said she had helped them out and in return asked them agree to wait until the next runner came in to cheer for him or her. I was that next runner!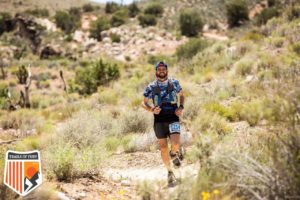 For the rest of the race, I cruised along the beautiful scenery and finished in second place. It wasn't easy but it was a really solid 50k. I was really happy I chose to do it because it would be such great preparation for my next race, the Squaw Peak 50 miler. Too bad Trails of Fury won't be around anymore. Fortunately, Trails of Glory takes place on many of the same trails in the fall and will be expanded in the future.
Nutrition: Nuun electrolyte tablets, Honey Stinger waffles, GU gels.
Gear: Altra Olympus 2.0 shoes, Injinji trail socks, Patagonia Strider Pro shorts, InkNBurn shirt, Ultimate Direction SJ 2.0 pack with soft flasks, and Desert Dash Trail Junkie trucker hat.