1st Place! It feels great to win one. There wasn't a large field of competitors but you don't expect too many in an ultra race unless it's a really prominent one.
This was my first experience doing the "time" race format, as opposed to distance. I like the race style. I knew exactly how long I would be out there. I had to just keep going for the allotted time. I would definitely do one again.
This was also my first time exceeding my previous distance record of 50 miles. Before the race, I decided I would shoot for 100k.
The course was an approximate 2 mile (mostly flat) loop at a park in Las Vegas. People feel differently about looped courses like this. Yeah, the course gets boring lap after lap. The nice thing is that I was able to fall into a rhythm as I ran the loops and just focus on continuously moving forward. I also liked having access to all my fuel/gear at the aid station every 2 miles.
Elemental RunningВ put on a great event. There was a nice variety of food at the aid station, including hot food. There was always staff on hand. I liked having the big clock next to the timing system counting up towards the end of the race. The race director, Jimmy, said anyone could come out at any time to cheer or pace me. My family came out to cheer and run with me a bit. I must say Jimmy really went above and beyond offering to cook some food for my kids at the aid station (which the kids readily accepted). Very cool. The race environment was really good.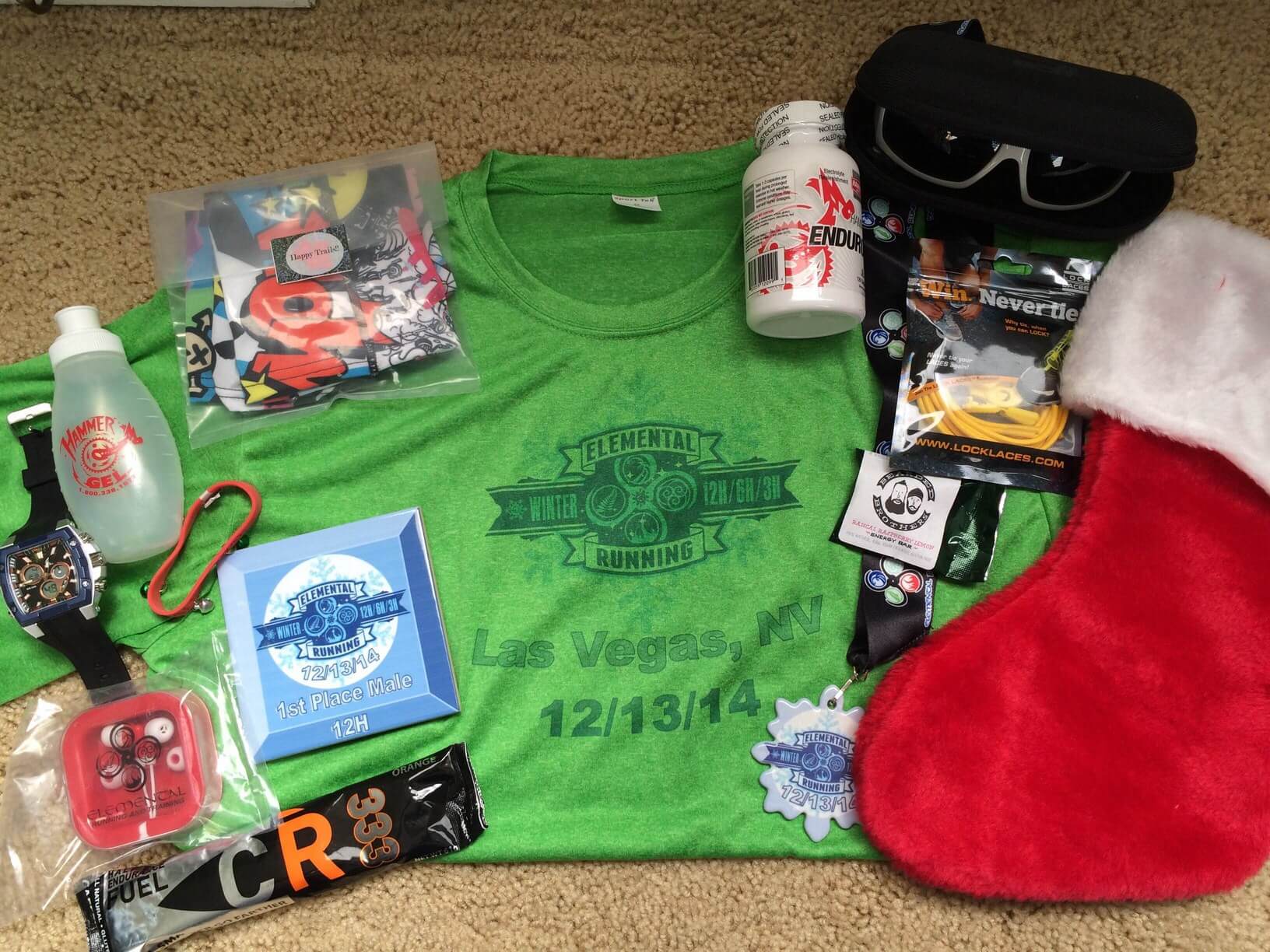 The race and winner swag were cool (pictured). I like the shirt with the date 12/13/14. The stocking was a nice touch. The snowflake medal doubles as a Christmas tree ornament too.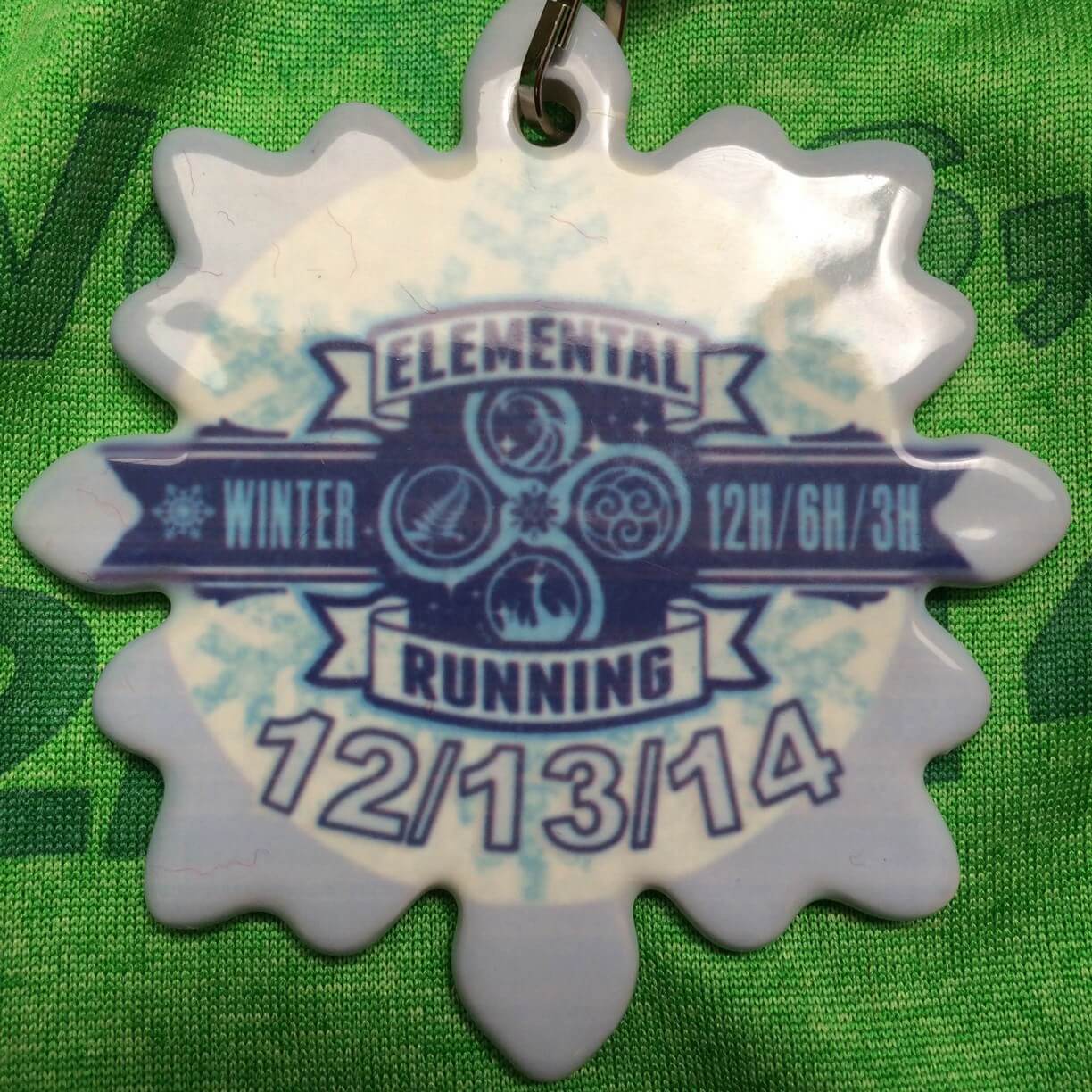 The day provided fine race weather with temps in the 50s. There was a bit of wind but not too bad. It's a great December race if you're looking to escape the cold and/or snow up north. I ran in shorts, long sleeve tech shirt with a short sleeve tech shirt over it, buff, and gloves.
At the beginning of the race, everyone lined up at the same time for all the races. There was a 3 hour, 6 hour, and 12 hour race. Everyone had the same style bib too so I didn't know who was doing what distance. This didn't matter much to me because I had my own goal in mind and planned on running my own race.
I really fell into a rhythm running along the loops. I had my audiobook going and just enjoyed a day out running at the park. I kept on top of my hydration by rotating my handheld bottles with water and water enhanced with a Nuun tab. I never felt dehydrated.В I mixed up the fueling with gels, Honey Stinger gingersnap waffles, and Mama Chia seed pouch drink. It worked well and I never felt sick, which was a huge help.
After about 6 hours, I had run over 50k, but I was concerned I may not be able to keep my goal of 100k. Nonetheless, I would do my best and would surely exceed my previous distance PR of 50 miles. Around this time, the race director informed me that I was in first place. "Wait? What?! Me?!?" A couple of local running buddies, Josh and Rob, also showed up to run with me. I've never run with pacers before. They were a huge help. I didn't want to disappoint them by barely being able to maintain a light jog so for a while, we maintained a pretty good pace even though I had so many miles on my legs already. Another runner quipped, "No fair, you have two pacers!" It felt good to be well supported.
We chatted and ran. It helped pass the time. One pacer, Rob, had to go and another, Khanh, showed up shortly after. My family showed up and did a loop with me. Josh had to go and Khanh stuck with me until the end (he was there for 18 miles).
I focused on each loop and was pleased to see how much closer I was to the 12 hour finish after each lap. A few hours before the end, I asked the race director how close the runners were behind me. One was less than a loop behind me (about 1.5 miles) and another one was more than a loop behind. They were both still running strong. At one point, I got the two of them confused and thought one was right on my heels! This motivated me to pick up the pace and stressed me out a bit because I wasn't sure I could maintain it.
I was getting so tired. So many things hurt. Feet, calves, quads, glutes, hamstrings, lower back, etc. I had to ask myself how much I wanted to win. Do I really want to win this? If I want it, I'm going to have to earn it. Nobody is going to give it to me. The other runners aren't just going to stop. I need to keep pushing, moving forward, and giving it all I have.
I even said it out loud. "I really want this. I really want to win. I can't deny it."
I kept the focus. Each lap I would ask how close the runner behind me was (always the same distance). The race director said that each lap the other runner would ask where I was. He was after me. He certainly wasn't going to make this easy. I kept moving. I minimized aid station time towards the end, grabbing a gel as quickly as I could.
The last couple laps, it was apparent that I had the win as long as I kept moving. I was elated. It felt great to finish with the win. The second place runner finished only one lap behind me. The third place runner finished only two laps behind me. Both ran strong to the end.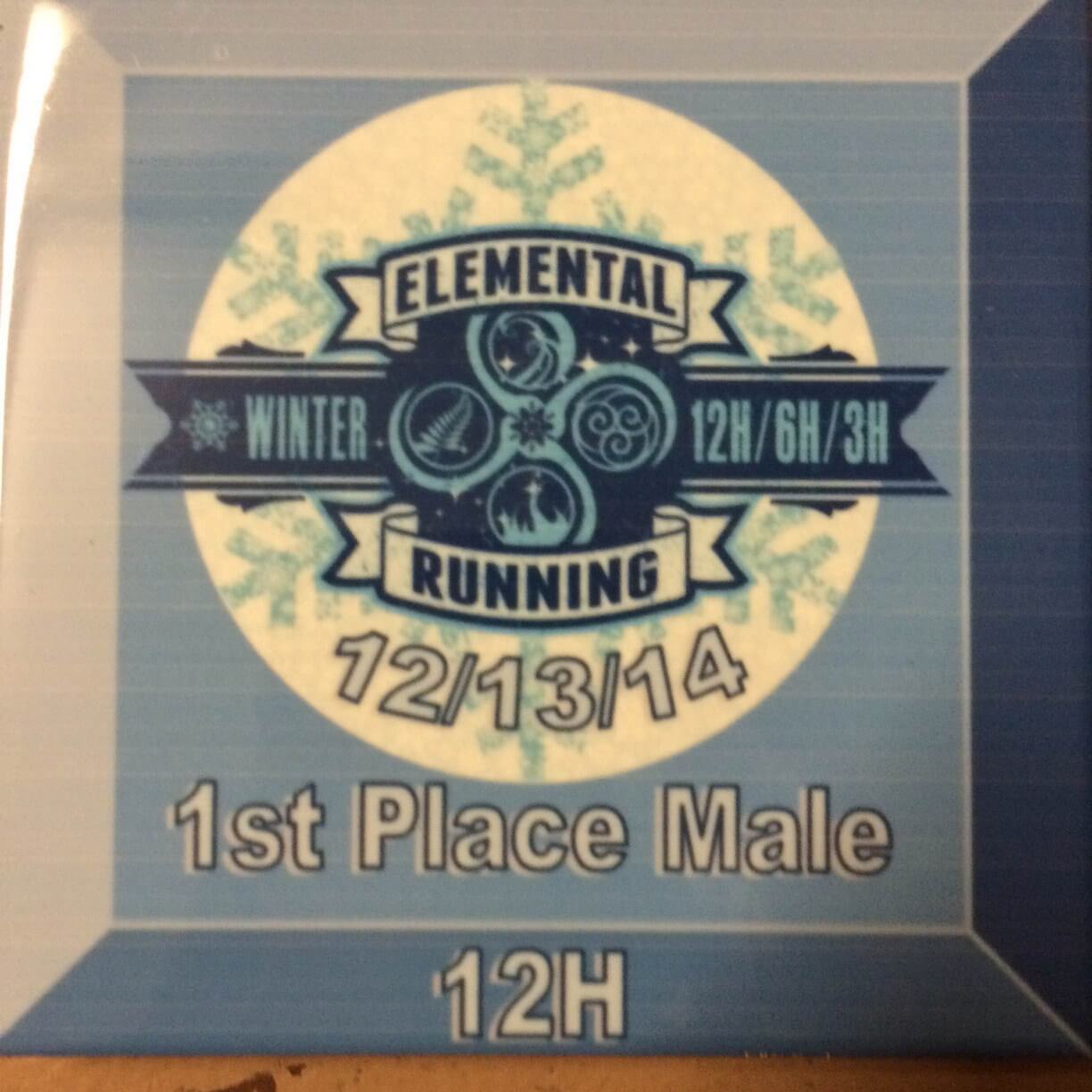 Officially, I did 61.76 miles. Just shy of 100k. Of course, my garmin had a bit more than that with tangents, restroom breaks, and aid station stops. I'm happy. 🙂
Believe it or not, I felt like I could keep going. I actually thought I was supposed to do another lap. Maybe I'm ready for a 100 miler?