When I signed up for the Mojave Death Race, I thought I was getting into an easy fun run type experience. The race involves 20 teams out in the Mojave desert. The relay legs are made up of road bike, mountain bike, road running, and trail running. I had no idea how fierce the competition would be for this race.
Around 3am Saturday morning, Josh (a great trail runner) and I carpooled out to Primm, NV to meet the team. We picked up Chad along the way, whom I met that morning for the first time. Chad is another local runner and Ragnar ambassador with great speed. We met up with the rest of the team at Primm. Joseph, another local runner and Ragnar trail warrior, and Matt, crazy Australian runner, were there to round out the runners. I met Rich (our cyclist and team captain), Rob (road and mountain biker with penchant for long endurance rides), and Donovan (an amazing mountain biker who can also kill it on the road). This completed our team, The Running Dead. We had a sweet team RV so we would be riding in this race in style. We tossed our stuff in and carpooled out to Nipton, CA, a small town where the race would begin.
Matt had said that based on the competition from last year, he was confident we could win this race. The race began at 6am on a warm Saturday morning. It was already warm in the morning? The forecast said temperatures would be over 100 degrees. Chad started us off and I could tell right away this would be a tough race. These people were fast!
In the beginning we bounced around between 6th and 3rd. Matt seemed a little bummed out as the first place team, with one of the top local cyclists, was pulling away significantly. Still, we decided we would continue to give it our best and hope for at least a podium position in 3rd place.
I got ready for my first run, which was a 9.1 mile road run. By this time, it was hot outside. I put some ice in my hat and in a bandana around my neck. I was amped up for the run and I took off. I ran my first mile in 6:20 and my second mile in 6:35 then suddenly someone passed me! It turns out a nationally ranked track athlete from Cal State was running the same leg as me! He must have been doing 5 minute miles! I cranked out my run in the heat. The heat really started to wear on me by mile 6. I poured some water on my head and pushed through.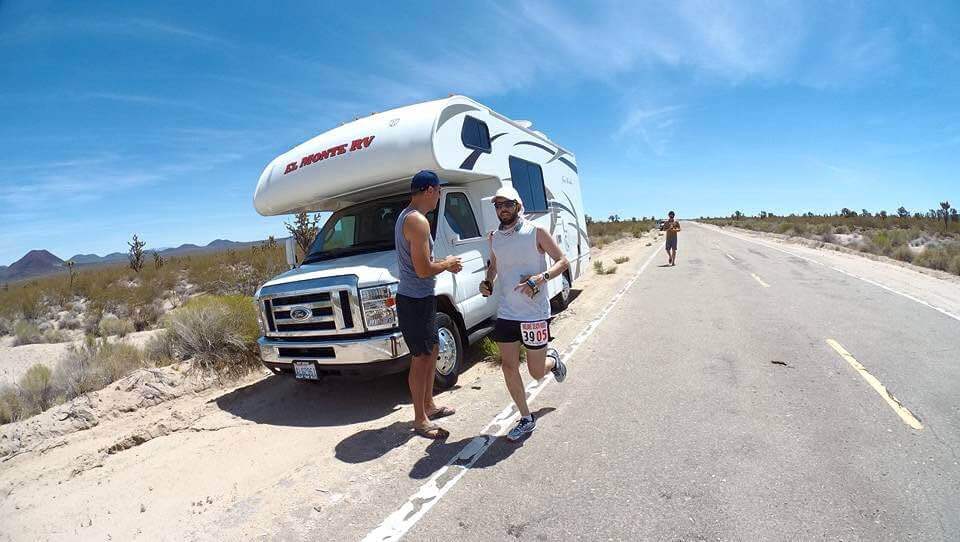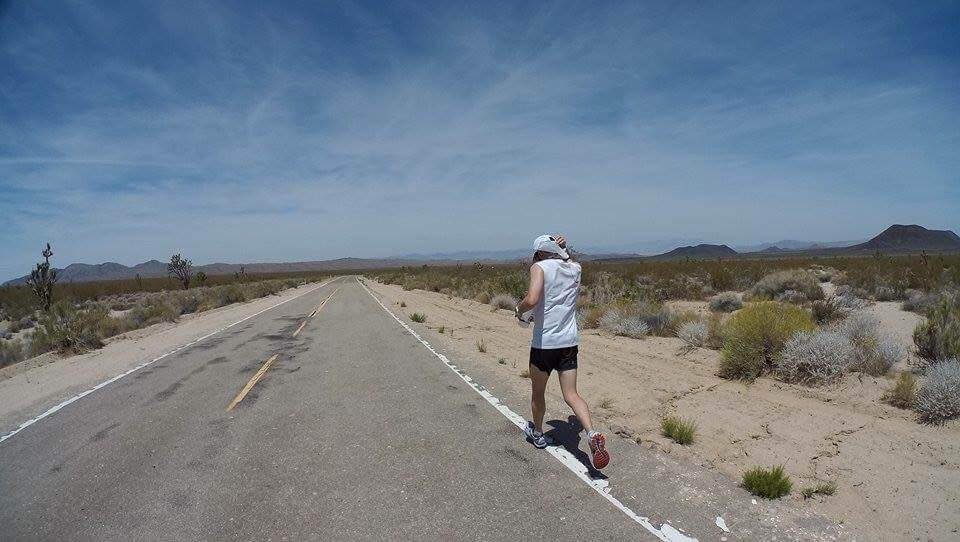 Fortunately, I passed someone else on my run and retained my team's position in the race. Later, in Baker, I saw on the world's largest thermometer that it was 102 degrees!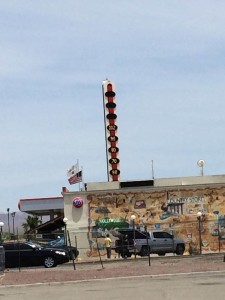 We kept giving it our best (and later we were glad we did). Our cyclists were amazing. Shortly after this, Rob crushed a long 34 mile ride in the heat. I knew that a guy that loves doing long endurance rides would have no problem with this kind of adversity. Later Josh had to do his 8 mile run in the heat. The heat was so intense, it got to the point that we didn't even want to step out of the RV into it, let alone race in it. We kept giving Josh water to pour on his head and I gave him some ice to put in his hat as our team continued along the sufferfest.
We were back and forth, just trying to hold onto 3rd or 4th. As night approached, we were in 4th place, hoping to get back 3rd and hold it for a podium position. The temps began to cool off. Then the night came…
As Rich, would later say, we should adopt the Army's motto, "We own the night."
I also thought that much like our team name…
We don't stop, we keep coming, we don't slow down, we are relentless…
We're coming for you…
We are The Running Dead!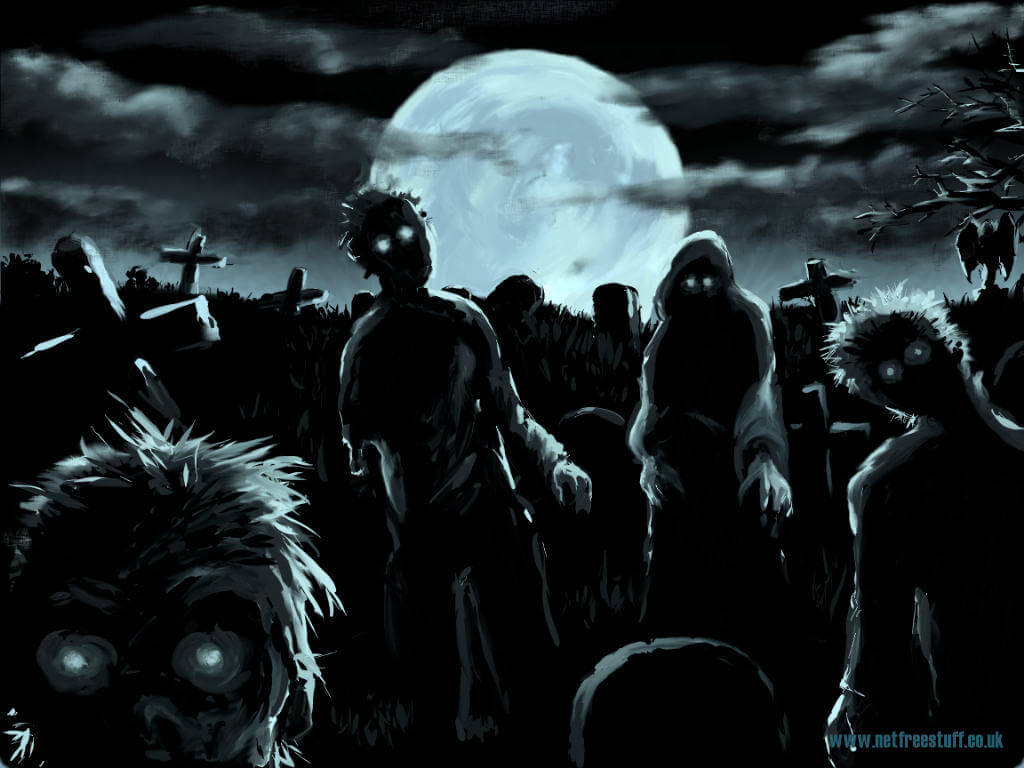 As I relaxed in the RV, Rob raced through his mountain bike leg, taking back 3rd place. By this time, the second place team was 45 minutes ahead of us still! Chad and Joseph tore through their legs. The second place team remained 40 minutes ahead. Such a huge gap.
Matt, Josh, and I completed the next three legs. I ran hard on my 6.5 mile leg but I had to be careful because I had another 7.5 mile leg next. By the time we finished our legs, we were only 20 minutes behind second place, Team Nuckin Futs. Wow! We were really gaining. We also found out that 4th place, Team Riff Raff, was only 10 minutes behind us and pushing hard.
Donovan, who had already done so well on 3 legs, got ready for his 4th leg, a mountain bike leg. He was tired but he said to me, "This is my stuff right here. On the mountain bike." I knew he would kill it. When Donovan got back, Rob was amped for his mountain bike leg and declared he would beat his projected time.
I got ready on a quick turnaround for my third and final leg. I didn't get as much recovery as I would have preferred. My legs were tired but I had to get this done. As I got to the exchange, I saw the college runner there. I casually asked if he was doing this leg and he was. He asked me what team I was on and he said, "Oh. So you're the runner I'm about to pass." Wow. I can't believe he just said that. The pressure was on. I told Rich that I was running against their elite runner and we could lose some time and our position. Just then, I saw Rob riding into the exchange. I ran towards the exchange, grabbed the GPS baton out of his hand and took off. I pushed hard during that uphill 7.5 miles. I was motivated. I ran hard despite my tired legs and my lungs burning with the dust of the Mojave desert. I kept checking over my shoulder to see if anyone was catching up to me. I knew that each mile I stayed ahead, was extra time I could give my team. Finally, when I got to 7 miles, I kicked towards the end. YEAH! I was all like:
I handed off to Matt, who took off. I told my team what happened and that they likely gained some significant time on us. Sure enough, shortly after, we saw the headlamp of the college runner coming towards the exchange. He handed off to his track coach, who took off hard! We had to warn Matt!
We jumped in the RV. We could see in the track coach's face that he was pushing hard. He wanted this. We caught up to Matt and warned him that 4th place was chasing him hard. The big Australian charged down that leg with a ton of heart. As we leapfrogged ahead, we couldn't believe our eyes. 2nd place, Nuckin Futs, was right there! We had pushed so hard to keep 3rd from the 4th place guys that we caught up to 2nd place. We told Matt they were right there! As Matt passed and brought us into 2nd place, the RV erupted into cheers!
Chad was next up. He was nervous. The pressure was on. Just like me, he didn't want to be the guy to give up a position. At the next exchange, all the teams waited to see how things sorted out. Who would arrive next? Matt arrived first. Joseph and I cheered and everyone else at the exchange was dead silent. Chad took off with a fury.
As we pushed ahead to make sure our runner was okay, we heard a distance noise. A train was coming! The train was going to cross right in front of Chad. We couldn't believe this. We could lose all of our lead if the runners bunched up at the train. It was dark and we couldn't see how long the train was. It seemed to go on forever. Fortunately it passed and Chad hadn't made it to the tracks yet so he wasn't impeded.
Ahead at the last leg, Rich had no idea what had happened. He was trying to get a little sleep waiting for his last leg. We rushed ahead and woke up him up with the news. We were now in second with a slim lead. Two other teams were gunning for us and it was coming down to this. He got ready in a flash and Chad came flying in. Chad was exhausted from the effort. He looked at his watch and we realized, in an immense show of heart, he had run faster on his last leg than his first. Rich was off and we waited for the next team so we could tell Rich how much of a lead he had.
I saw the college kid there at the exchange and couldn't resist saying, "You didn't pass me, by the way." He laughed and said, "I was trying to get in your head. I made up some time though." He certainly did get in my head. He motivated me. The track coach laughed and said he really wanted to pass Matt and was pushing hard. The coach asked me where I ran in college, and I replied, "I didn't run in college. I just do this for fun." hehe
Riff Raff came in 8 minutes behind us and took off. We went ahead and told Rich how much of a lead he had. He was pushing hard and I could see he was as stressed as we were during our legs. It looked like we had 2nd but you never want to say it until it's actually happened. We went ahead to the finish line. As we waited so close to the finish, we heard a familiar noise.
A train?! Again?!
Rich came riding up and the race officials yelled at him not to try to beat the train. He couldn't do it anyways. The lights came on and gates came down. Once again, the train seemed to last forever. I think the conductor looked like this: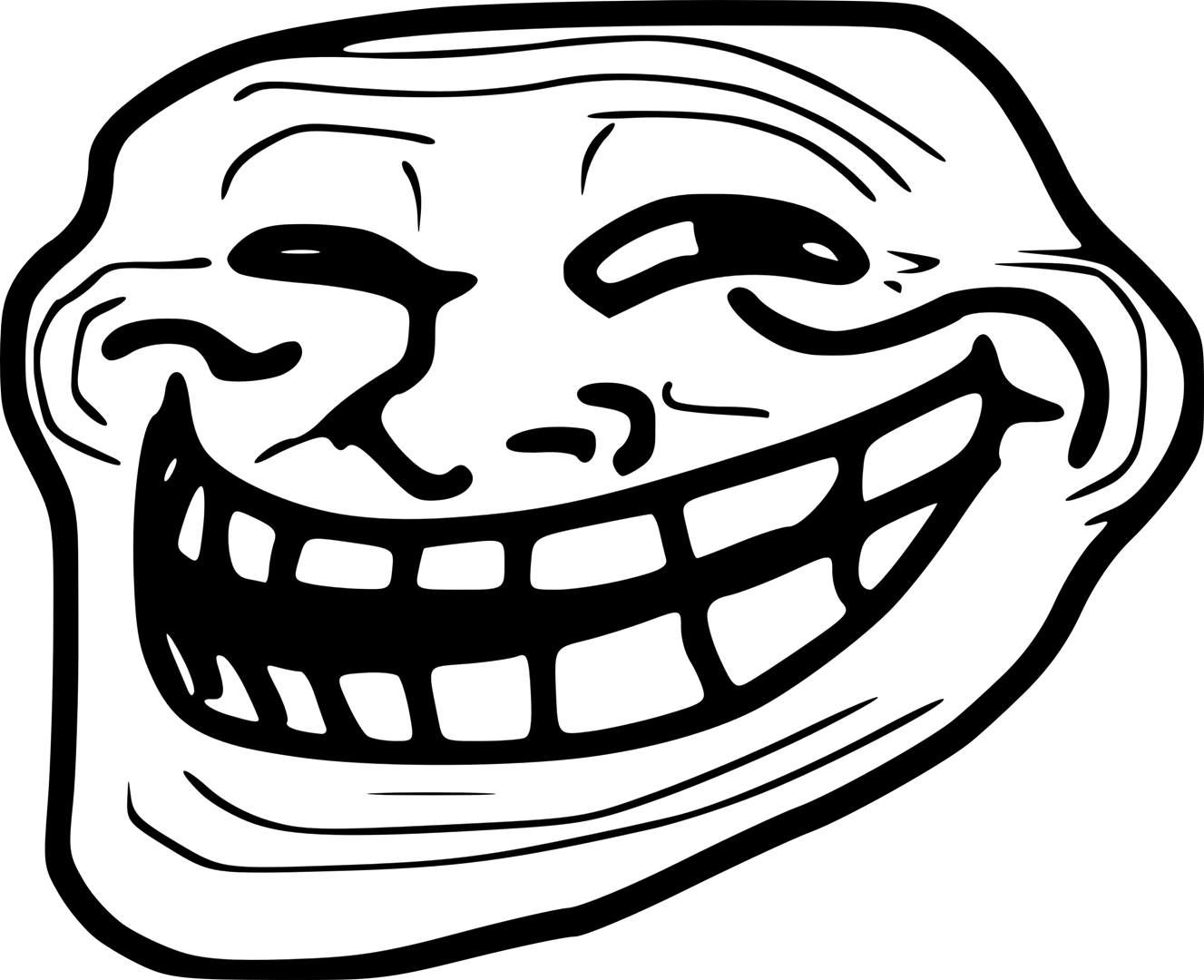 Just kidding, but it felt like the trains were trolling us.
Eventually the train passed, Rich was still in the lead and he cruised across the finish line. We all cheered! As Matt later remarked, "This is the proudest I've ever been of coming second!"
It was a memorable experience. Our team was great. Nobody bickered. It was great making new friends too. Everyone was uplifting and a great time to be with. The whole relay took about 22 1/2 hours.
Looking back, every little bit we pushed… it all mattered.