Last year, I didn't get selected in the lottery to do the St George Marathon. It seemed like all my friends were picked but I was left out. This year, I was selected but none of my friends were running it. Ha!
St George isn't a huge city (2012 Population: 75,561) but they have a big marathon! The marathon is listed on their webpage as the 16th largest in the US. It is popular enough to require a lottery entry. The marathon has also won a number of accolades.
The expo is really nice. Everything was very smooth for picking up my race packet. The marathon has some great swag. The shirt is very nice quality. It was nice to see some other Saturday marathons at the expo, like the Phoenix Marathon, Utah Valley Marathon, and the Huntsville Marathon.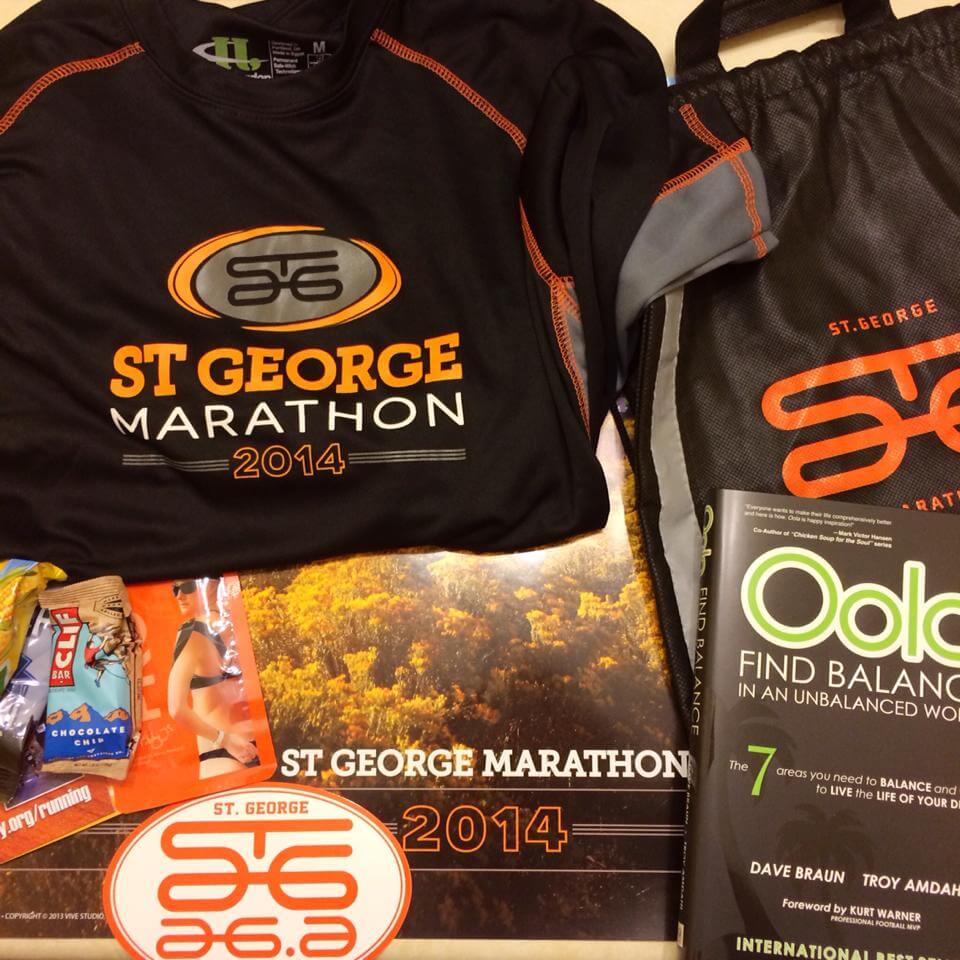 I got up and walked to the buses early since I was already awake. Good thing I always try to get a good night's rest two nights before the marathon since I know I won't get much the night before. They give away some really nice prizes for early bus riders (I didn't win though), which is a cool incentive to get people there early.
At the start, volunteers hand you gloves courtesy of Wasatch Running Center and a mylar cover. How nice! It was chilly at the start but not too bad. I believe it was in the 40s. Many participants said it was colder last year. They also have many fires to sit near while you wait.
I got myself situated near the start by the 3:25 pacer. The Clif Bar pacer was really helpful with encouragement and race tips. As the race began, there's the normal jostling for position and finding your comfortable pace amongst so many participants. The gloves were perfect for the first mile or so and then I ditched them along with so many others shedding layers as they warmed up.
The course is beautiful. I love the scenery. Veyo Hill and Snow Valley are great. Towards the end the red rocks are amazing. The volunteers are fantastic. The aid stations are well stocked and set up in a really functional way. The organization of this race is absolutely superb.
I started out running the downhill at my target pace or just below it. By the time I got to Veyo Hill (about mile 7ish), it was time to slow down the pace. The hill is steep for a road race and you certainly feel it. I allowed my pace to slow to the 9s and touch the 10s for a bit. Many folks choose to walk it. After that, there's some more incline and rollers (you can see them coming in the road in front of you) for a few miles. I thought I was slowing down for these, but when I look at my splits, it appears I didn't slow down enough according to my pre-race plan.
By the time I got to the half marathon mark, it was mostly downhill from there. I turned up the intensity and had some great mile splits in the second half. As we approached the town, there were so many people cheering for the runners. It's encouraging to see so many people turn up to cheer. Your name is printed on your bib and people will call out your name specifically to cheer you on. I love the signs too. My favorite is the "Touch here for power" signs. 🙂 At one point, I ran by some people, feeling great, giving little kids high fives, and then I looked at my watch and saw I was running at a 6:30 min/mile pace. Oops! A bit too fast for my goal with lots of miles left.
There is a lot of downhill in this race. This year, I ran Utah Valley and Pocatello, which includes a lot of downhill. Also, I ran a mostly downhill 21 miler before my taper. I was prepared. My quads didn't hurt like I thought they might.
As I started closing in on the last few miles, I knew I was on pace for a PR. This was motivation to keep pushing when my body wanted to quit. Plus with all the people cheering, I had to keep giving it my best.
I ended up finishing at 3:25, nearly 5 minutes below my old PR! I was elated.
I really like the finisher's medal made out of rock. Very unique! The finish area was very nice with an assortment of things to eat and drink, including ice cream. I went with the drumstick to start my post-marathon junk food to make up for all the healthy eating during training.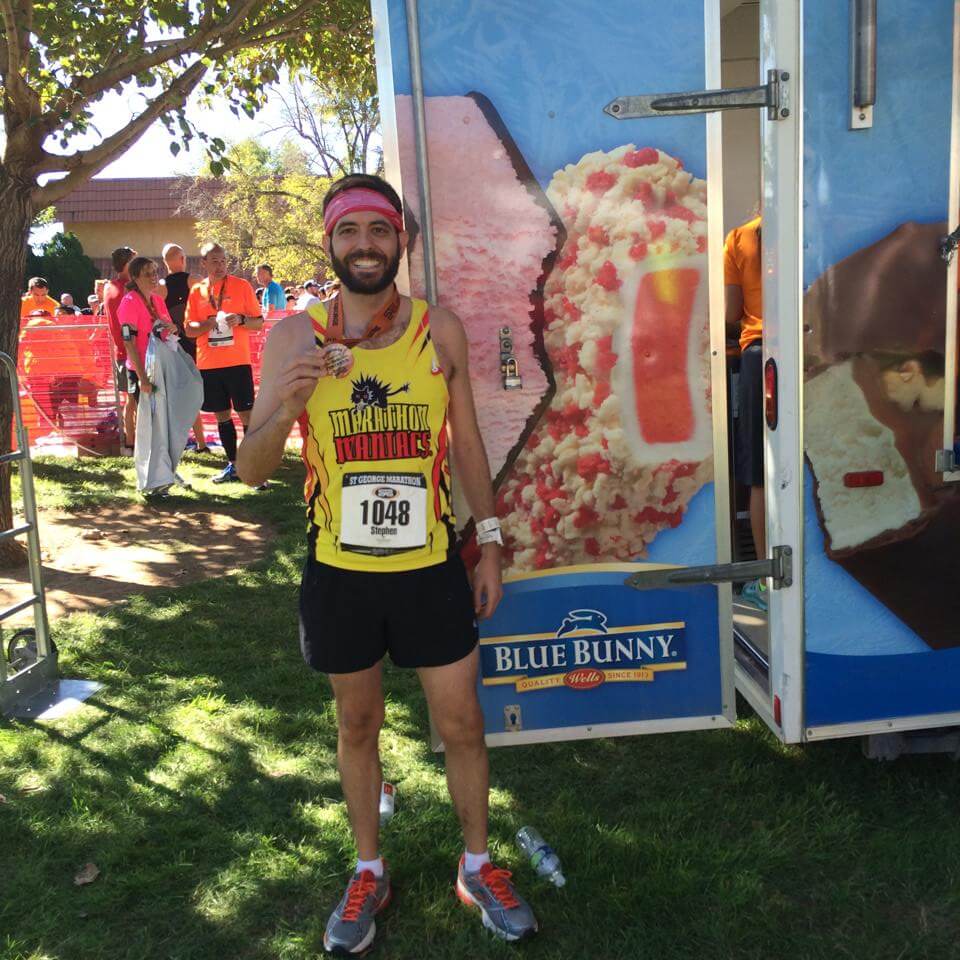 I really have no complaints about this marathon. I had a great experience. I can see why the race is so popular, requiring a lottery. The course is really designed for a negative split since you can clear the bigger inclines in the first half. I ended up with a mostly even split despite my plan. I'm pleased with the results nonetheless. 🙂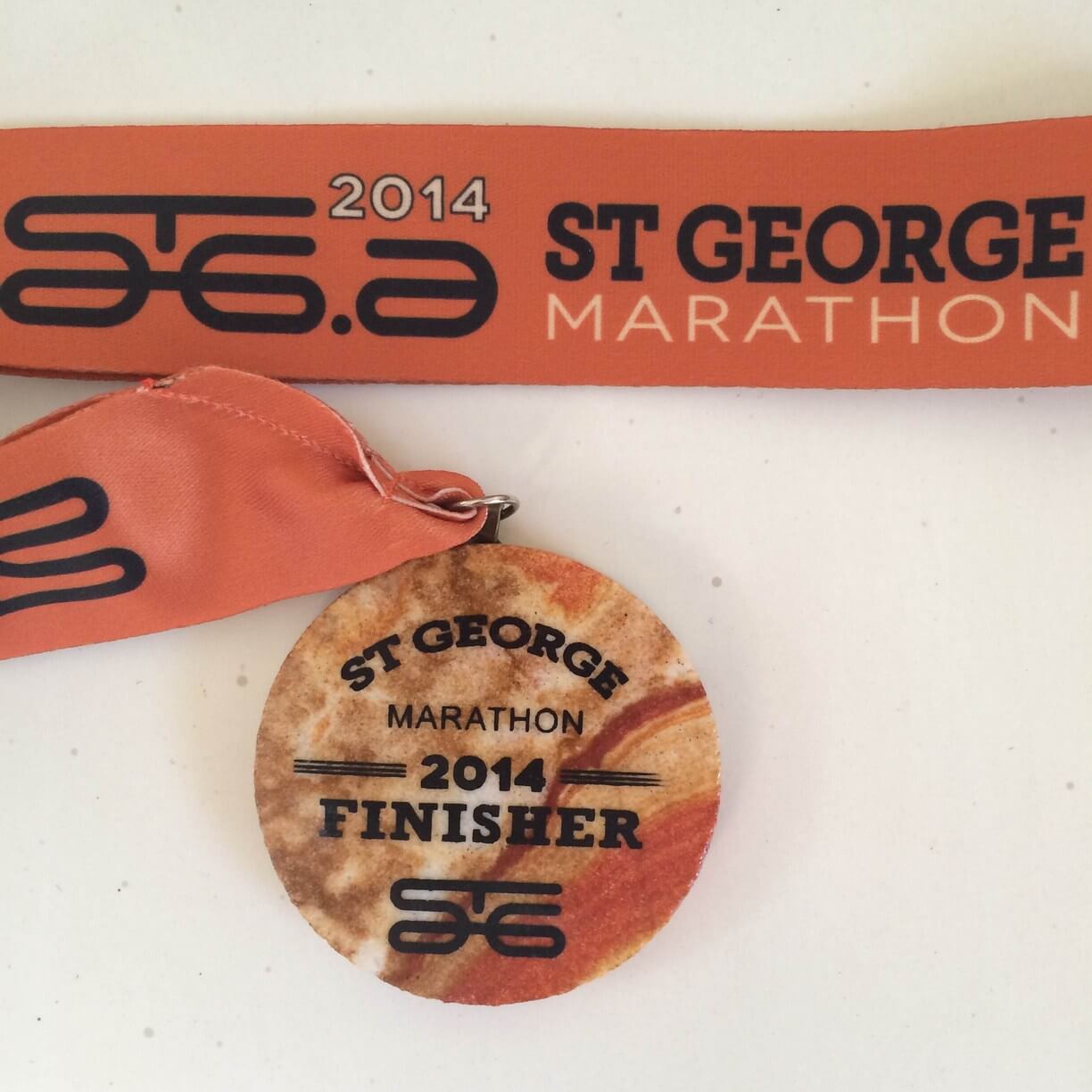 Feel free to comment below or on our Facebook page. Also, remember we are accepting reader submitted marathon reviews.