Tushar Trail Marathon by Steve
Andrew and I felt a little out of breath just walking up some steps after arriving near the starting line. That was definitely not an encouraging feeling when you're going to be running a marathon the next day with about 7,400 ft of vertical gain and the course has a peak at 12,000 ft altitude in the race. The starting line was at an altitude over 10,000 ft already.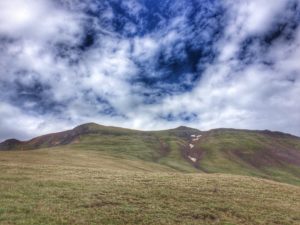 What a beautiful place to run, though! The scenery was absolutely breathtaking (pun-intended). The Tushar mountains in Utah are truly a unique place. This race is put on by the great people at Ultra Adventures/Grand Circle Trails. They always put on quality events.
We had a nice big group of runners from Las Vegas up for the race. Many of us camped out before and after the event.
I really didn't know what to expect out of this course with so much climbing and altitude. I wasn't sure how spending that much time at altitude would affect my ability to run. After looking at the course and other runners' times from previous years, I estimated I would finish between 6 and 7 hours. I would be happy with that.
Our friends Brad and Jared started earlier than us Saturday morning because they were running the 93k… and because they're much tougher than me.
Still, we had a nice group of folks at the start line for the marathon and half: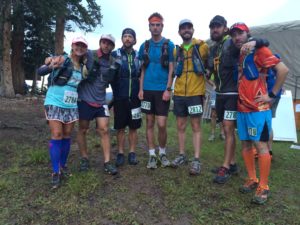 Also, I got to take a picture with Timothy Olson (Western States 100 course recorder holder), who happened to be standing near me: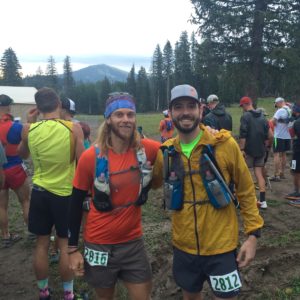 Before the race, Andrew was teasing me about taking off from the starting line. I assured him that with all the climbing in this race, I wasn't about to break into a sprint off from the start. Once the race began, we ran together for a bit, and then Andrew took off! I didn't see him until the end of the race, haha.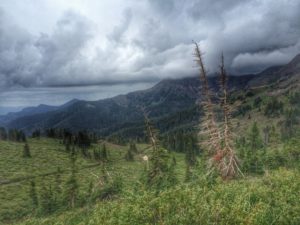 My friends Josh and two Matts (two guys with the same first name Matt, hehe) ran together for a while at the beginning. Then, it was just Josh and I. There was so much steep climbing. Practically the whole race was either climbing or descending. This is the only race I've used trekking poles for just about the entire thing. Still, the views during the race were fantastic.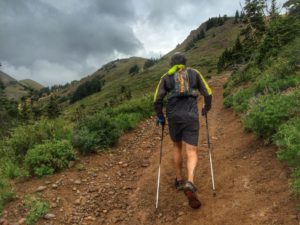 There was a bit of rainy weather but nothing too bad.  Josh and I were cruising along well. When we got to about 9.5 miles, we knew it was time for the big climb up to Delano Peak. This was a tough… long… steep… climb to 12,169 ft with a serious lack of oxygen. We just kept putting one foot in front of another (with the occasional stop for a picture) and eventually made it to the top.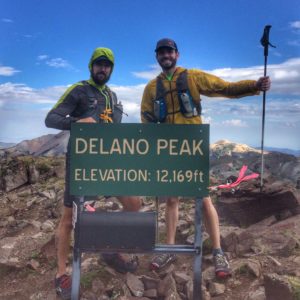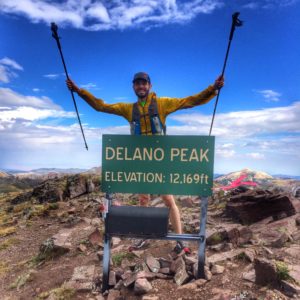 After all that climbing, I was hoping to push the pace on the downhill. However, the downhill was very technical so it wasn't easy to get as much speed as I had hoped. After a bit more climbing (of course), Josh and I ran through a beautiful wooded downhill section with terrain that we could move a bit faster on.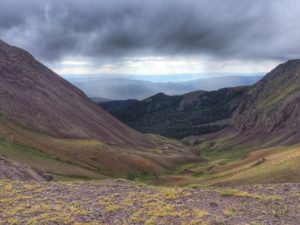 Later at about 19 miles in, I was starting to fade a bit. Josh was still feeling strong so he pushed ahead. I don't know if it was the altitude, my training cycle for this race, all the climbing, something else or a combination of things, but I just couldn't muster up a strong finish (unlike my race at the Cuyamaca 100k).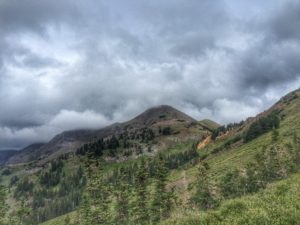 Naturally, this race would end with a climb up a little ski hill to the finish. I finished in 6:19:55, which was within my goal time. I didn't have an exceptional race but it was a solid effort on a tough course.  It was nice to see how well our group of Vegas runners performed at the race with five of us finishing in the top 20. Andrew finished 4th!
I've probably already written too many words about this event because the real story about this race is in the photos from the course.
But wait, there's more!
After Andrew and I finished the race and recovered for a bit, we decided we would try to find Brad and Jared at an aid station to possibly crew and/or pace them. Matt offered to give us a ride over to an aid station we thought Brad or Jared *might* be near within the current time frame.
As we drove over, we saw some really cool scenery we missed by not running the 93k, which has tempted me a bit to go back at run it in a future year.
As we pulled into the aid station and got out, Timothy Olson (who won the marathon) got out of his vehicle. He asked me where the aid station was and I pointed the way. I congratulated him on winning the race and he asked me how my race went. He's a really nice guy! He was there to crew his wife, who was running the 93k.
We walked into the aid station together and Brad showed up at almost the exact same time! Perfect timing! Brad wasn't sure if he was hallucinating when he saw Timothy Olson and me walking into the aid station at precisely the right time. Brad had another friend there (on bike) to help crew/pace. We quickly decided that Andrew and I would pace him [Brad] to the next aid station, his friend would ride ahead to the next aid station, and then he [the other friend] would pace Brad to the finish.
Although Andrew and I had recently run a tough marathon, we were able to keep up with Brad in the middle of his 93k for the next 6.2 miles. Hopefully we helped him. I think it's nice to have some new encouraging company for a bit just to help break up the monotony.
When we arrived at the next aid station, we gave Brad's friend an update on his status. He then gave us his keys so we could get his car (and ourselves) back to the starting line. He gave us directions back to the starting line. Andrew and I hopped in his very nice luxury SUV and then I said, "You know… a complete stranger just handed us the keys to this car." We then proceeded to follow the directions back to the starting line and got lost in the process. We eventually made it out of the wilderness area, pulled over at a gas station in a small town and asked for directions. We began to follow the directions… and promptly got lost again. Good times driving all around the dirt roads crossing the Tushar wilderness area.
We eventually made it back to the start/finish line area (even looking at the maps I'm still not sure what we did). We realized, even with our accidental detours, we were there a bit too early for Jared and Brad to come in so we decided to head back to the campground for a bit. We pulled up in our newly acquired vehicle. A few over our friends quickly came marching over (apparently they were going to tell us to move because people kept trying to park in their camping spot while we were gone). Then they saw it was actually us.
"Where did you get this?!?"
"Some guy we just met handed us the keys. Seriously."
Later, we headed back over to the finish area. During the time we waited, we were so inspired watching those runners come in. The cutoff for the race was approaching. Due to the difficulty of this distance, many great runners were close to the cutoff. We heard about a bear sighting, course markers being removed by hunters and subsequently hurriedly replaced by race staff at night, and groups of runners banding together to make it to the finish as a group. It was amazing to see their joy and relief at completing this race.
Jared and Brad came in with plenty of time before the cutoffs. It was so impressive to see them conquer that course.
If you're looking for a race to really challenge you, this is it. You will be handsomely rewarded with the beauty of this area and the accomplishment.