This is an ultra that was once run by elites like Scott Jurek, Hal Koerner, Nikki Kimball, Karl Meltzer and more. Not many people know about it because this was long ago when there were far fewer ultra events in a year, especially not in the winter months. Las Vegas is perfect for that.
The event is put on "Fatass" style. Fatass style is generally a low key event with the motto, "no aid, no entry fee, no awards, and no whining." A group of like-minded individuals getting together to run a course self-supported without expectation of awards. Many of the current ultra events started out as Fatass runs. Many of these events' courses were grandfathered in to current regulations. Unfortunately, the Red Rock Canyon 50k course never had that done so it remains low key.
This event is actually one of the ultrarunning's oldest ultras at 21 years.
The event has a unique entry system. The details are generally spread by word of mouth. You basically have to know someone to find out where and when to go.
Last year, due to a schedule conflict, I could only do part of the course. Many runners are encouraged to come out and enjoy the comradery and at least do a good portion of this great course.
This year, I wanted to do the entire 50k. I felt like I needed to do it out of respect to its history.
I show up and greet the group of other runners milling around the area. It was a pretty good turnout this year. We socialize until we reach a general consensus that this is everyone that is going to end up coming today. The organizer, my friend Eric, shares an overview of the course, offering maps. I already know the route.
"Nature's arena has a way of humbling and energizing us."
― Scott Jurek, Eat and Run: My Unlikely Journey to Ultramarathon Greatness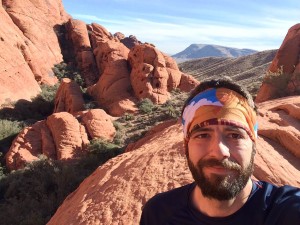 It's a beautiful run through the Calico Hills area to Sandstone Quarry. Then, we go over to White Rock Loop, which is one of my favorite trails in all of Las Vegas.  We do a couple of loops at White Rock. One is clockwise then one counter-clockwise. After that, we return the way we came.
The weather was perfect that day. It got a little cool around the backside of White Rock loop. There were patches of snow on the ground. It's funny to see snow on cactus in the desert.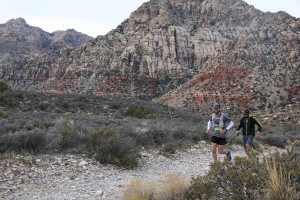 The best way I can describe this 50k is smooth. It went about as a smooth as an ultra can go. That might be surprising for running 50 kilometers with no aid, but I knew that going into this. I was prepared. I ran most of it with my buddy Josh (it was his second 50k) at a good but comfortable pace. I really enjoyed my time out there on the trails, taking it all in. When I finished, I wasn't completely wrecked (maybe I should have pushed harder) but very satisfied with how the day went. At the end, there were no awards, no t-shirts, and no swag. It was just friends and fellow runners sharing some good food, experiences, and commending each other on their efforts. That's good enough for me.
This is an event I will continue to go out of my way to make sure it is included on my race calendar in the future. Interested in running it? You'll have to ask to find out the rest of the details. 🙂