I was excited to run the beautiful Bryce Canyon 50 miler course. However, the week before the race, I did the Mojave Death Race. I thought it would be a nice tune up for this ultra. On the contrary, the Mojave Death Race was very competitive and I pushed myself really hard. I was sore and my hamstrings were particularly tight the week leading up to Bryce. I did everything I could to recover quickly including massage, extra rest, foam roller, and lots of eating.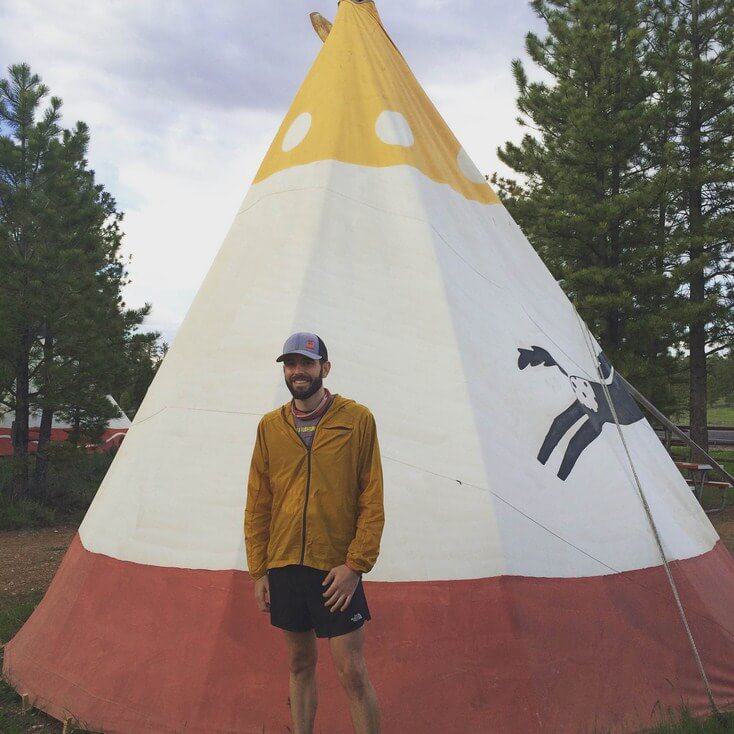 For the race, I camped out in a tipi in Ruby's campground the night before. So cool! It rained the night before and it looked like the weather could continue throughout the weekend. I got up early Saturday morning in the cool weather for the shuttle to the start. I had no idea how my body would respond to the mileage. Would I get 13 miles in and have my hamstrings give up on me? Did I have the energy stores for the full distance? I was uncertain but I was willing to give it a shot. I decided my plan would be to start towards the back of the pack and take it very easy in the beginning to see how I felt and go from there.
The race started out quite foggy. Unfortunately, one of the more promising scenic locations, the pink cliffs, was completely obscured by fog. Bummer.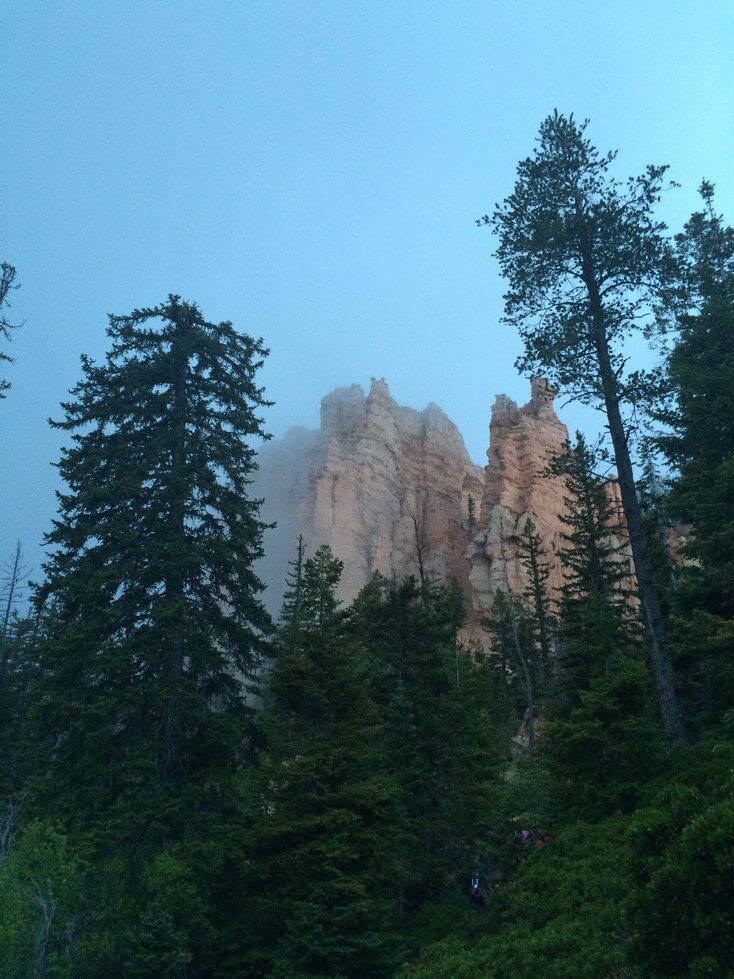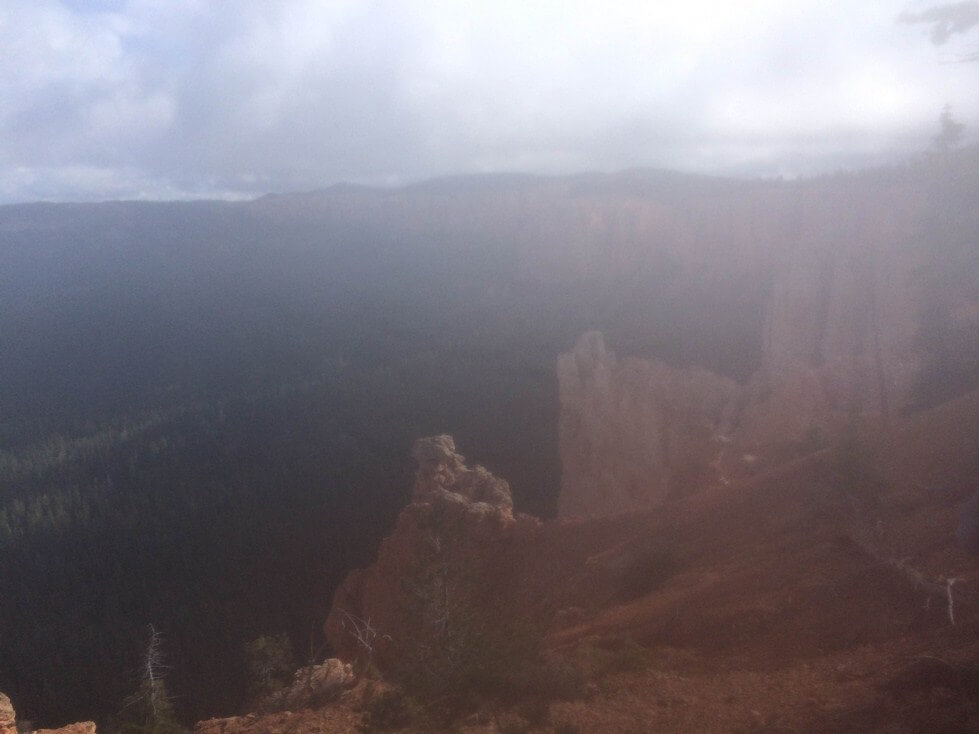 The fog cleared up later in the race and there were certainly some great views of the unique formations Bryce Canyon has to offer.
I was plugging along at a relaxed pace. The miles were coming easily. The aid stations seemed to come quickly. Keep in mind that I did a Grand Canyon R2R2R a month before, as a training run, for Bryce. When people asked if Bryce was hard, I feel like my perspective was a bit skewed to answer that question properly. Yes, it was difficult. 50 miles is never easy. However, it was easier than the Grand Canyon rim to rim to rim run. I also learned a lot about self-reliance in the Grand Canyon. At Bryce, I felt less dependent on the aid stations. They were nice to have along the route but I knew I could get by without them.
One thing I should add is that they had cake at the aid station at mile 33. It had been my birthday recently so I felt it was appropriate to have a small piece during the race.
As the miles ticked by, I felt more confident. I enjoyed running this course. The scenery was diverse and beautiful. The aid station volunteers were kind and helpful. One particular runner and I kept passing each other from time to time, and whenever we saw each other we would enthusiastically cheer for the other.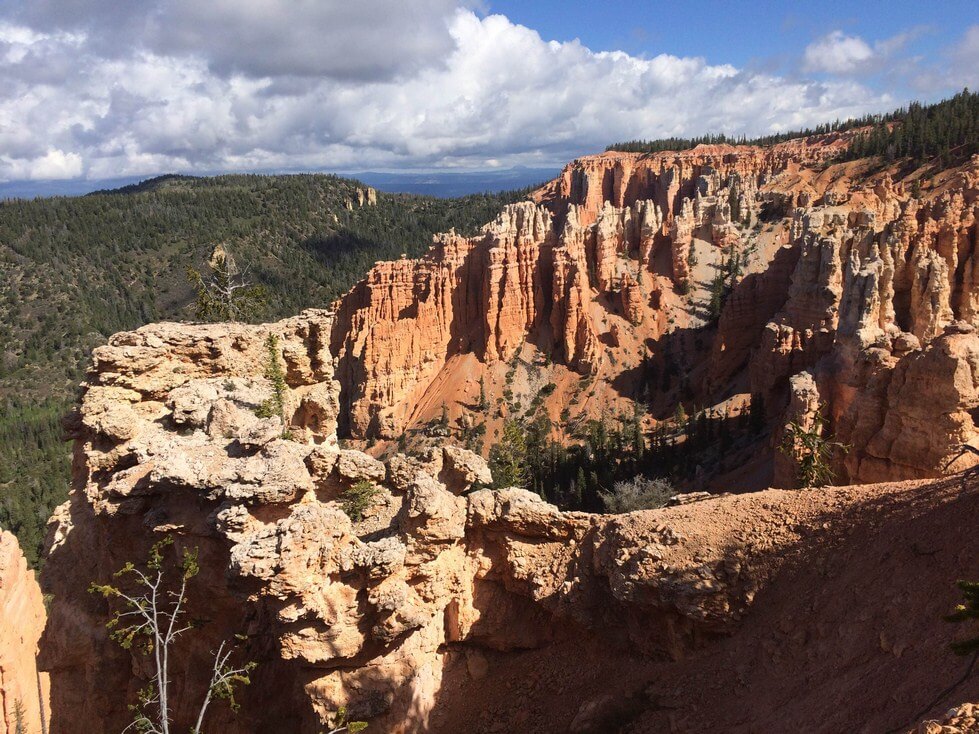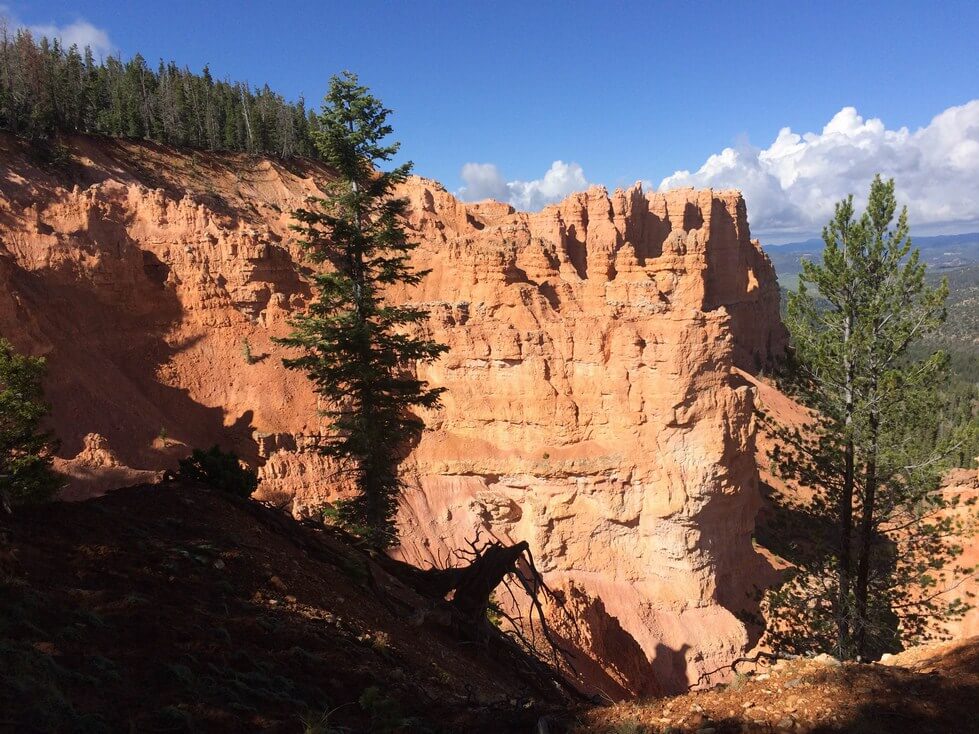 On the second half of the course, the clouds rolled in. There was rain, then there was hail (ouch), and then there was lightning. A few nearby lightning cracks and I took off! There was another runner hauling with me. It felt like we were moving quickly (quick is relative this far into an ultra) trying to get out of the storm as quickly as possible. We were getting pelted by that hail. Thank goodness I had my Patagonia Houdini jacket and a hat to protect me. Once we got through the storm, the other runner and I laughed about it. There was quite a bit of rain and the hail returned once more later in the race. The trails were muddy at parts. They were mostly runnable with some sticky mud parts to try to avoid.
Overall this was a solid experience. Everything went so smoothly. I set a conservative goal for myself and I finished an hour before that goal. My body felt good and I have recovered well. The race swag was great! I got a shirt, a trucker hat, and a handmade finisher's bracelet. The Grand Circle Trails / Ultra Adventures race company puts on great races at amazing locations!
Gear: Hoka One One Challenger shoes, TAUR trucker hat, Patagonia Houdini jacket, Desert Dash trail race shirt, The North Face Better than Naked shorts, Injinji 2.0 midweight trail socks and buff, Garmin 620 watch, and Nathan hydration pack.
Nutrition: Nuun tabs (lemonade), GU roctane, gin-gins ginger candy, Mama Chia, Hammer endurolytes, and random stuff at aid stations including a little birthday cake 😉
I definitely stuck around for another day after the event and saw some of the amazing views/trails that Bryce Canyon has to offer (See Below).